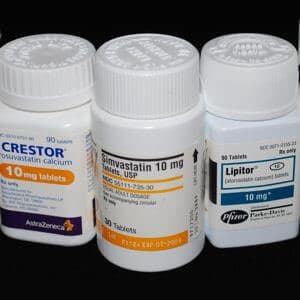 When Mevacor (lovastatin) was first marketed in 1987 it quickly became a game changer. That's because it was perceived as extremely effective for lowering cholesterol with far fewer side effects than existing drugs.
Lopid (gemfibrozil) Never Became a Blockbuster:
Prior to this first statin-type cholesterol-lowering medication there was a certain amount of ambivalence about cholesterol lowering drugs. Lopid (gemfibrozil) was one of the best known and most successful medications prior to Mevacor. It lowered bad LDL cholesterol a modest 11 percent.
Although Lopid appeared to reduce the risk of heart attacks, it came with a list of side effects including gallstones, indigestion, stomach pain, diarrhea, nausea, flatulence, dizziness, blurred vision, headache, numbness or nerve tingling, lowered libido and erectile dysfunction.
The Statin Revolution:
Mevacor seemed like a fabulous alternative and it quickly became the hottest cholesterol-lowering drug on the market. Its success spawned lots of other statins including Atorvastatin (Lipitor)
, Fluvastatin (Lescol)
, Pitavastatin (Livalo)
, Pravastatin (Pravachol)
, Rosuvastatin (Crestor)
, Simvastatin (Zocor)
 and Simvastatin + Ezetimibe (Vytorin).
Initially, most doctors believed that statins had few, if any, side effects. Tens of millions of people were prescribed these drugs even if they had hardly any risk factors for heart disease. In some cases doctors encouraged people to take a statin "just in case," even if their cholesterol levels were relatively "normal." The assumption was that the drugs were so safe there was no reason not to take them even if the person was in good health.
Side Effect Reports to People's Pharmacy:
When we started hearing reports from people that they were suffering muscle pain and weakness, memory problems, erectile dysfunction, peripheral neuropathy or blood sugar elevations, we were told by some health professionals that these were old folks just showing signs of normal aging. These physicians insisted that such side effects could not possibly be due to statins.
We didn't buy it, but it was hard to convince some statin enthusiasts that the drugs might be taking a toll on otherwise healthy people. Over the last two decades we have received so many stories from individuals that we could have written a book. In fact we did! We included these stories in two books, Best Choices From The People's Pharmacy and Top Screwups Doctors Make and How to Avoid Them. There are also hundreds of reports on this website.
What About Muscle Pain?
Most physicians now agree that statins can indeed cause muscle pain and weakness in some people. That is in part because many physicians have themselves experienced these symptoms after taking statins. There are also reports in the medical literature documenting these adverse reactions, even though the original clinical trials somehow missed these complaints. An article in the BMJ (October 22, 2013) points out this discrepancy:
"the prevalence of muscle pain in statin users is 50% greater than in non-users. In absolute terms, this increase in muscle pain is 100 times greater than that reported in clinical trials…"
Some health professionals acknowledge that there can be cognitive dysfunction for certain patients. There is even data to suggest that statins can cause fatigue, especially after exercise (Archives of Internal Medicine, Aug. 13/27, 2012).
Do Statin Side Effects Persist?
The unanswered question, though, is do some side effects persist even after the statins have been discontinued? There have been very few studies even examining this issue. One intrepid researcher, Beatrice Golomb, MD, PhD, has suggested that some individuals are especially susceptible to statin side effects. For them, adverse reactions can be devastating and may linger for a very long time.
We received a poignant comment from a visitor to this website. We felt compelled to share Donna's story:
"Everyone needs to know that statins can do permanent nerve and muscle damage!

"I stopped taking them more than a year ago and I am still in pain, still can't walk upstairs without pain and my CK (muscle enzymes) are still elevated; so are my liver enzymes.

"Those meds need to be taken off the market. Some people develop rhabdomyolosis from taking statins and some even die from it. They are harmful and there's no getting around that.

"I have permanent damage to my muscles and they continue to deteriorate. I am frightened and I have undergone many tests, EMG's (electromyography); MRI's; multiple blood tests and a deep muscle biopsy. The results of the biopsy were 'unspecified inflammatory myopathy.' Since there was no absolute diagnosis of any disease I am left with no treatment.

"The doctor told me not to lift anything heavy and to drink lots and lots of water. I used to walk 2 miles a day and lift free weights to stay in shape. Now I can no longer do that. I can't sleep soundly anymore. I wake up throughout the night from anxiety now, which I never had before this. I'm scared and don't know what to do.

"I go for a blood test every 3 months to monitor the CK levels, which were at 2010 (the highest they've been yet) and that was in July of this year. I'm due for another blood test this month for my annual physical and I'm so afraid they will be higher.

"I hurt all over most of the time but I continue to go to work and try not to think about the pain. There should be a law against this sort of thing. My doctor frightened me into taking them. She told me if I didn't take them I would die of a heart attack or liver disease. Please pray for me. I'm afraid."
Donna
Even after 25 years of statin experience there is a lot we do not know about such drugs. A study now reveals what we have worried about for a long time and that is that statins may increase the risk for cataracts.
Whether these drugs also contribute to ALS (Lou Gehrig's disease) or permanent muscle problems such as those described by Donna above, we do not know. We do know that for otherwise healthy people, there are alternate ways to reduce the risk of heart disease, heart attacks and strokes. You can learn about them in our books and guides.
Anyone who would like to share a story (positive or negative) about statins may do so below.