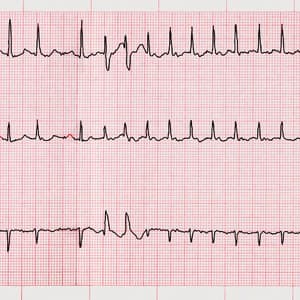 Every day millions of people swallow pain relievers such as ibuprofen (Advil, Motrin, etc), naproxen (Aleve, Naprosyn, etc) or prescription medications such as celecoxib (Celebrex), diclofenac (Cataflam, Voltaren) or meloxicam (Mobic). The National Ambulatory Care Survey showed that 95% of people queried reported that they used NSAIDs. Most know that stomach upset is a potential risk, but many are unaware of the potentially deadly heart problems such drugs may cause.
The latest research published in BMJ Open (online, April 8) revealed that using NSAIDs increases the risk of a heart rhythm disturbance called atrial fibrillation (Afib). This can lead to blood clots that travel to the brain and cause a stroke. In this study of more than 8,000 Dutch people followed for roughly 13 years, those taking an NSAID had an 80% higher risk of developing Afib than those not taking such a pain reliever.
People with Afib are often prescribed anticoagulants to prevent blood clots. These drugs are tricky to manage and have serious side effects of their own. Dangerous bleeding episodes brought on by such medications can be life threatening.
The Dutch researchers did not prove a cause and effect relationship, but this isn't the first time NSAIDs have been linked to cardiac arrhythmias. Other studies have shown an association between NSAIDs and cardiovascular complications, such as heart attacks.
For the most part the FDA, health professionals and even patients have ignored the risks. When someone dies from a heart attack or stroke, it is unlikely that anyone checks for a drug like ibuprofen or connects the tragedy with pain reliever use.
According to the senior author of the Dutch study, Dr. Bruno H. Stricker,
"I would really strongly advise that older people be very careful with using these drugs. They don't do anything except relieve pain. Pain is a nuisance, but dying is a nuisance, too."
Many people use NSAIDs because they don't know about other ways to alleviate pain. For some ideas, you may wish to consult our Guide to Alternatives for Arthritis.