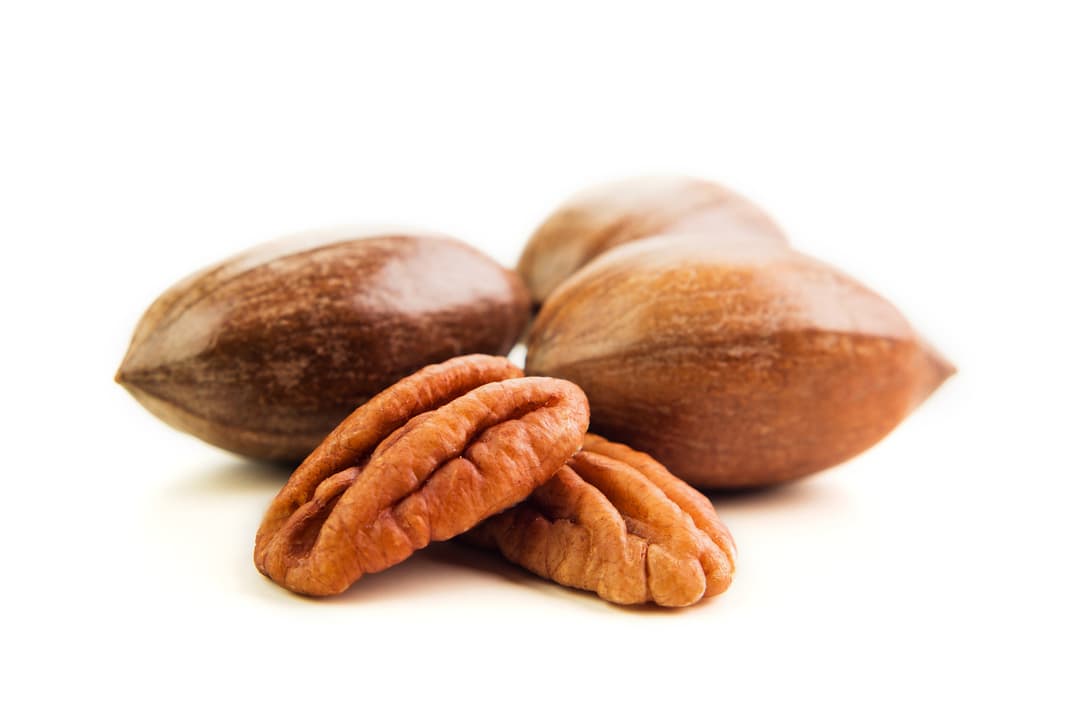 Have you ever wondered whether your favorite food is good for your heart? If your favorite foods include ice cream and cookies, you don't have to wonder. The answer is a clear no. If you love oatmeal and lentils, the answer is just as clear, but it's yes. How about all those foods in between? Years ago, people were cautioned to avoid nuts because of their high fat content. Now, almonds are frequently touted as heart-healthy. One reader would like to know about pecans.
Do Pecans Have Health Benefits? 
Q. Are pecans heart-healthy? I understand that nuts are good for you, but people mostly mention almonds and walnuts. I live in Texas where pecans are by far the most common nut, and they are also my favorite. Pecans are seldom included in the lists of heart healthy nuts, which makes me wonder if they are less healthy than the nuts included in the lists.
A. You'll be happy to learn that pecans, like other tree nuts, are beneficial (Nutrition Journal, June 28, 2015).  Scientists analyzed data from more than 14,000 Americans and found that people who ate at least a quarter-ounce of almonds, Brazil nuts, cashews, hazelnuts, macadamias, pecans, pine nuts, pistachios or walnuts daily were leaner and had lower blood pressure, less insulin resistance and higher HDL (good) cholesterol.
In addition, a meta-analysis of 61 randomized controlled trials found that people who eat nuts have lower cholesterol, LDL cholesterol and triglycerides (American Journal of Clinical Nutrition, Dec. 2015). The researchers found that the dose rather than the type of nut was most important.
Nuts That Lower Blood Lipids:
Texas is not the only state that prefers pecans. Georgia also revels in its crop. Scientists in Georgia conducted a two-month study comparing diets with and without a modest daily serving of pecans (Journal of Nutrition, Aug. 12, 2021). The 56 volunteers for this trial were overweight or had elevated blood lipids.
One group followed their usual diet. A second group added 68 grams of pecans to their daily diet. Finally, a third group substituted the 68 grams of pecans for something else with the same number of calories. The researchers measured blood glucose and lipids at the beginning and end of the trial period.
Participants consuming pecans had significantly lower levels of cholesterol, LDL, triglycerides and apolipoprotein B. Those in the control groups had no significant changes in their blood lipids. 
Pecans Reduce Insulin Resistance:
An experiment in 26 overweight people ran for 12 weeks and compared a diet in which 15 percent of calories came from pecans to a control diet similar to what Americans usually eat (Nutrients, March 11, 2018).  Both regimens had the same amount of calories, fats and fiber. After a month of a pecan-rich diet, these individuals had lower insulin resistance and less insulin in their blood. There were other beneficial changes, such as lower cholesterol, blood sugar and blood pressure, but these did not reach statistical significance.
The scientists concluded:
"Pecan consumption lowered the risk of cardiometabolic disease as indicated by a composite score reflecting a significant change in clinically relevant markers, i.e., blood lipids and glucoregulation."
As a result, you can keep enjoying pecans with a clear conscience. Just make sure you are eating plain nuts and not pecan pie. Another study found that when people eat nuts instead of sugar or other refined carbohydrates, they lower their blood sugar and heart health risk factors (Diabetologia, Aug. 2018).