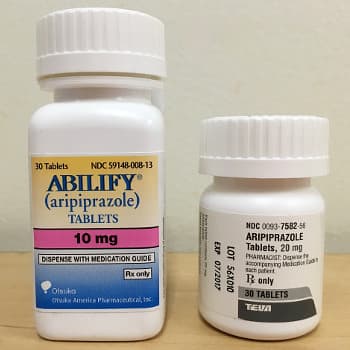 Have you ever heard of tardive dyskinesia? Several different antipsychotic medications can cause this form of brain damage. We recognize that mental illness, especially schizophrenia, is often a devastating disorder. Family and friends suffer along with patients. The trouble is that many of the drugs doctors prescribe to control some of the symptoms of psychosis can trigger permanent involuntary muscular movements:
A Reader Shares Concerns About Tardive Dyskinesia:
Q. A good friend got tardive dyskinesia (TD) from taking the combination of Prozac and Abilify. This led to abnormal facial expressions and uncontrollable tongue movements. This person was always tired and showed no emotion. Even after stopping the Abilify and reducing the dose of Prozac, the symptoms persisted.

The makers of Abilify continue to advertise this drug on television. Why is there no outrage? I have read that older people are especially vulnerable to side effects and may never recover. Please investigate and report on Abilify!
A. Abilify (aripiprazole) is a powerful antipsychotic medication first approved for the treatment of schizophrenia two decades ago. Since then, it has received the green light to treat bipolar disorder, major depression (in combination with antidepressants) and irritability associated with autism.
Initially, psychiatrists believed that newer generation antipsychotic drugs like Abilify (called atypical antipsychotics) were unlikely to cause tardive dyskinesia (TD) compared to older drugs like chlorpromazine (Thorazine), fluphenazine (Prolixin), haloperidol (Haldol) or thioridazine (Mellaril). While this terrible (and potentially irreversible side effect) is seemingly less common with the newer drugs, it is not unheard of.
TARDIVE DYSKINESIA [TD]
We think of this neurological side effect of antipsychotic drugs as brain damage. That is, the medications can cause the following symptoms. Stopping the medicine does not always eliminate this devastating condition. It can become permanent. You are right that older people may be especially vulnerable to TD:
• Involuntary and repetitive movements of the tongue, lips and mouth
• Grimacing
• Lip smacking, lip pursing
• Sticking out of the tongue repeatedly and uncontrollably
• Blinking of eyes over and over
• Uncontrollable movements of the neck, arms or legs
• Inability to sit still
We share your outrage that Abilify and other antipsychotic drugs are advertised on television. These are extremely powerful drugs with a very long list of serious adverse reactions. For example, here are the side effects of another drug in the same category.
Seroquel Side Effects:
• Headache
• Weight gain, increased appetite
• Sleepiness, fatigue, drowsiness, insomnia
• Impaired judgment or thinking
• Dry mouth, cough
• Dizziness, unsteadiness, walking difficulties, lightheadedness
• Rapid heart rate
• Constipation, digestive upset, heartburn, stomachache, nausea
• Tremor, shaky hands
• Difficulty swallowing, excess salivation
• Uncontrollable muscle movements, tardive dyskinesia, restlessness, agitation, anxiety
• Visual disturbances, blurred vision
• Anemia, blood disturbances
• High cholesterol, elevated triglycerides (this is a drug class effect)
• Back pain, muscle pain, muscle spasms
• Liver enzyme elevation
• Rash, serious skin reactions (requires immediate medical oversight!)
• Difficulty sleeping
• Fever (requires immediate medical attention!)
• Diabetes
• Worsened depression, suicidal thoughts
• Seizures, stroke
With a list of such serious side effects, we find it incredible that this drug can be advertised on television. The idea that a patient should ask his doctor if Abilify "is right for you" is indeed outrageous to us.
And here's one other concern. Abilify can interact with a number of other drugs. For example, fluoxetine (Prozac) and paroxetine (Paxil) may increase the blood levels of Abilify in the body and therefore increase the risk of side effects, especially something called serotonin syndrome. We wonder whether your friend, who was taking Prozac and Abilify simultaneously, got into trouble for this very reason. Such combinations may require careful dosing adjustments.
Before taking Abilify please check with your pharmacist to make sure you aren't taking any other medicine that might be incompatible with this antipsychotic drug.
New Drugs to Treat Tardive Dyskinesia:
The Food and Drug Administration has approved two medications to treat TD. Both valbenazine (Ingrezza) and deutetrabenazine (Austedo) were launched in 2017.
"Tardive dyskinesia (TD) consists of involuntary movements of the tongue, lips, face, trunk, and extremities that occur in patients treated long-term with dopamine antagonist medications. TD can be associated with significant functional impairment and be socially stigmatizing. TD, once established, has proved to be often irreversible and remains a significant treatment issue. An accurate and early diagnosis of TD is crucial because the risk of permanence increases over time."
"Results of this systematic review and meta-analysis indicate that high-quality evidence for the efficacy and safety in patients with TD exists for the 2 FDA-approved VMAT-2 inhibitors, deutetrabenazine and valbenazine…"
The drug company trials produced "robust efficacy" according to the authors. That was based on AIMS [Abnormal Involuntary Movement Scale] scores reported by clinicians.
But here is the rest of the story:
"In contrast to clinician-rated outcomes, patient-rated outcomes were less robust or nonsignificant."
We interpret that to mean that patients were not that impressed with the benefits of the drugs. The cost is impressive, however.
According to GoodRx:
"The lowest GoodRx price for the most common version of Austedo is around $4,346.97, 28% off the average retail price of $6,110.79."
Drugs.com reports that Ingrezza is also very expensive:
"Ingrezza (valbenazine) costs approximately $6,252 for thirty 40mg capsules and $7,038 for thirty 80mg capsules. This works out to be around $208 for each 40mg capsule and around $234 for every 80mg capsule. This cost depends on the pharmacy you visit and based on using the Drugs.com discount card. This price is for cash paying customers and is not valid with insurance plans.

"This works out to an annual cost of $74,000 to $85,000 per year, but most people do not pay this amount."
The Bottom Line:
Antipsychotic drugs can cause tardive dyskinesia. This is a devastating adverse reaction. There are now drugs to treat this side effect of antipsychotic medications. However, we do not know how well they work in the real world to completely eliminate this movement disorder. And these drugs are pricey. If insurance won't pay, patients may have a hard time affording these medications.