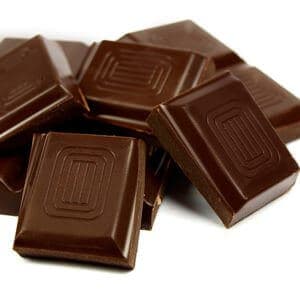 Chocolate has long been considered a sinful indulgence, definitely not a food that belongs in any "healthy" diet. But over the past few decades, evidence has been building that consuming chocolate actually offers specific health benefits. What are they, and what is the best way to get your dose of beneficial cocoa compounds?
What Are the Health Benefits of Chocolate?
The experts describe how chocolate affects blood pressure, stroke, and even Nobel Prize potential. And we get a peek at how to produce great tasting chocolate from a master.
New research shows that cocoa flavanols can calm inflammation as well as relax blood vessels to lower blood pressure, lower total cholesterol and raise beneficial HDL cholesterol. People who eat chocolate regularly have a lower risk of stroke.
People who would like to get cocoa flavonoids without the sugar and calories of candy may be interested in CocoaVia. Mars Botanical, the manufacturer, provides standardized cocoa flavanol extract as supplements and in powders to add to beverages. Mars has supported some of the research on the health benefits of chocolate, but independent research is largely consistent with the findings of Mars-related research.
This Week's Guests:
Eric Ding, PhD, is an epidemiologist and nutrition scientist at Brigham and Women's Hospital and the Harvard School of Public Health.
Susanna Larsson, PhD, is Associate Professor in the Division of Nutritional Epidemiology at the Institute of Environmental Medicine of the Karolinska Institutet in Stockholm, Sweden. Her meta-analysis on chocolate consumption and stroke was published in Neurology.
Joseph Maroon, MD, FACS, Vice Chairman and Professor in the Department of Neurological Surgery at the University of Pittsburgh Medical Center. He has been the team neurosurgeon for the Pittsburgh Steelers since 1980.
Franz Messerli, MD, FACC, FACP, is Professor of Clinical Medicine at Columbia University college of Physicians and Surgeons in New York City. His article on chocolate consumption, cognitive function, and Nobel laureates was published in the New England Journal of Medicine.
John Scharffenberger is co-founder of Scharffen Berger Chocolate.  With his business Partner, Dr. Robert Steinberg, he set off a new wave of chocolate making to the US.
Listen to the Podcast:
The podcast of this program will be available the Monday after the broadcast date. The show can be streamed online from this site and podcasts can be downloaded for free.