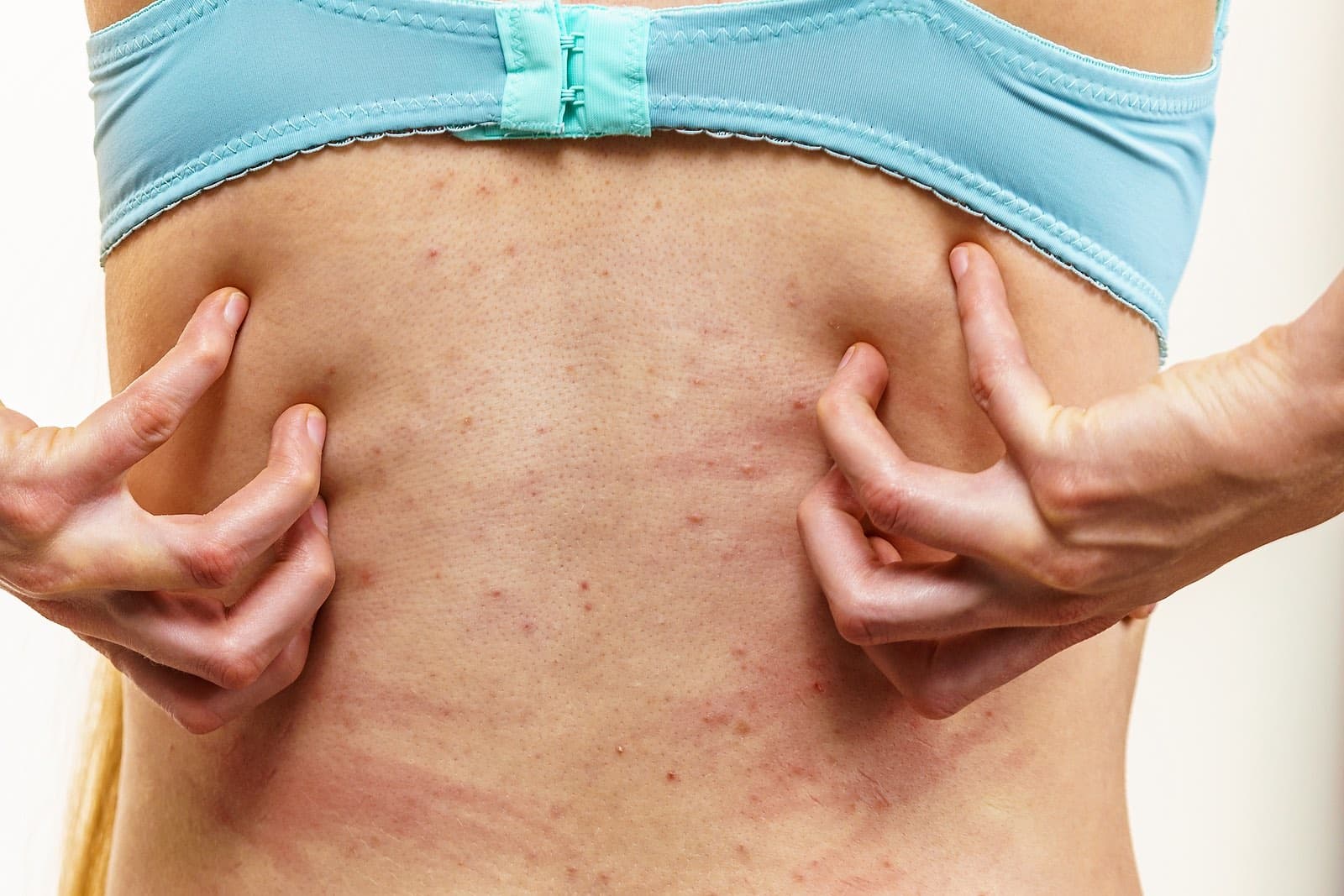 Cetirizine (Zyrtec) is an antihistamine often used to treat allergies, nasal congestion or hives. It is considered a second-generation non-sedating antihistamine. In other words, it doesn't make you drowsy the way diphenhydramine (Benadryl) does. Other second-generation antihistamines include fexofenadine (Allegra) and loratadine (Claritin). We have received a huge number of reports about post-cetirizine itch. We now believe it is a Zyrtec withdrawal reaction. Readers have been complaining about this reaction for many years. The FDA has finally acknowledged it exists, but there is no warning on the OTC label.
What Is Zyrtec Withdrawal Like?
Q. I stopped taking Zyrtec last week and have been suffering extreme itchiness since then. At first, I thought it was due to a change in the weather. Then I did an online search that turned up Zyrtec withdrawal. How long will the itching last?
A. We first heard about cetirizine (Zyrtec) withdrawal itching more than a decade ago. Readers reported relentless itching within a few days of stopping this antihistamine. For some people, the itching lasted up to six weeks.
We contacted the FDA about this "discontinuation syndrome." Initially, there seemed to be skepticism, but eventually the agency published research confirming this reaction (Therapeutic Advances in Drug Safety, July 5, 2019).
According to Dutch researchers, gradual tapering of the cetirizine dose or a short course of corticosteroids might help alleviate the itching (Drug Safety Case Reports, Dec. 2016).
Where Does the FDA Stand on Zyrtec Withdrawal?
Drilling down on the FDA reaction to our discovery about the Zyrtec itch:
A few years ago we contacted one of the highest officials at the FDA. Here is what we wrote:
"Dr. Woodcock,

"As you probably know, cetirizine (Zyrtec) and levocetirizine (Xyzal) are very popular OTC antihistamines. Several years ago we became aware of a withdrawal reaction (pruritis) when these antihistamines are stopped suddenly. Since then, our website has become a place where people who experience this reaction can report their experiences. Over the last eight years we have accumulated over 700 comments about this problem. We suspect that is substantially more than the FDA's MedWatch program.

"There are no warnings or guidance with regard to this phenomenon. Given the widespread availability of such products it would seem prudent for the FDA to investigate this withdrawal reaction and offer health professionals and consumers some information about 1) the possibility and 2) how to discontinue the drugs safely."
On June 3, 2018 we heard back from another high official at the FDA, Dr. Gerald J. Dal Pan, Director, Office of Surveillance and Epidemiology.
He said:
"Dear Mr. Graedon,

 "Thank you for your email of May 15, 2018 to Dr. Janet Woodcock regarding cetirizine (Zyrtec) and levocetirizine (Xyzal) and withdrawal reactions (pruritus). Dr. Woodcock has asked me to respond. We appreciate your interest and perspective regarding this issue. The FDA strives to keep drug prescribing information (labeling) up to date with important safety information so that health care professionals and patients can make informed treatment decisions.

 "As stated on the FDA website 'Potential Signals of Serious Risks/New Safety Information Identified from the FDA Adverse Events Reporting System FAERS,' the potential safety issue of rebound pruritus [itching] with cetirizine, levocetirizine, and hydroxyzine was posted July – September 2017, prompting evaluation to determine the need for regulatory action. 

 "As a result of this review, the prescription levocetirizine Prescribing Information was revised to include the following information about pruritus after discontinuation of cetirizine in the Adverse Reactions-Postmarketing Experience section (6.2):

 "Rebound pruritus- pruritus within a few days after discontinuation of cetirizine, usually after long-term use (e.g. months to years) of cetirizine.

 "FDA plans on publishing the results of the review in a peer-reviewed journal to further disseminate the information.

 "In addition, FDA continues to monitor and assess serious adverse events for all approved products reported by healthcare providers, patients, and others.

 "Best regards,

 "Gerald J. Dal Pan, MD, MHS"
What's Happened on the Zyrtec Withdrawal Front?
We searched high and low for the article that Dr. Dal Pan alluded to in his response. It took more than a year. Finally, on July 5, 2019 an article appeared in the journal Therapeutic Advances in Drug Safety. It was titled:
Here's how the FDA introduces the article:
"Intense pruritus or itching emerging after discontinuation of cetirizine has been the subject of postmarketing reports submitted to the U.S. Food and Drug Administration (FDA), published in the medical literature, and discussed on the internet. To better understand and further investigate this adverse event, we analyzed cases of pruritus occurring after discontinuation of cetirizine in the FDA Adverse Event Reporting System (FAERS) database and medical literature."
We suspect that we (The People's Pharmacy) represents the "discussed on the internet" part of that background.
Here is what the FDA reports:
"We identified 146 cases of pruritus after discontinuation of cetirizine that were associated with serious outcomes. Some patients described the itch as so intense that it impacted their ability to work, sleep, or perform their normal daily activities…The numerous cases with a strong temporal relationship and positive rechallenge provide evidence for an association between discontinuation of cetirizine and the development of pruritus."
The People's Pharmacy and the Zyrtec Withdrawal Itch:
The FDA actually cites The People's Pharmacy in its reference section regarding cetirizine withdrawal itch. Of course we weren't named in the text:
"Social media and other online resources are frequently used by patients to obtain and discuss health-related information. Although patient-generated data from social media has limitations in postmarketing drug safety surveillance, it may have contributed to reporting of adverse events to the FDA. Some of our cases reported finding similar experiences after searching for a cause on the internet. Discussions about pruritus after discontinuation of cetirizine appear online as early as 2008, and some websites encourage patients to submit MedWatch reports to FDA."
We still could find nothing in the prescribing information or on the OTC label about Zyrtec withdrawal either. We admit that we could be dense, but we suspect it is hard to find if it exists at all. As a result, we suspect that most people are unaware of this potential problem.
Readers Share Stories About Zyrtec Withdrawal:
One of the few ways people can learn about such reactions are on this website. They learn from each other. The FDA doesn't seem to place much stock in such "anecdotes," but we think they can be helpful. Here are just a few:
Q. After reading some of the stories on your site about Zyrtec, my experience started to make sense in retrospect.

I started Zyrtec at my doctor's recommendation for itchy skin on my hands. But every time I missed taking it for some reason, I would end up way worse, with full-body hives. I couldn't understand what was happening, as I have never had allergy problems.

After I read the People's Pharmacy article on Zyrtec, I threw my pills away. I had only taken them for three weeks, but did not escape the withdrawal hives. Day 4 was the worst, and since I had read that, I tried to be patient, and the hives did finally go away, not to return.

What a drug! And my doctor just looked at me blankly as I reported this outcome. He didn't even answer or seem interested, and he didn't seem to know about the withdrawal.
A. Many visitors to PeoplesPharmacy.com have reported dreadful itching upon withdrawal from Zyrtec. Some have also reported other withdrawal symptoms. Here are a few of their reports:
"I took Zyrtec at bedtime for two years for allergies. It did help with the sneezing, runny nose and congestion, but I recently decided to stop it. I did it as I would most other long-term drugs: I tapered it back. About two days after halving the dose I started itching. One minute my scalp, then my thumb, then it would move to my arm or my chest or my foot or the my face.

"The itch was constantly moving and I was scratching (which I knew was making it worse), so I really tried to ignore it. Apparently, though, I was itching in my sleep and would wake with scratch marks.

"I looked it up to see if this was common and found all these blogs. I was really angry as I'm so uncomfortable and there was nothing about this in the medical literature. I have no hives, just incredible itchiness and I don't want to take medicine for it. Local lotions and creams don't help.

"I called the manufacturer and was met with incredibly dumb answer center employees, who claim this is very unusual, and they really have not heard of it. I asked the last "expert" what her education was and she said a medical assistant. She was not very knowledgeable, particularly about histamine at the cellular level (Zyrtec is a type of antihistamine)."
Another reader shared this story about her cat allergies:
"I've been taking Zyrtec for almost a year now because of my cat allergies. I grew up with a wide variety of animals and as an adult now work with them.

"My cat allergy developed when I was a teenager. My symptoms are a runny nose/marathon sneezing, itchy eyes (only if I rubbed them after petting a cat) and a sore throat. I have both psoriasis and eczema so I couldn't really tell you if I ever develop skin itchiness because I've been unceasingly itchy for as long as I can remember.

"When I miss a dose of Zyrtec, my symptoms come back tenfold almost to a textbook time lapse. If I take my last dose Monday morning at 8 AM I'll start sneezing uncontrollably by 8 PM on Tuesday. It's miserable.

"The weirdest withdrawal symptom I have is vivid, bad dreams. I was wondering if anyone else has this happen? I can recollect every detail and I'm usually woken up by the nightmare aspects. I've tried googling this and it seems these dreams are a common side effect of taking Zyrtec but nothing about experiencing it only as a withdrawal symptom. I only have these dreams as the latter."
Connie did well for a few years and then…Zyrtec withdrawal hit
"I have taken Zyrtec for years for hay fever every spring. Once the pollen season was over I stopped the Zyrtec with no side effects.

"This year was different! I normally took 5 mg every night…say for 5 to 6 weeks. This year, within 3 days of stopping Zyrtec I cane up with a terrible rash over most of my body. The itching is from hell. I went to the doctor and he advised me to continue with Zyrtec! Medical professionals have no clue. I am on day 7. The itching and rash are very bad. I will hang in there and will never take Zyrtec again!"
Suzanne reports that even after months of gradual tapering, the itching returned when she stopped Zyrtec:
"My doctor put me on it about five years ago for itching. One vacation I forgot to take it for three days—and experienced terrible, incessant itching. Within 10 minutes of taking a tablet I was fine.

"I talked to her about it and she acted like I was insane. I later found an article about the itching and took it to her. I decided to take myself off the drug by taking less and less ever so slowly. I started with 3/4 of a tablet for several months, then 1/2 for several months more, then 1/4 for several months more. I have been weaning myself off for about nine months!

"Two days ago was my 1/4 last pill. Within 24 hours the itching started. Right now I am itching like crazy; today I am calling my doc to see if she will give me anything for it. I am determined not to ever take this Zyrtec again."
It's not just Zyrtec. We have also heard from readers who experienced withdrawal itching when they stopped levocetirizine (Xyzal).
Kim in Dallas shared this story about Xyzal:
"I was shocked and relieved to see others going through the same reactions as myself.

"I've been on Xyzal and Benadryl for years. After deciding to go to an allergist and being told to go off any antihistamines for 7 days before testing, I quit cold turkey, not expecting much more than stuffy nose and watery eyes.

"By day two I was experiencing the expected allergic reactions to cat dander and my other pollen and mold allergies. Then came the entire body rash and itching. Hands, feet, and arms first, then all over my body. I was scratching so hard it led to welts and swelling.

":I still have 4 days to go before my testing. I refuse to go back on any oral allergy medications again. I will ride this through and hope that the allergy shots will help. I had no idea that I had become so dependent upon my allergy medications and what they have been doing to my body."
Share your own story below in the comment section. If you experienced Zyrtec withdrawal we would like to hear from you. If you were able to stop Zyrtec without any symptoms we would like to learn about that too. This Zyrtec withdrawal reaction may be incredibly rare. That's why we need to know how many people have done well stopping this antihistamine.