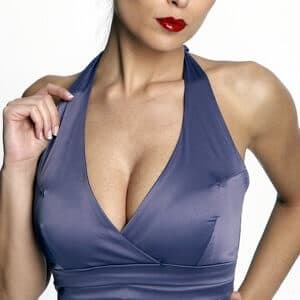 Q. My doctor prescribed hormone replacement therapy, but I find it has made my breasts bigger. Every estrogen I have looked up has the same side effect listed.
Some of my other drugs (Claritin, nortriptyline and Tagamet) also list breast enlargement in women or breast development in men as side effects. Why would a heartburn drug cause breast enlargement?
Is there something a person can do to counteract this reaction, other than breast reduction surgery?
A. Breast enlargement is associated with estrogen hormones, whether taken as birth control pills or in postmenopausal therapy. But dozens of other medications may also trigger this reaction.
Anything that disrupts the balance of estrogen and testosterone in the body may lead to an increase in breast tissue (called gynecomastia in men). For example, high doses of Tagamet (cimetidine) interfere with male hormones and can have this effect.
If you are taking hormone replacement therapy to prevent osteoporosis, your physician might consider Evista (raloxifene), which does not cause breast enlargement. Alternate treatments are also available for the other drugs you mention.
There are no proven antidotes for this problem, and doctors sometimes resort to breast reduction surgery.
Here is a partial list of medications that can cause gynecomastia in men and might potentially cause breast growth in women:
Abilify
Alcohol
Amiodarone
Amphetamines
Aripiprazole
Captopril
Cimetidine
Clomiphene
Clozapine
DHEA
Dutasteride
Diazepam
Digoxin
Diltiazem
Enalapril
Estrogen
Finasteride
Griseofulvin
Haloperidol
Ketoconazole
Lavender oil
Marijuana
Methadone
Methotrexate
Methyldopa
Metronidazole
Minocycline
Phenytoin
Nitroglycerin
Nifedipine
Olanzapine
Omeprazole
Quetiapine
Reserpine
Risperidone
Seroquel
Spironolactone
Verapamil
Zyprexa
No one should ever stop taking a medication because of enlarged breasts, but if this side effect becomes problematic, do discuss this complication with the prescribing physician. It is not the type of adverse effect that is frequently mentioned, but it can pose a challenge for a patient who experiences it.