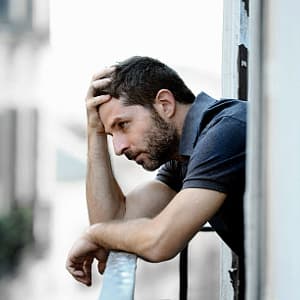 People with depression have a really tough time. Not only does the condition suck all of the joy out of life, the medications used to treat it have some potentially serious side effects. Moreover, antidepressants don't work for everyone. They can also take up to six weeks to exert a therapeutic effect. When drugs don't work for life-long depression, psychiatrists often turn to electroconvulsive therapy (ECT). How does the controversial anesthetic ketamine stack up against ECT when it comes to "treatment-resistant major depression"?
Ketamine vs. ECT for Hard-To-Treat Depression:
A study published in the New England Journal of Medicine (May 24, 2023) reached a startling conclusion:
Ketamine was just as good as electroconvulsive therapy for treatment-resistant depression. That's big news because ECT carries a lot of baggage. It involves the application of an electric current to the brain in order to induce a seizure.
In this study, 200 patients with severe depression were assigned to receive ketamine infusions and 203 were supposed to get ECT. There were dropouts, however. Even before the study began, 31 dropped out of the ECT arm of the trial while only 4 bailed on the ketamine arm.
The Protocol:
"Ketamine (twice per week for 3 weeks) was administered intravenously at the accepted subanesthetic dose of 0.5 mg per kilogram of body weight over a 40-minute period, with allowance for dose modification if clinically indicated. The recommended starting procedure in the patients assigned to receive ECT (three times per week for 3 weeks) was specified as right unilateral ultrabrief pulse at six times the seizure threshold that was determined during titration at the first visit, with allowance for subsequent modification of settings and electrode placement."
The Results:
"A total of 55.4% of the patients in the ketamine group and 41.2% of those in the ECT group had a response."
Researchers like to use the term "noninferiority." It basically means one treatment is as good as the other treatment. That is why the authors of this study reported that:
"This randomized trial evaluating the comparative effectiveness of ketamine and ECT in patients with treatment-resistant depression without psychosis showed noninferiority of ketamine to ECT with respect to the primary outcome of treatment response according to the QIDS-SR-16."
The QIDS-SR-16 stands for "Quick Inventory of Depressive Symptomatology–Self-Report." It is a measure of depression.
Adverse Reactions:
The authors report:
"During the initial treatment phase, 49 of 195 patients (25.1%) in the ketamine group and 55 of 170 patients (32.4%) in the ECT group had at least one moderate or severe adverse event."
The bottom line appears to be that ketamine works at least as well as electroconvulsive therapy for hard-to-treat depression. Like ECT, the benefits come on pretty fast compared to standard antidepressant medications.
The downside of ketamine: The FDA has not approved this drug for the treatment of depression. That means that many, if not most, insurance companies will not pay for the infusions.
What can an individual suffering from life-long depression do?
One reader reports unexpected success with an old drug.
Does Ketamine Reverse Life-Long Depression?
Q. I just started getting ketamine IV infusions two weeks ago, after I heard about the Spravato nasal spray. After a few days I'm a person again!

I haven't really laughed or enjoyed anything at all for more than 20 years. That's my entire adult life. I just got a life gifted back to me and all I feel now is hope and gratitude. Nothing has been even close to how ketamine has transformed me.

I've been on more than a dozen antidepressants over that time, prescribed by half a dozen psychiatrists. Some things helped, but nothing like this. This isn't a placebo. No way.

I've suffered life-long depression and have grappled with suicide for years. That's all gone now. This medication saved my life. It should be accessible to everyone that needs it. All I can think now is this: It's sure exciting to be alive!
The Research on Ketamine and Esketamine:
A. Ketamine is a very old medication that has been used in anesthesia. Over the last several years, psychiatrists have been reporting that ketamine infusions can act quickly to alleviate treatment-resistant depression (American Journal of Psychiatry, March 29, 2019; Handbook of Experimental Pharmacology, Nov. 27, 2018).
Such pilot studies probably touched off the research leading to the esketamine (Spravato) nasal spray that the FDA approved for hard-to-treat depression. We are delighted that you have achieved such good relief from your life-long depression. We hope the benefits persist.
You can learn much more about ketamine at these links:
Listen to our free podcast with a researcher at the National Institute of Mental Health:
Get an insiders view of ketamine from the original researcher and my mentor, Dr. Edward Domino:
There's a new drug in town. It is a chemical cousin of ketamine, esketamine. You can learn about Spravato at this link:
Share y0ur own experience with treating depression in the comment section below.