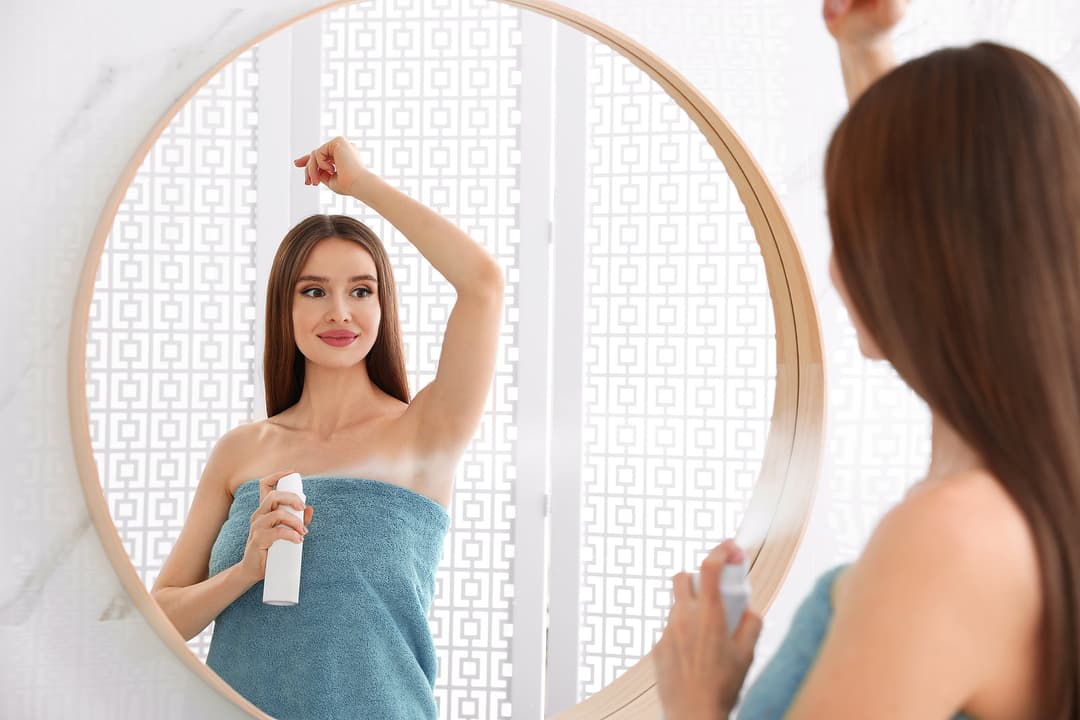 Have you ever seen the TV commercials where some famous actor asks: "What's in your wallet?" We're asking you a different question: "What's in your armpit?" Dozens of popular products contain benzene or aluminum. We don't think either ingredient is a good idea. We reported a few months ago that the testing laboratory Valisure found benzene in a whole bunch of antiperspirants and deodorants. You can read about it here. Now the FDA has announced new recalls (Feb. 16, 2022) for more popular products: Sure Antiperspirant Aerosols and Brut Antiperspirant and Deodorant Aerosols. Benzene is a carcinogen and should not be in cosmetics! The FDA requires aluminum in antiperspirants, but this mineral remains controversial because scientists consider it a neurotoxin. Why not avoid both aluminum and benzene in your armpits?
The Benzene Blues:
Here is a fast overview of benzene.
The American Cancer Society (ACS) doesn't pull punches on this chemical:
"Benzene is known to cause cancer, based on evidence from studies in both people and lab animals. The link between benzene and cancer has largely focused on leukemia and other cancers of blood cells."
These are not nice cancers:
AML (acute myeloid leukemia)
ALL (acute lymphocytic leukemia)
Multiple myeloma
Non-Hodgkin's lymphoma
"The main way people are exposed is by breathing in air containing benzene. Benzene can also be absorbed through the skin during contact with a source such as gasoline, but because liquid benzene evaporates quickly, this is less common.

"People can be exposed to benzene:
• At work
• In the general environment
• Through the use of some consumer products"
Most people never imagined that some hand sanitizers, sunscreens, antiperspirants or deodorants could contain benzene. Until the Valisure report came out, we never suspected that some popular body care brands might have this contaminant.
It comes as a surprise to most readers to learn that the FDA has little, if any, authority to demand removal of consumer products containing impurities. Here is an article from NBC News (Nov. 10, 2021) on this very topic:
"Without ability to force recalls, FDA can only warn consumers about benzene in hand sanitizers"
"Over the past year, Valisure tests have revealed benzene in everyday consumer products like sunscreen, antifungal sprays and most recently, antiperspirant sprays. According to a Nov. 3 petition that Valisure sent to the FDA, some samples of Old Spice antiperspirant had levels of benzene at 17 parts per million. The brand's parent company P&G did not respond to NBC News' request for comment.

"Consumers are left largely in the dark about the scope of the problem. In the case of hand sanitizer, regulators and industry have been slow to act, according to consumers and experts."
What About The People's Pharmacy Milk of Magnesia (MoM) Deodorants?
No sooner did we read about the problem with benzene in some antiperspirants and deodorants than we contacted Valisure to see if it could test our MoM deodorant products.
We sent them off via FedEx and within days we got back word that they were "squeaky clean." There was "no detectable" benzene in MoM! Hooray.
We didn't think there would be, but it is nice to have confirmation. Wouldn't you like reassurance that there is no benzene in your armpits?
What About Aluminum?
The FDA requires aluminum salts in all antiperspirants. You cannot label a product an antiperspirant unless it has ingredients such as aluminum chlorohydrate, aluminum chloride or aluminum zirconium trichlorohydrex.
There remains a great deal of controversy surrounding the safety of aluminum in cosmetic products. A lot of scientists have downplayed any problem with aluminum. One reader of this article sent an article from the New York Times (June 9, 2021). The author cited Dr. Harold Burstein, a breast cancer oncologist at the Dana-Farber Cancer Institute and a professor of medicine at Harvard Medical School:
"…Dr. Burstein added, only a minuscule fraction of aluminum can be absorbed through the skin, so your exposure to it from an antiperspirant is trivial."
We wish there were a lot of good science to support the belief that aluminum is not absorbed from the underarms. As you will read below, some scientists challenge the idea that the evidence is clear cut.
The New York Times article also downplays the idea that aluminum is a neurotoxin. The author cites a professor of epidemiology who says "The whole topic has kind of been abandoned."
If you put the words aluminum and Alzheimer's disease into a search at PubMed in the National Library of Medicine, you will find that there are 1,300 results as of today. Here is a link. Search the words aluminum and neurotoxicity in PubMed and you will find 826 results. An article in Pharmacological Reports (Jan. 27, 2022) offers this overview: (By the way, European publications refer to aluminum as aluminium):
"Aluminium is one of the most widely distributed elements of the Earth's crust. Its routine use has resulted in excessive human exposure and due to the potential neurotoxic effects has attained a huge interest in recent years. Despite its ubiquitous abundance, aluminium has no crucial biological functions in the human body. Oxidative stress and neuroinflammatory effects are attributed to its neurotoxic manifestations implicated in Alzheimer's disease. In this review, we have discussed the neuroinflammatory and neurodegenerative events in the brain induced by aluminium exposure."
An article in the Journal of Applied Toxicology (Nov. 2021) offers this perspective on "Aluminium in cosmetics and personal care products":
"Usage of inorganic ingredients like aluminium salts in cosmetics and personal care products has been a concern for producers and consumers. Although aluminium is used to treat hyperhidrosis [heavy sweating], some worries have been raised about aluminium's role in breast cancer, breast cyst and Alzheimer's disease. The human population is exposed to aluminium from vaccines, diet, and drinking water, but the frequent use of aluminium-based cosmetics might add additional local exposure."
The authors point out that the brain concentrates aluminum. They state that "the brain aluminium concentration could reach 100 times over plasma concentration." In other words, just because the amount of aluminum in the blood stream is low does not mean the amount of aluminum in the brain is low. In fact, it could be quite high, but hard to detect. No one is going to measure the amount of aluminum in a person's brain while they are alive.
In their review of aluminum, these scientists acknowledge the lack of great studies. They do conclude that:
"Aluminium is a known neurotoxin. It accumulates in the brain. Some of the toxic effects of aluminium in the brain are increasing: the amyloid-beta plaques and the neurofibrillary tangles. These are the hallmarks of AD [Alzheimer's Disease]. Thus, aluminium may be considered a risk factor. As there is not enough knowledge on the dermal absorption of aluminium, it is hard to estimate if the aluminium in cosmetics will travel to the brain and cause neurological diseases like AD or autism.

"In conclusion, the studies done till today are a few, and their results are not consistent and conflicting. Further epidemiological studies base on a long time and real-life exposure to aluminium needed to make a clear conclusion about the hypothesis [that 'aluminum-containing cosmetics pose an environmental risk factor in neurological disease']."
Why Not Avoid Aluminum AND Benzene in Your Armpits?
Until new research is undertaken and published, why not just avoid benzene and aluminum. Neither ingredient is necessary to promote human health. In fact the authors of the recent paper on aluminum in cosmetics note that "aluminium negatively affects more than 200 critical biological reactions."
Magnesium, on the other hand, is absolutely critical for human health. Without this mineral your body cannot function.
That is why our aluminum-free deodorants were the very first such body-care products to employ magnesium as the key ingredient.
Here Are Your Options To Avoid Benzene in Your Armpits:
Reviews from users:
MD says:
"Fantastic Product!!! A great fragrance for a man."
A Raleigh, NC customer adds:
"I have been using MoM deodorant for two or three years and am highly pleased with it. It is as good as any deodorant I have used to control wetness and odor, and the great thing about it is that it contains no Aluminum Products. I have used both the unscented and the men's scented (herbal) and have settled on the latter for my needs. Also, I have recommended this to a couple of friends, and they are highly pleased also."
A customer from Tiburon, CA says:
"I like this deodorant a lot. It has a clean fresh smell, not sweet – just fresh."
Can't decide? Choose our:
View all our body care products at this link.