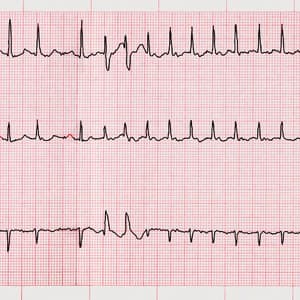 Atrial fibrillation (AFib) is the most common type of heart rhythm abnormality. Some experts are calling this arrhythmia an epidemic (Journal of Geriatric Cardiology, March, 2017).  That's because as many as 6 million people have AFib now. That number is projected to double within a decade. What is the best way to treat atrial fibrillation?
Drugs or "Zapping" for AFib?
Cardiologists have been debating the best way to treat atrial fibrillation for years. Options include anti-arrhythmic drugs and anticoagulants vs. catheter ablation. The latter strategy involves the passage of a catheter into the heart. Heat or cold energy is then used to create a small scar in the heart muscle to prevent an electrical signal from triggering an abnormal rhythm.
The Downsides of Drugs:
A drug that has been frequently prescribed for AFib is amiodarone. This medication is tricky, though. It can cause a boatload of serious side effects. More important, though, is lack of FDA approval.
Here is what the FDA allows with amiodarone:
"Amiodarone hydrochloride tablets are indicated for the treatment of documented, life-threatening recurrent ventricular fibrillation and life-threatening recurrent hemodynamically unstable tachycardia in adults who have not responded to adequate doses of other available antiarrhythmics or when alternative agents cannot be tolerated."
You can learn more about the dangers of amiodarone at this link:
Amiodarone Side Effects Can Be Life Threatening
Anticoagulants have their own challenges. Such drugs are a bit like walking a tightrope. On one side is the risk of blood clots. On the other is the risk of bleeding (hemorrhage). Successful treatment requires a careful balance between the two extremes.
So What is the Best Way to Treat Atrial Fibrillation?
A meta-analysis published in JAMA Cardiology (April 28, 2021) compared ablation therapy to antiarrhythmic drugs for overcoming paroxysmal AFib. The review included six randomized clinical trials with over 1200 patients.
Catheter ablation reduced arrhythmias 38 percent more than medications did. Even more important, it cut hospitalization by 68 percent more.
The authors conclude:
"In this meta-analysis of first-line therapy of patients with paroxysmal AF, compared with use of antiarrhythmic drugs, use of catheter ablation was associated with reductions in AF recurrence and hospitalizations, with no difference in major adverse events."
The article offers this key point about the best way to treat atrial fibrillation:
"Meaning: Findings of this meta-analysis suggest the potential utility of catheter ablation as a first-line strategy in patients with paroxysmal atrial fibrillation compared with use of antiarrhythmic drugs."
Please share your own experience with atrial fibrillation in the comment section below.