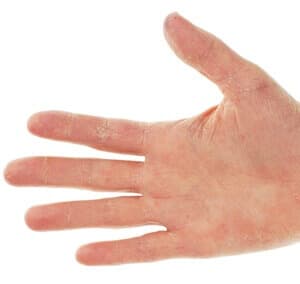 The symptoms drive you to distraction. Eczema or atopic dermatitis can cause itchy red skin. The rash can show up on hands, wrists, arms, legs, face, neck or scalp. The itching can be especially awful at night. A dermatologist friend once referred to eczema or atopic dermatitis as "the itch that scratches." By that he meant that the itch leads to scratching that leads to more itching. This vicious cycle can be hard to manage. This reader shares the challenge:
Just Call Me Job:
Q. I had a very bad case of atopic dermatitis when I was in my teens. It cleared up after that until recently. Now it's back with a vengeance.
I told my dermatologist to call me Job like the afflicted man in the Bible. She said there is a condition called Job syndrome but I wasn't that bad yet.
Nothing she has prescribed has provided much relief, including clindamycin and Halog cream. Can you suggest anything else?
A. Eczema or atopic dermatitis is a serious allergic skin condition. It can be extremely uncomfortable, and scratching may expose the skin to infection. That may be why your doctor prescribed the antibiotic clindamycin. Halog is a strong cortisone-type cream.
Job Syndrome is a Real Condition:
For those who may have forgotten their Bible story about Job in the land of Uz, here is the synopsis:
Job was known as a very good guy. He lived an upright life and avoided misdeeds. He was quite wealthy and had a wonderful family. But his life became challenged. His animals were attacked. His children were killed and his life was turned upside down. Finally, Satan caused his skin to develop boils from head to toe. We won't reveal how the story ends, but suffice it to say that Job suffered mightily for quite awhile.
Job syndrome was first identified in 1966. It is a very unusual immune disorder that is manifested by severe skin rashes and abscesses. Another name for this condition is Hyperimmunoglobulin E syndrome (HIES). It often requires long-term antibiotic treatment to prevent serious staph infections of the skin. It is indeed a trial.
What to Do for Eczema or Atopic Dermatitis?
Your doctor might prescribe a medication to calm your overactive immune reaction in your skin. Two topical immune-suppressing drugs have been used for years: tacrolimus (Protopic) and pimecrolimus (Elidel). Common side effects include temporary itching and burning. Other reactions include headache, upper respiratory tract infection, swollen glands and viral skin infections (cold sores, shingles or warts).
The Newest Drug Treatments:
Two newer options are crisaborole (Eucrisa) and dupilumab (Dupixent). Crisaborole is an ointment, while dupilumab is an injection.
Dupilumab is significantly more effective than placebo at calming symptoms of atopic dermatitis. However, it is pricey. It can also trigger troublesome eye symptoms such as conjunctivitis and keratitis (QuarterWatch, Dec. 2018).
For Less Severe Eczema or Atopic Dermatitis:
There are several home remedies that readers have suggested for eczema or atopic dermatitis. We have no way of assessing what would be best for any given individual since no one approach works for everyone.
We suspect that disturbances in the skin microbiome may be partially responsible for eczema. Doctors call this dysbiosis. It means that the microbial ecology of the skin has been disrupted.
Old-Fashioned Amber Listerine:
Listerine contains a variety of essential oils including eucalyptol, menthol and thymol. These ingredients have both antifungal and antibacterial activity. Perhaps dabbing a little Listerine with a cotton ball helps reestablish a better skin microbiota to help overcome eczema. Here is a link to the question: Will Listerine Soothe Your Itchy Eczema?
Noczema for Eczema:
For decades Noczema was considered one of the best skin creams on the market. There were even suggestions that the name Noczema was derived from the phrase "knocking eczema." Folklore has it that "no eczema" became Noczema.
Noxzema contains some of the same ingredients found in Listerine: eucalyptus and menthol. There is also camphor, which helps control itching through special sensory neurons in the skin. Here are some links to stories from readers:
Coconut Oil for Eczema or Atopic Dermatitis?
This remedy seems very greasy to us, but there is some science to support this approach.
One reader says it worked wonders for intractable eczema.
Try Coconut Oil on the Skin to Relieve Itchy Eczema
Marijuana Marijuana AND Coconut Oil?
We heard from Fred in the Upper Peninsula of Michigan. He shared this intriguing story:
"I've had eczema for my entire life, and I'm 63. Two years ago I received a medical cannabis (marijuana) card. I mixed up a combination of 60 ozs. of food grade coconut oil and 3 ozs. high grade marijuana.

"I brought oil to a liquid using a double boiler and added marijuana to liquid oil. I slow cooked oil for 2 hours. I then strained oil from marijuana using a strainer. I then poured oil in mason jars. Everyday I put this oil on dry skin including scalp after I showered.

"There's only one word to describe the effect RELIEF."
Share your own eczema or atopic dermatitis story in the comment section below.