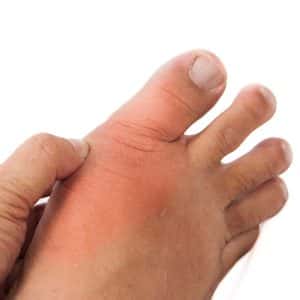 Gout is a miserable condition. It causes intense, excruciating pain, redness and swelling in one or more joints. Often, the pain may start at the base of the big toe, but other joints frequently hurt just as much. While there are medications that can ease the agony, many people would like natural remedies for gout. Which ones work? A study of male physicians published in the American Journal of Clinical Nutrition (May 16, 2022) reveals that vitamin C might be surprisingly effective!
Some readers want natural remedies for gout:
Q. Are there any natural approaches for relieving gout? Please help! This attack has put me down for now and I don't like it. I am taking allopurinol that my doctor prescribed, but it is not working fast enough. Labor pains weren't this bad!
Natural Remedies for Gout:
A. There are a few natural products that can help lower uric acid in the body. During a gout flare-up, uric acid crystals precipitate into the joints and cause the excruciating pain you are experiencing.
Vitamin C to the Rescue?
Could a simple vitamin lower levels of uric acid and reduce the likelihood of developing a painful gout attack? Researchers followed more than 14,000 male doctors for a decade. They were participants in the Physicians Health Study II. The men were randomized to receive either 500 mg of vitamin C daily or placebo.
The doctors in the vitamin C arm of the study were less likely to be diagnosed with gout. Animal research has demonstrated that vitamin C can reduce uric acid levels, which may explain why this common supplement could be beneficial against this painful inflammatory condition (American Journal of Clinical Nutrition, May 16, 2022).
You might assume from this current publication that this is a brand new discovery. Au contraire.
"Higher vitamin C intake is independently associated with a lower risk of gout. Supplemental vitamin C intake may be beneficial in the prevention of gout."
Here is another reader's question:
Q. I'm looking for a home remedy for gout. I have had gout in my finger for years. Celery seed has been successful in controlling the inflammation and pain.
Now I have developed pain with minimal inflammation in my toe, and celery seed is not helping much. I'd be grateful for any advice you can give me on how to reduce the discomfort.
A. Gout is a consequence of high uric acid levels. When uric acid crystals precipitate into a joint, the result is pain and inflammation. To address it, doctors try to lower uric acid levels.
Sour Cherries:
One favorite remedy that may help ease gout pain through its effect on uric acid is tart cherry juice. Some people take cherry extract, while others drink juice or eat frozen cherries. The anthocyanin compounds in tart cherries have anti-inflammatory activity (Clinical and Experimental Rheumatology, July 2022).  So does curcumin, an active compound in the yellow spice turmeric (Arthritis Research & Therapy, Aug. 27, 2019).
People who don't like tart cherry juice might consider a capsule, as a randomized controlled trial found a 480 mg capsule was as effective as juice at lowering uric acid (Plant Foods for Human Nutrition, March 2021).
Fresh, frozen or dried cherries, cherry juice or Montmorency cherry extract all seem to do the job. Healthy women who eat cherries have lower uric acid levels in their blood (Jacob et al, Journal of Nutrition, June 2003).  Even consuming sweet cherries seems to lower inflammation (Journal of Nutrition, April 2006).
"Early case reports from the 1950s suggested that consumption of cherries had a role to play in alleviating gouty pain and inflammation. More recently, cherries and cherry products have been shown to acutely lower serum urate [uric acid] after consumption in healthy people, while a daily supplement of cherry juice was associated with lower serum urate in a placebo-controlled cross-over study of men and women who are overweight or have obesity."
Celery Seed:
Although it is no cure, celery seed is another natural product that may help. Celery is rich in luteolin, a compound that slows the production of uric acid (Yan et al, Food Chemistry, Dec. 15, 2013). Green peppers also contain luteolin and might be beneficial.
Diet Offers Natural Remedies for Gout:
Losing weight is a long-term strategy that might be helpful for some folks. Including nonfat milk and low-fat yogurt and avoiding high-purine foods like meat and seafood can help with prevention (Schlesinger, Current Pharmaceutical Design, 2005). People with gout who avoid or reduce their consumption of beer and other alcoholic beverages often do better.
DASH Diet:
The Health Professionals Follow-up Study collected data on 44,444 men over 26 years. During that time, those who followed a dietary pattern similar to the DASH diet (Dietary Approaches to Stop Hypertension) were about 30 percent less likely to experience an initial gout attack (Rai et al, BMJ, May 9, 2017). A Western-style diet with abundant processed meats, sweets, French fries and desserts raised the risk for gout. People starting a DASH diet have lower uric acid in their blood within a month (Tang et al, Clinical Rheumatology, June 2017).
If you need guidance on how to follow a DASH diet, you'll find it in our book, The People's Pharmacy Quick & Handy Home Remedies.