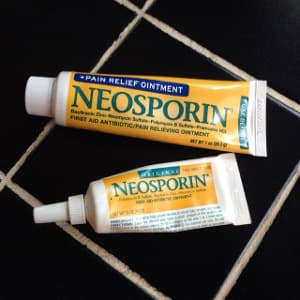 Does a bad reaction hurt more when you applied the offending substance deliberately to help with healing? It may not, but certainly the knowledge that the problem might have been avoided can be grating.
That is why many dermatologists now suggest that people avoid using the topical antibiotic neomycin. They have seen severe skin reactions to this compound, and they appear to be more common now than in past decades. This reader found out first-hand how nasty a Neosporin reaction can be.
Neosporin Reaction Became Debilitating:
Q. I am severely allergic to latex, nickel and Neosporin. Now I am off work for two weeks due to a huge ulcerated lesion on my left knuckle.
I had a small paper cut, applied Neosporin and covered the cut with a latex-free bandage. That was a bad idea! I have been to two specialists, who said all I can do is let it heal before I return to work.
A. Neomycin is one of the antibiotics found in Neosporin ointment. Research suggests that one out of ten individuals reacts to neomycin with a nasty rash (Dermatitis, Jan-Feb, 2013).
What to Use Instead:
Some dermatologists now recommend using simple petrolatum on a minor cut to protect it. That avoids contact dermatitis due to an OTC topical antibiotic. Polymyxin and bacitracin, the other ingredients in Neosporin, may also be capable of triggering a reaction (Dermatologic Surgery, Aug., 2013).