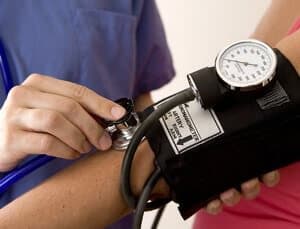 BP pulse cuff hypertension
This is scary. Please pay attention. Valsartan (Diovan) is a popular blood pressure and heart medication. According to our calculations, over 16 million prescriptions are dispensed annually. That means that millions of people take this drug daily. A new warning from the FDA is alerting physicians and patients of a recall of certain generic valsartan blood pressure pills and heart drugs. That's because of fears there might be a carcinogenic impurity in some batches of this widely distributed drug.
Early Danger Signs with Valsartan Blood Pressure Pills:
We regularly monitor international drug recalls. We suspected that there might be a problem with certain batches of generic valsartan blood pressure pills on July 5, 2018. That's when the European Medicines Agency (EMA) began raising warning flags about Chinese-made valsartan.
The Zhejiang HuaHai Pharmaceutical company in Linhai, China had apparently sold contaminated valsartan to a number of drug manufacturers. China now supplies the world with many active pharmaceutical ingredients (APIs). Drug companies in many other countries buy the these APIs, add "inactive" ingredients like binders and fillers and create finished pills. They are then shipped all over the world.
Not long after the European recall, regulators in Japan, Hong Kong and Taiwan also issued a recall. We were watching and waiting to see what the FDA would do.
NDMA and Cancer:
Regulators became aware that an impurity had been introduced during the manufacture of valsartan. That chemical was N-nitrosodimethylamine or NDMA. The EMA reported:
"NDMA is classified as a probable human carcinogen (a substance that could cause cancer) based on results from laboratory tests. The presence of NDMA was unexpected and is thought to be related to changes in the way the active substance was manufactured."
Research published in the British Journal of Nutrition (March 28, 2014) noted that NDMA has "been shown to be carcinogenic in a variety of laboratory animals…" The investigators go on to present their research on people:
"The present study examined the association between dietary NDMA intake and CRC [colorectal cancer] risk in 1760 cases and 2481 controls…Our findings are broadly in agreement with those reported by prospective studies showing a positive association between increased intake of NDMA and CRC occurrence."
NDMA belongs to a family of chemicals called nitrosamines. They are considered significant carcinogens. The compound can be created unintentionally during chemical manufacturing. It can also show up during the synthesis of some pesticides. It's not the kind of chemical you want in your medicine.
What About Valsartan Blood Pressure Pills in the U.S.?
On July 5, 2018, the European Medicines Agency announced its concerns about some of the generic valsartan medicines being sold across Europe. By the next day it was announced that 22 countries were recalling certain generic valsartan blood pressure pills. Some contained just valsartan. Others had the diuretic hydrochlorothiazide (HCT) as an added ingredient. The manufacturers involved included Dexcel Pharma and Accord Healthcare.
Novartis, the original developer of valsartan (Diovan), told CNN on July 6 that:
"Sandoz valsartan and valsartan/HCT film-coated tablets are being recalled since they 'do not meet our high quality standards.'"

"Novartis spokesman Eric Althoff said that products sold in the United States are not affected by this recall. The US Food and Drug Administration says it is looking to see whether it 'has any information to share at this time' and directed questions to the manufacturer, as it is 'the best source of information about their product.'"
We weren't convinced that this problem was confined to Europe, Japan, Hong Kong and Taiwan. Chinese companies supply active pharmaceutical ingredients to generic drug makers in many other countries. We wondered whether North America might also be exposed. Our concerns increased when Health Canada recalled certain valsartan blood pressure pills on July 10, 2018.
Radio Canada International reported that some of the affected products involved in the Health Canada recall included TEVA, ACT, SANDOZ, SANIS, PRO DOC LIMITEE and SIVEM.
The FDA Takes Action!
Finally, on July 13, 2018, the FDA announced
"a voluntary recall of several drug products containing the active ingredient valsartan, used to treat high blood pressure and heart failure."
The FDA list of recalled products included:
Medicine                                                                              Company
Valsartan                                                                       Major Pharmaceuticals
Valsartan                                                                       Solco Healthcare
Valsartan                                                              Teva Pharmaceutical Industries
Valsartan/Hydrochlorothiazide (HCTZ)                Solco Healthcare
Valsartan/Hydrochlorothiazide (HCTZ)        Teva Pharmaceutical Industries
The FDA added this statement:
"The FDA is committed to maintaining our gold standard for safety and efficacy. That includes our efforts to ensure the quality of drugs and the safe manner in which they're manufactured," said FDA Commissioner Scott Gottlieb, M.D.

"When we identify lapses in the quality of drugs and problems with their manufacturing that have the potential to create risks to patients, we're committed to taking swift action to alert the public and help facilitate the removal of the products from the market. As we seek the removal of certain drug products today, our drug shortages team is also working hard to ensure patients' therapeutic needs are met in the United States with an adequate supply of unaffected medications."
People's Pharmacy Perspective:
We wish the FDA had discovered the NDMA contamination before the European regulators did. Instead, we were over a week behind them. We wonder if the FDA would have discovered the contamination on its own.
Which brings us to the whole question of Chinese drug manufacturing. As far as we can tell, there has been no announcement about tariffs on medicines made in China or India. Most Americans would be amazed to learn that a huge number of our over-the-counter and prescription medicines are made in those two countries.
Were Chinese pharmaceutical companies to stop sending ingredients directly or indirectly to the U.S., we would face a health crisis of epic proportions. Drug shortages would become critical very quickly.
It is almost impossible to tell where the ingredients in your pills are manufactured. There is no country of origin information on the label.
Teva Pharmaceutical Industries, Ltd is an Israeli drug company. We have no idea where the valsartan blood pressure pills they sell in the U.S. are made. But we suspect the company obtained its valsartan ingredient from the Chinese company Zhejiang Huahai Pharmaceutical.
Solco Healthcare U.S. is located in Cranberry, NJ. It describes itself as an industry leader in marketing and distributing generic pharmaceuticals. Solco is owned by Prinston Pharmaceutical, Inc (a subsidiary of Zhejiang Huahua) and by Zhejiang Huahai Pharmaceutical of China.
This is not the first time we have experienced problems with Chinese made raw ingredients. Perhaps you have forgotten the heparin scandal. Here is a link to remind you.
Final Words:
Do NOT stop taking your valsartan suddenly, even if it is on the suspect list. Do contact your physician and your pharmacist if you are taking one of the valsartan high blood pressure pills listed by the FDA. Hopefully your pharmacist will be able to obtain valsartan that has not been contaminated with NDMA.
If shortages of valsartan develop, your doctor could prescribe another ARB such as losartan, olmesartan or telmisartan. You can learn more about these drugs and their side effects at this link.
Share your thoughts on the valsartan recalls in the comment section below.