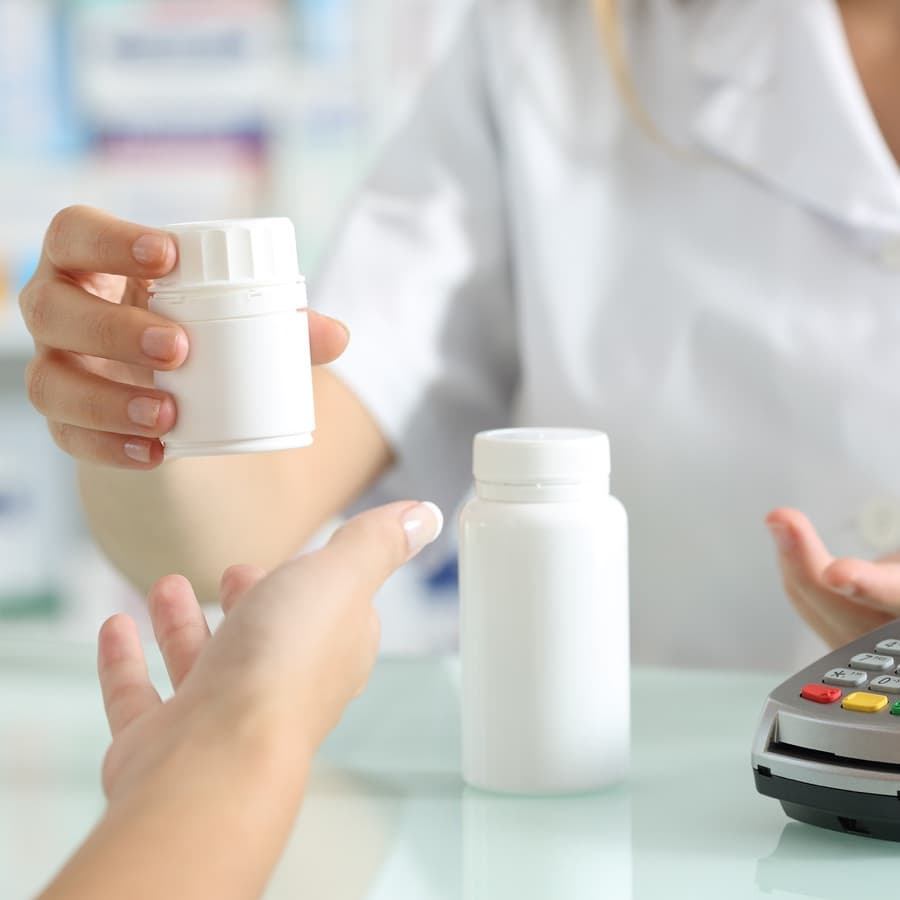 Close up of a pharmacist hands selling medicines to a customer on a pharmacy desk
Every year millions of Americans are seriously harmed by the medicines that are supposed to heal them or relieve their discomfort. In far too many cases, the injuries are disabling or even fatal. The Institute for Safe Medication Practices [ISMP] has been tracking the FDA's database of adverse drug reactions for years. ISMP is a "nonprofit organization devoted entirely to medication error prevention and safe medication use."
Patients, pharmacists, physicians, nurses and drug companies can submit adverse event reports or stories about drug failures to the FDA through a system called MedWatch: After someone sends in a report of a bad drug reaction it ends up in a computerized database called AERS (Adverse Event Reporting System). The FDA reviews this information but doesn't make it easily accessible in a usable form for the rest of us. That's where Tom Moore comes in. He has cracked the FDA's code and has been offering quarterly reports of the FDA data for years through ISMP.
If it weren't for Tom we would have very little idea what kind of drug problems have been reported to the FDA. He has summarized the data for last year in his latest report: http://www.ismp.org/QuarterWatch/default.aspx
Here is what Tom has discovered. Adverse event reports of "serious, disabling, and fatal adverse drug events" are up over 9% in the last year. Roughly 180,000 such reports were submitted to the FDA. Experts estimate that is just the tip of the iceberg. It might represent as little as 1% of the number of people who were seriously harmed by medications last year. That's because most health professionals cannot take the time to submit a report and most patients don't know that they can.
The brand new report from ISMP uncovers the drugs that led to the most reports of serious adverse reactions in 2011. They are in order:
"Suspect drugs ranked by number of direct reports to FDA in 2011"
Pradaxa (dabigatran)
Coumadin (warfarin)
Levaquin (levofloxacin)
Carboplatin
Zestril (lisinopril)
Cisplatin
Zocor (simvastatin)
Cymbalta (duloxetine)
Cipro (ciprofloxacin)
Bactrim (sulfamethoxazole-trimethoprim)
Most health professionals would understand why Pradaxa and warfarin led the list. These anticoagulants are prescribed to prevent blood clots from causing strokes or other harm from restricted blood flow to vulnerable tissues. The trouble is that older patients are especially vulnerable to complications from such drugs. We think of it a bit like walking a tightrope. On one side are blood clots that can cause lethal complications. On the other side is hemorrhage that can lead to fatal bleeding episodes.
According to the ISMP report, Pradaxa was associated with hemorrhage, kidney failure, stroke, liver failure and more than 500 deaths. Warfarin was linked to over 1000 cases of serious complications and 72 deaths. These are just the serious adverse drug events for these two medications that were reported to the FDA. Goodness knows how many life-threatening or fatal reactions went unreported.
Most physicians would be surprised to see that the antibiotic Levaquin made the top 10 list of problem drugs. We're not. We have received a huge number of complaints about this drug from visitors to this website. Many people report tendon problems. Here is just one example:
"My husband took Levaquin for a sinus infection and within hours the tendons in his legs tightened and he could not walk. It took months for him to get better though he still has some residual leg pain."
Others report psychological or neurological problems with this class of antibiotics (fluoroquinolones): One visitor to this website shared this story:
"I am a college student who is still suffering the effects of Levaquin months later. My doctor prescribed it for painful urination with a fever. Within an hour of taking the first dose, my legs felt numb and it seemed like my brain was frying. I couldn't explain to my mom what was happening and I could barely move. It wasn't that I was paralyzed; more like I was walking on a water bed. I had no balance, my gait was terrible, and I couldn't think.

"My doctor thought the neurological symptoms I was experiencing were due to fever and dehydration, but really it was a consequence of the Levaquin. I still have deep pains in my knees and feet and I am too weak to exercise as I used to. But the biggest problem that bothers me is the brain fog. I get lost easily, cannot remember things and had to withdraw from school. I am wired-tired and have great trouble sleeping."
An article in the New England Journal of Medicine recently noted that levofloxacin can cause serious irregular heart rhythms.
To read more stories about Levaquin side effects, visit these links:
Most physicians would probably be amazed to see that lisinopril also made it to the top 10 list of problem prescriptions in 2011. Not us. We have been receiving a steady stream of serious complaints about this ACE inhibitor blood pressure medication for years. Here is just one example:
"Your column saved my life (or at least made it worth living again). I have been in lisinopril hell for over three months.

"My insurance company switched me from Micardis, a blood pressure medicine that had no side effects, to lisinopril. They gave me six months free. If I had not agreed to switch, I would have had to pay $100 a month for the Micardis.

"Almost immediately, I became incapacitated with a violent cough. It made me choke, gag and vomit, and even lose my bladder control.

"At first I thought I had caught the flu. A doctor then diagnosed a sinus infection. Antibiotics didn't help. I went back to my doctor, who dismissed my symptoms by sending me to an allergist.

"The allergist had me fill out a lengthy history in which I mentioned the lisinopril, but he did not make the connection either. Instead he put me through a series of very expensive breathing tests and gave me breathing medicines (also expensive). Needless to say, none of this worked.

"I was becoming depressed because the cough was interfering with my sleep, work and social life. Then my neighbor showed me your column about lisinopril cough. I stopped the drug and have completely recovered."
More stories can be found at these links:
Some people experience a life-threatening allergic reaction to ACE inhibitors like lisinopril:
"On January 15, my brother experienced an allergic reaction that made his throat and tongue swell. He was rushed to the nearest emergency room, but shortly after he arrived his airways closed up so the ER staff could not get a tube in for some time.

"His wife had brought in his meds and it was quickly determined that the culprit was the blood pressure pill lisinopril. He had been been taking it for four years.

"He went into cardiac arrest and was revived but suffered massive brain damage. He died February 8. You might want to warn your readers about this reaction." https://www.peoplespharmacy.com/articles/blood-pressure-pill-proved-deadly/
We must emphasize that NO ONE should EVER stop taking any medication without careful consultation with a physician and medical supervision. Even dangerous drugs can be essential for health. We have listed these medications because we believe that the ISMP report deserves careful consideration. Recognizing the drugs that have caused the most adverse event reports to the FDA may help patients avoid becoming a statistic or ending up in the FDA database. Always find out what symptoms to look out for. Have your health professionals fill out this FREE Drug Safety Questionnaire.
And take a few minutes to review the latest ISMP Quarter Watch. It provides far more depth about the FDA's MedWatch reports than we can in this brief summary.
You can report any serious side effects directly to the FDA's MedWatch program.
Should you wish to report an adverse drug event to The People's Pharmacy you can do so here. Just go to the comment section below and submit your report.