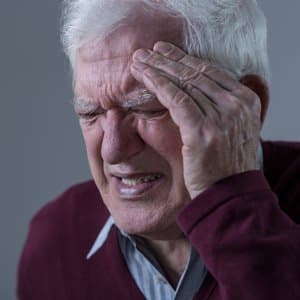 Elderly upset man with terrible headache, horizontal
Before accepting any prescription, ask your health care provider about potential side effects. In some cases, your partner should be there for the discussion as well. It's not unusual for a medication to affect sexual interest and performance so strongly that the relationship is altered. That is the story with one woman taking Topamax for migraine headache prevention.
The Trouble with Topamax:
Q. My wife has just recently started using Topamax (topiramate) again. We went from an awesome relationship and fabulous sex to fighting and abstinence. When she was on it before, it was the same thing… absolutely no interest in any advance that I made and arguments arising out of thin air.
This drug has made a great relationship between two best friends become bitter and stale. Avoid this drug at all costs if you can. If you must take it, sit down and discuss it with your spouse and the possible effects it will have on your relationship. It was difficult, and I felt shallow, but I talked to my wife about it and told her that no sex flat out sucked.
Talking about it has improved our relationship, but not our sex life.
It's to the point that I think that there is something wrong with me (shallow, one track mind) because lack of sex (none) has caused so much of a problem.
I'm 34 years old and I have a STRONG sex drive, but she has no interest at all. I wish there was something else she could take for migraines, but for now we have to live with it.
What Is Topamax?
A. Topamax (topiramate) is an antiseizure medication used to control epilepsy. It has also been found (and approved by the FDA) to help against migraine headaches.
For many people topiramate can make a huge difference in the quality of life. Anyone who suffers from migraines knows that preventing an attack in the first place is far better than trying to fight the incredible pain once it has a foothold.
That said, there are a number of side effects associated with this medication.
Topamax (Topiramate) Side Effects:
Metabolic Acidosis (a condition caused by reduced bicarbonate in the blood); symptoms may include fatigue, loss of appetite, rapid breathing, chest pain, irregular heart rhythms, headaches, altered mental state, coma
Changes in mood or behavior, depression, suicidal thoughts
Confusion, cognitive dysfunction, difficulty concentrating or finding words, problems with memory
Fatigue, tiredness, dizziness, spaciness, unsteadiness
Tingling or numbness in hands or feet, muscle contractions
Anxiety, nervousness, insomnia
Digestive distress, heartburn, nausea, diarrhea, abdominal pain
Visual disturbances, difficulty focusing, uncontrollable eye movements, double vision
Changes in taste
Hair loss
Osteoporosis
Skin reactions (can be serious or life threatening and require immediate medical attention)
Sexual Side Effects:
Reduced libido has been considered a rare side effect of topiramate, but we doubt that it has been well studied. Sexual side effects in general are not well researched. One study in the journal Headache reported several case reports of women who developed anorgasmia (inability to achieve orgasm) while taking topiramate.
The authors from the Headache Institute at Roosevelt Hospital in New York concluded:
"Physicians need to be aware of the potential for topiramate to cause sexual side effects, and should inquire about these symptoms in patients for whom this agent has been prescribed."
More recently, a systematic review of 17 studies of patients on topiramate found that approximately 9 percent reported sexual dysfunction or libido disorders, while 2 percent complained of anorgasmia (Chen et al, Epilepsy & Behavior, Aug. 2017).
We are glad you and your wife are talking about these issues. That is better than pretending that they do not exist. You may also find our Guide to Headaches & Migraines of interest.
Share your own story with Topamax (topiramate) below:
Revised 1/4/18