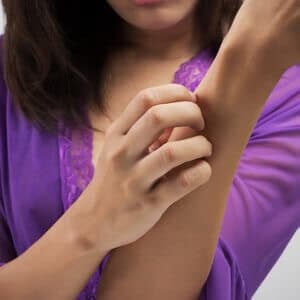 Chances are good that you have seen a Xyzal commercial on TV. You see an animated owl with a distinctive accent. He wears a monocle…presumably to give this wise owl some extra authority. He lets you know that Xyzal "lasts up to six times longer than Benadryl, works faster than Claritin and offers the same relief as Zyrtec at only half the size." What is not mentioned in the commercial is that some people may experience unbearable itching after stopping Xyzal. Read the FDA's response to our concerns about this unexpected complication below!
Readers Report Bad Itching After Stopping Xyzal:
Q. Every time I stop taking the antihistamine Xyzal, I'm fine until a few days later when the itching starts. It soon becomes unbearable.
I have struggled with this for over two years. My doctors think I'm nuts. They tell me the withdrawal itching is all in my head.
Now I'm terrified to quit the drug. Every time that I stop Xyzal and the hives start, I pop another pill. Will I ever be able to stop?
A. You are not the only one to report withdrawal itching with levocetirizine (Xyzal):
Q. Thank you for posting articles about Xyzal withdrawal on your website. I am currently going through that awful process.

Since stopping Xyzal, I have been breaking out in hives throughout the day on my arms, stomach, legs, hands and chest. I was searching my brain for what I could possibly be allergic to. Had I changed detergents? (No.) Eaten anything unusual? (No.)

This has been mentally draining and ruined my holiday. The hives look like welts or long scratch marks, when I haven't even scratched the area. Is there any way to make the drug manufacturer warn of this terrible withdrawal process? It seems like they have a responsibility.
A. Levocetirizine (Xyzal) and its chemical cousin cetirizine (Zyrtec) are antihistamines that are less likely to cause drowsiness than older allergy medicines. Readers first reported withdrawal itching more than a decade ago.
We badgered the FDA about this problem for years. Finally, the agency reported more than 100 cases it found in its FDA Adverse Event Reporting System database (Therapeutic Advances in Drug Safety, July 5, 2019).
The FDA told us that it would require a warning about discontinuation itching in the prescribing information. Sadly, though, we have seen no such warning on OTC versions of these antihistamines.
Gradual Tapering?
An article in Drug Safety Case Reports (Dec. 2016) presents 12 cases and suggests gradual tapering of the dose.  Visitors to our website (www.PeoplesPharmacy.com) have described a variety of strategies to phase off these antihistamines. Search "itching."
We have been writing about the Zyrtec Itch for years. Here is one article you may find of interest:
The FDA's Response to Our Questions About Itching After Stopping Xyzal or Zyrtec:
We contacted the Food and Drug Administration about our concerns on May 15, 2018:
Several years ago we became aware of a withdrawal reaction (pruritis) when these antihistamines (cetirizine [Zyrtec] and levocetirizine [Xyzal] are stopped suddenly. Since then, our website has become a place where people who experience this reaction can report their experiences. Over the last eight years we have accumulated over 700 comments about this problem. We suspect that is substantially more than the FDA's MedWatch program.

There are no warnings or guidance with regard to this phenomenon. Given the widespread availability of such products it would seem prudent for the FDA to investigate this withdrawal reaction and offer health professionals and consumers some information about 1) the possibility and 2) how to discontinue the drugs safely.
Respectfully,
Joe (& Terry) Graedon
The FDA's Response to Our Concerns Re: Itching After Stoping Xyzal or Zyrtec:
On June 3, 2018 we received this message from the FDA
"As stated on the FDA website 'Potential Signals of Serious Risks/New Safety Information Identified from the FDA Adverse Events Reporting System FAERS,' the potential safety issue of rebound pruritus with cetirizine, levocetirizine, and hydroxyzine was posted July – September 2017, prompting evaluation to determine the need for regulatory action.

"As a result of this review, the prescription levocetirizine Prescribing Information was revised to include the following information about pruritus after discontinuation of cetirizine in the Adverse Reactions-Postmarketing Experience section…"

We were left with further questions and responded to the FDA with this note on June 3, 2018.
"Dear Dr. Dal Pan,

"Thank you very much for responding to our concerns about withdrawal itching (pruritus) after discontinuing cetirizine and/or levocetirizine. I was not aware that the prescribing information (labeling) had changed. I would be most grateful if you could provide access to the labeling information for cetirizine, levocetirizine and hydroxyzine (Atarax).

"Our usual resource for labeling information is DAILYMED. Once a product like Zyrtec or Xyzal becomes available OTC, the information on the DAILYMED web site becomes the OTC labeling. As a result, there is no mention of rebound pruritus. When I checked the hydroxyzine (Atarax) drug label information, I also found no mention of rebound pruritus.

"We recognize that rebound pruritus may not be perceived as a serious risk, but we can assure you that for hundreds of patients who have left comments on our website it is quite disconcerting/debilitating. We would be happy to supply your office with examples of the physical and emotional distress this reaction triggers.

"We would strongly urge your office to consider making this information available on OTC packaging. Now that cetirizine and levocetirizine are available without a prescription, millions of people will have access to these allergy medications without the benefit of a rebound pruritus warning. For example, if a health professional or a patient were to go to MedlinePlus for accurate and objective information about cetirizine at this website there is no reference to rebound pruritus.

"Finally, the warning that rebound pruritus occurs "usually after long-term use (e.g. months to years)" may not reflect real-world experiences. Is there any science/clinical trial data to support this statement? We simply would like to know how you determined this.

"Thank you again for responding to our request and for facilitating the labeling change. We would be especially gratified to see this included in the OTC labeling information.

Joe (and Teresa) Graedon"
We have heard nothing further from Dr. Dal Pan.
Strategies to Deal with Itching After Stopping Xyzal:
As far as we can tell, the Food and Drug Administration has not required the makers of OTC Xyzal or Zyrtec to notify people about the potential problem of itching after stopping Xyzal or Zyrtec. Many OTC products do not contain the same warnings and cautions that are available on the prescription labeling. We have not found any instructions for gradual weaning off these products.
Many of the visitors to our website have come up with their own strategies for dealing with the itching after stopping Xyzal or Zyrtec. You can read about them at these link:
Share Your Story:
We would like to hear from you. Have you ever experienced itching after stopping cetirizine (Zyrtec) or levocetirizine (Xyzal)? If not, we would very much like to hear about your experience too. Did these antihistamines work well to relieve your symptoms? Please let our visitors know how you have fared on these popular drugs in the comment section below.