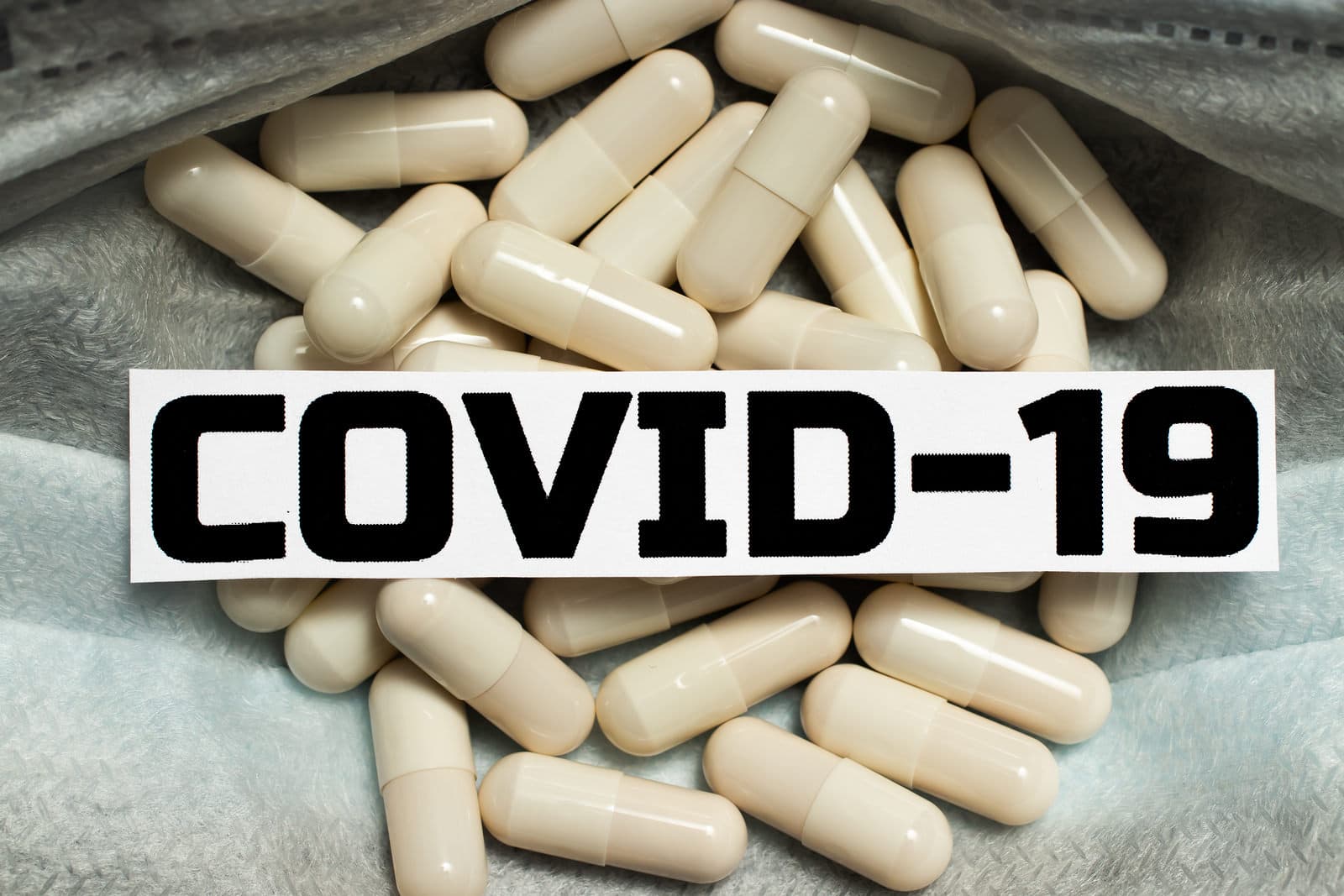 COVID-19 Wuhan Coronovirus. Tablets capsules for the treatment of Wuhan coronovirus. A medicine to treat a viral infection. Pneumonia disease caused by COVID-19. Pills in a medical mask.
We have all been waiting for some good news about the coronavirus pandemic that is creating chaos around the world. New data about the drugs chloroquine and especially hydroxychloroquine for COVID-19 might be the breakthrough we have been hoping for. Of course, it is still early days. We will need much more clinical trial data to know for sure. Nevertheless, the preliminary reports are encouraging. We are about to provide you the latest information on these drugs for the coronavirus, aka SARS-CoV-2.
What Are Chloroquine and Hydroxychloroquine?
I learned about chloroquine (CQ) 50 years ago. I was a pharmacology grad student at the University of Michigan. The drug intrigued me then. Now it, and its chemical cousin hydroxychloroquine (HCQ), have captured the world's attention because of COVID-19.
Chloroquine had been synthesized by German chemists as early as 1934. It is related to the drug quinacrine and quinine, both of which have been used for the treatment of malaria. Quinine originally came from the bark of the cinchona tree. Extracts of this compound have been used since the early 17th century to treat symptoms of malaria. Quinine has also been used to treat rheumatoid arthritis and lupus. This drug gives tonic water its bitter taste.
Chloroquine, like quinine, has been used to treat malaria, rheumatoid arthritis and lupus. Chloroquine has a fair amount of toxicity (more about that later). Chemists synthesized chloroquine's chemical cousin, hydroxychloroquine, in 1946. The FDA approved it under the brand name Plaquenil in 1955. It was thought to be somewhat safer than chloroquine. It is currently FDA-approved to treat lupus, rheumatoid arthritis and malaria.
Chloroquine and Hydroxychloroquine for COVID-19:
We first got wind of possible antiviral activity associated with CQ and HCQ several days ago. One of our loyal readers, Charlotte, tipped us off to YouTube videos by Dr. Roger Seheult. This physician explains complex molecular biology in ways most people can comprehend.
His Coronavirus Update 34 (March 10, 2020) and Coronavirus Update 35 (March 12, 2020) describe the potential benefit of chloroquine and hydroxychloroquine for COVID-19. You can read our commentary on these videos, watch Dr. Seheult do his thing and get a great overview of the preliminary research at this link.
Are There Compounds That Might Help Control Coronavirus?
There are NO FDA-approved medicines against coronavirus. Thanks to Dr. Roger Seheult, we learned about a few compounds that might help control coronavirus.
New Research on Hydroxychloroquine for COVID-19:
Over the last few days there has been dramatic new research regarding chloroquine and hydroxychloroquine for COVID-19. French researchers published early data in the International Journal of Antimicrobial Agents (online, March 17, 2020).
These researchers were aware of the antiviral activity of chloroquine and hydroxychloroquine over two decades ago. One of the authors proposed using these drugs 25 years ago against hard-to-treat bacterial infections. Recently, he remembered that it was potentially effective against four different kinds of coronavirus.
When a Chinese team reported that the SARS-CoV-2 was sensitive to CQ and HCQ, the French team decided to conduct a preliminary clinical trial three weeks ago. They used HCQ plus the antibiotic azithromycin, which may also have antiviral activity. Within three to six days they saw complete clearance of the virus.
You can watch a YouTube video with one of the principal French investigators at this link. He describes his experience with hydroxychloroquine for COVID-19 in a charming French accent! Here is a link.
Key Findings About Hydroxychloroquine for COVID-19:
If you would like to read what the French researchers wrote in their scientific paper, we quote some of their key findings below. The investigators recruited 36 patients for the study.
Although the results are preliminary, they felt it was important to share the findings with the medical community
"given the urgent need for an effective drug against SARS-CoV-2 in the current pandemic context."

"We show here that hydroxychloroquine is efficient in clearing viral nasopharyngeal carriage of SARS-CoV-2 in COVID-19 patients in only three to six days, in most patients. A significant difference was observed between hydroxychloroquine-treated patients and controls starting even on day3 post-inclusion. These results are of great importance because a recent paper has shown that the mean duration of viral shedding in patients suffering from COVID- 19 in China was 20 days (even 37 days for the longest duration).

"Despite its small sample size our survey shows that hydroxychloroquine treatment is significantly associated with viral load reduction/disappearance in COVID-19 patients and its effect is reinforced by azithromycin."

"Such results are promising and open the possibility of an international strategy to decision-makers to fight this emerging viral infection in real-time even if other strategies and research including vaccine development could be also effective, but only in the future. We therefore recommend that COVID-19 patients be treated with hydroxychloroquine and azithromycin to cure their infection and to limit the transmission of the virus to other people in order to curb the spread of COVID-19 in the world."
We encourage you to watch the video yourself at this link.
Chinese Research with Hydroxychloroquine for COVID-19:
Chinese scientists have also been looking for effective treatment strategies against the coronavirus (aka SARS-CoV-2).
"We have recently reported that two drugs, remdesivir (GS-5734) and chloroquine (CQ) phosphate, efficiently inhibited SARS-CoV-2 infection in vitro."
In vitro means in a test tube or petri dish. The researchers go on to note that remdesivir has shown preliminary promise.
They also note:
"…as an experimental drug, remdesivir is not expected to be largely available for treating a very large number of patients in a timely manner. Therefore, of the two potential drugs, CQ [chloroquine] appears to be the drug of choice for large-scale use due to its availability, proven safety record, and a relatively low cost."
These researchers go on to describe a derivative of CQ, hydroxychloroquine (HCQ). It was first synthesized in 1946.
It is currently prescribed under the brand name Plaquenil or in an inexpensive generic form.
"Clinical investigation found that high concentration of cytokines were detected in the plasma of critically ill patients infected with SARS-CoV-2, suggesting that cytokine storm was associated with disease severity. Other than its direct antiviral activity, HCQ is a safe and successful anti-inflammatory agent that has been used extensively in autoimmune diseases and can significantly decrease the production of cytokines and, in particular, pro-inflammatory factors. Therefore, in COVID-19 patients, HCQ may also contribute to attenuating the inflammatory response.

"In conclusion, our results show that HCQ can efficiently inhibit SARS-CoV-2 infection in vitro. In combination with its anti-inflammatory function, we predict that the drug has a good potential to combat the disease. This possibility awaits confirmation by clinical trials. We need to point out, although HCQ is less toxic than CQ, prolonged and overdose usage can still cause poisoning."
Pros and Cons of Hydroxychloroquine for COVID-19:
Both chloroquine and hydroxychloroquine are not without potential adverse reactions. 
Chloroquine Side Effects:
Digestive distress: stomach discomfort, loss of appetite, nausea, vomiting, diarrhea
Visual changes, damage to the retina
Headache, ringing in the ears, hearing loss
Skin reactions, sensitivity to sunlight
Muscle discomfort, weakness
Severe allergic reactions
Blood disorders
Serious heart arrhythmias
Hydroxychloroquine Side Effects:
Dizziness, unsteadiness
Headache, ringing in the ears
Digestive distress: nausea, vomiting, diarrhea, stomach pain, weight loss
Itching, serious skin reactions
Visual disturbances
Blood disorders
Heart rhythm irregularities, heart disorders
The good news about these drugs is that the French researchers saw dramatic improvement in viral load after just a few days. If other investigators confirm these results, this would be a dramatic advance in the treatment of the coronavirus.
These drugs are already FDA approved. They have been on the market for decades. We know the toxicity and can monitor it.
The French researchers note that these drugs may become important for health care workers:
"Further works are also warranted to determine if these compounds could be useful as chemoprophylaxis to prevent the transmission of the virus, especially for healthcare workers."
President Trump on Hydroxychloroquine for COVID-19:
During President Trump's press conference on March 19, 2020 he commented on HCQ against the coronavirus. He pointed out that hydroxychloroquine has been around for a long time, is "very powerful," and has shown "very, very encouraging results."
President Trump offered some additional comments:
"We are going to be able to make that drug almost immediately…Tremendous promise…I think it's going to be great…Very exciting…Could be a game changer…Very powerful…Could be a tremendous breakthrough."
We certainly hope his enthusiasm is warranted. Only time will tell. More importantly, will drug companies be able to create enough HCQ to meet the demand if the drug proves to be highly effective against COVID-19? Now that most of our medicines are made abroad, we worry that the supply chain may be broken and that it could take months for manufacturers to ramp up and produce enough hydroxychloroquine or azithromycin to meet the demand.
Final Words:
You may want to go back and read our prior article about hydroxychloroquine for COVID-19. You will also learn about an OTC dietary supplement called quercetin. It too may have antiviral activity against the coronavirus.
If you have found this article of interest, please pass it along to friends, family and health professionals. You can do so easily by going to the upper left hand corner at the top of the article and clicking on one of the icons for Facebook, Twitter or email.