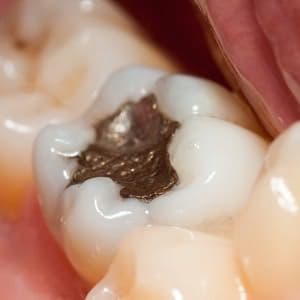 Several years ago we cited a report from Greg Gordon published by the Tribune News Service. The headline in the Spokesman-Review (July 23, 2015) was "FDA Proposal To Curb Mercury Fillings Killed." Mr. Gordon reported on the controversy surrounding amalgam fillings (aka mercury dental fillings):
"Senior U.S. health officials have squelched a Food and Drug Administration proposal that for the first time would have curbed dentists' use of mercury – one of the planet's nastiest toxins because it attacks the central nervous system – in treating Americans' decayed teeth."
According to Greg Gordon, the FDA was poised to issue a safety communication in late 2011.  that was then squelched by bosses at Health and Human Services.
The Executive Summary:
People at the FDA had reviewed the data available on dental amalgam ("silver fillings") and noted that mercury is slowly released from such fillings after chewing, tooth grinding, drinking hot liquids and professional tooth cleaning. The recommendations from the FDA included:
Dentists should not use amalgam fillings in people who are allergic to mercury or other metals in amalgams
Dentists should not put mercury-containing fillings in pregnant women, nursing women, children less than 6 years old and people with kidney or neurological diseases
"Dentists should discuss the benefits and risks of using dental amalgam fillings and restorative alternatives with their patients to allow the patient to make informed choices regarding their treatment options."
The Dental Establishment Fights Back
The mainstream dental community was likely quite indignant about this investigative report. The responses included the following points:
Silver fillings have been used for over 150 years
The FDA's official position is that amalgams are safe and effective
There is no scientific evidence that amalgam fillings cause human harm
Mercury-containing fillings are good because they are less expensive than other materials and last longer
People with amalgam fillings should not worry and be happy
There is no need for dentists to discuss risks of amalgam fillings with patients since there are none
The "Unofficial" FDA Safety Concerns
In the FDA Safety Communication issued in January, 2012 (but apparently squelched), the following points were made:
Studies do not provide conclusive evidence that dental amalgam causes harm
There is uncertainty about how much mercury is absorbed into the body from dental amalgam
"there is limited, if any, clinical data on health effects resulting from exposure to mercury vapor from dental amalgam in these more sensitive populations"
The FDA's White Paper:
The Food and Drug Administration published a White Paper about potential adverse health risks associated with exposure to Mercury in Dental Amalgam. It was current "as of 10/28/2021." The agency points out in its background that:
"In studies of workers in various occupations, mercury vapor, depending on the degree of exposure, can cause neurobehavioral changes, cognitive changes and kidney injury."
The FDA goes on to say:
"Dental amalgam is a restorative material that contains approximately 50% mercury in the elemental form. Mercury vapor is released from amalgam restorations, especially during mastication [chewing] and brushing. In numerous studies, a positive correlation has been shown between the levels of mercury in blood, urine, and tissues and the number of amalgam restoration surfaces. Exposures to mercury vapor from dental amalgam in the general population not occupationally exposed to mercury are considered to be in the exposure or dose range where associations with adverse human health effects have not been observed. Since the number of individuals with dental amalgam restorations is extremely high (tens of millions annually in the U.S.), a large number of individuals are exposed to this source of mercury."
"Dental amalgam is a dental filling material used to fill cavities caused by tooth decay.

"Dental amalgam is a mixture of metals, consisting of liquid  (elemental) mercury and a powdered alloy composed of silver, tin, and copper. Approximately half (50%) of dental amalgam is elemental mercury by weight. The chemical properties of elemental mercury allow it to react with and bind together the silver/copper/tin alloy particles to form an amalgam.

"When placing dental amalgam, the dentist first drills the tooth to remove the decay and then shapes the tooth cavity for placement of the amalgam filling. Next, under appropriate safety conditions, the dentist mixes the encapsulated powdered alloy with the liquid mercury to form an amalgam putty. This softened amalgam putty is placed and shaped in the prepared cavity, where it rapidly hardens into a solid filling.
The agency goes on to discuss the benefits of dental amalgam: strong, long lasting, used for 150 years and inexpensive.
It also lists potential risks:
"Contains elemental mercury.

Releases low levels of mercury in the form of a vapor that can be inhaled and absorbed by the lungs. Exposure to high levels of mercury vapor, which may occur in some occupational settings, has been associated with adverse effects in the brain and the kidney.

Although the available evidence does not show that exposure to mercury from dental amalgam will lead to adverse health effects in the general population, exposure to mercury may pose a greater health risk in the groups of people listed below, who may be more susceptible to potential adverse effects generally associated with mercury.

Pregnant women and their developing fetuses;
Women who are planning to become pregnant;
Nursing women and their newborns and infants;
Children, especially those younger than six years of age;
People with pre-existing neurological disease;
People with impaired kidney function;
People with known heightened sensitivity (allergy) to mercury or other components (silver, copper, tin) of dental amalgam."
The Precautionary Principal
There is an old saying in science that goes like this: "The Absence of evidence is not the evidence of absence." In other words, just because there is no evidence of harm does not mean harm does not exist. If high-quality research into a complicated issue has not been conducted, one cannot assume a problem does not exist.
Determining the potential long-term complications of low-levels of mercury exposure is a challenging proposition. And some people may be more susceptible to mercury toxicity than others. This kind of research is expensive and would require many decades to complete.
The precautionary principal holds that a potentially dangerous chemical should be considered harmful until it is absolutely proved safe. In the case of mercury, the safety of long-term, low-level exposure remains controversial.
An Unexpected Finding:
We did discover one fascinating article in the Journal of Biomedical Physics & Engineering (June, 2022). It revealed unexpected ways that mercury might be released from amalgam fillings:
"Our review shows that exposure to static magnetic fields (SMF) such as those generated by MRI, electromagnetic fields (EMF) such as those produced by mobile phones; ionizing electromagnetic radiations such as X-rays and non- Ionizing electromagnetic radiation such as lasers and light cure devices can significantly increase the release of mercury from dental amalgam restorations and/or cause microleakage.

Conclusion:

"The results of this review show that a wide variety of physical stressors ranging from non-ionizing electromagnetic fields to ionizing radiations can significantly accelerate the release of mercury from amalgam and cause microleakage."
The Sordid History of Lead Toxicity
It took a long time to discover the adverse consequences of lead exposure. For years the lead industry, related corporations, and their scientific advisers maintained that there was uncertainty about the toxicity of lead. Because it can take years or decades to detect the effect of lead on cognition or neurological function, there was a lot of denial when it came to dealing with lead poisoning.
In recent years, a controversy raged about low levels of lead exposure. Some scientists maintained that we didn't need to worry about seemingly small amounts of lead.
The government now says that "there may be no threshold [of lead] for developmental effects on children," and "lack of overt symptoms does not mean 'no lead poisoning."
The government's bottom line: "It is important to prevent all lead exposures."
Someday the government may also say that it is important to prevent all mercury exposures. That day has not yet arrived.
Please add your own thoughts at the bottom of this post.