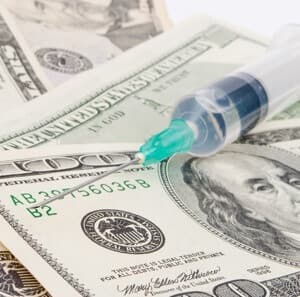 Recovery from COVID can be a significant challenge. We don't yet know how many of those who had COVID and are no longer acutely ill are suffering with lingering symptoms that affect their quality of life. Likewise, there are no statistics on how many people were left with giant medical bills that will wear them down over the coming years. Who will pay for the extraordinary cost of COVID treatment? A study in JAMA Network Open (Oct. 18, 2021) suggests that many patients will be left holding the bag.
When Insurers No Longer Cover All COVID Costs:
The analysis published in JAMA Network Open suggests that people recovering from COVID could get walloped with huge medical bills. During the worst of the pandemic last year, many insurance companies did not bill patients for ambulance rides or treatment and waived deductibles and co-pays.
There was a general recognition that COVID constituted a national emergency and everyone needed to pitch in. But now, many insurers are reverting to their previous practices. The authors note that:
"As of August 2021, 72% of the 2 largest private insurers in each state no longer waive cost sharing for COVID-19 hospitalizations. Furthermore, several large Medicare Advantage insurers have allowed cost-sharing waivers to expire. Analyses suggest that patients covered by these insurers may now experience substantial financial burden for COVID-19 hospitalizations, particularly those who are privately insured."
The authors suggest that federal policy makers might need to enact legislation mandating that insurers waive cost-sharing until the public health emergency is no longer urgent.
What Does It Cost to Be Hospitalized with COVID?
COVID tests and vaccinations are free, but treatment may not be. At the height of the pandemic, many health care systems picked up the tab for treating desperately ill COVID patients, accepting what the insurance companies paid. They recognized that in a national emergency, public health and survival should be prioritized over profit.
Now, however, survivors are increasingly having to deal with extremely high medical bills. Only those on Medicaid and those with no insurance coverage are protected by law from such bills.
The Insurance Industry Estimates the Cost of COVID:
"Assuming a 20% infection rate among the study population, the report estimates that more than 50 million Americans will become infected, with at least 5.5 million requiring hospitalization – of which 1.3 million will require intensive care. For each person admitted into intensive care, costs, on average, could exceed $30,000."
The Government Perspective:
"Among 28.1 million Medicare FFS [fee-for-service] beneficiaries, 1,181,127 (4.2%) sought COVID-19–related medical care. Among these patients, 23.0% had an inpatient stay and 4.2% died during hospitalization…The mean hospitalization cost was $21,752, and the mean length of stay was 9.2 days; hospitalization cost and length of stay were higher if the patient needed a ventilator ($49,441 and 17.1 days) or died ($32,015 and 11.3 days)."

"Treatment after COVID-19 diagnosis is not free; payment is shared by patients, insurance payers, and health care providers, and the amount for which each stakeholder is responsible depends on the patient's insurance status and coverage."
Patients Are Being Billed for the Cost of COVID:
A New York Times article (May 21, 2021) reveals that some patients are being bankrupted by COVID-19.
Sarah Kliff wrote:
"A man whose father died of the virus last fall uses an Excel spreadsheet to organize the outstanding debts. It has 457 rows, one for each of his father's bills, totaling over $1 million.

"'People think there is some relief program for medical bills for coronavirus patients,' said Jennifer Miller, a psychologist near Milwaukee who is working with a lawyer to challenge thousands in outstanding debt from two emergency room visits last year. 'It just doesn't exist.'"
Sarah Kliff quotes Senator Tina Smith from Minnesota:
"There was a feeling that many private plans were initially covering treatment, but now that is petering out and leaving people on the hook."
Post-COVID Syndrome (aka long COVID):
Perhaps you have heard of long haulers. These are people who had mild symptoms after coming down with COVID. Some barely knew they were infected. Several weeks or months later, though, they developed long-lasting symptoms that can be debilitating.
Treatment for long-lasting complications of COVID, such as severe fatigue, dizziness on standing, brain fog, shortness of breath, tinnitus and hearing loss, may not be covered. People with insurance may discover that their co-payments can add up to thousands of dollars when they see specialists and get scans.
Irena Schulz is a retired Parkinson's and Alzheimer's researcher. She has tinnitus and hearing loss along with other long-hauler symptoms.
She told CNN about her battle with post-COVID syndrome:
""It's very scary when I can't go to the doctors, when I can't afford it,'

"The medical bills she faces from a hospital stay, trips to specialists for hearing loss, and new hearing aids have depleted the Schulz family's emergency funds and strained the family's finances.

"'I shouldn't have to burden my family because COVID has left me the way it has.

"'I can't go see a doctor. I can't afford it. Our premiums, you know, every month are incredible,' Schultz said. 'My deductible is $3,000, so I have to meet that deductible. How do I pay that deductible?'"
The People's Pharmacy Perspective:
The bills are starting to come due on the cost of COVID treatment. Millions of people who are struggling with post-COVID syndrome could face large deductibles and ongoing medical bills for months or even years. The true cost of COVID won't be calculated for months or years. The human suffering is incalculable.
Learn more about long COVID at this link: