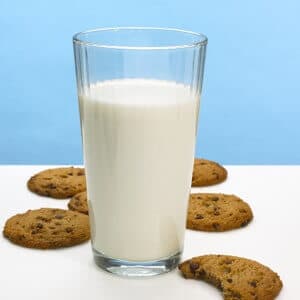 Is there a connection between acne and diet? For years, dermatologists told teenagers to stay away from high-fat foods like burgers, shakes, fries or chocolate. Then there was a period in which dermatologists didn't seem to think diet had any impact. That has now changed, with increasing evidence that either high-sugar foods or low-fat milk can trigger acne.
Sugar Is Not Skin's Friend:
Q. I've dealt with acne all of my life. When I was in my 30s, Accutane mostly eliminated cystic acne. Nonetheless, I still break out.
When I retired, my sugar consumption decreased, and my skin improved. The day or so after I volunteer – and find something sweet in the office kitchen — my skin reminds me that sugar is not my friend.
We recently moved, and my spouse no longer gets a free cookie with his lunch at the sandwich shop. Magically, his skin has improved.
A. People are often skeptical that changes in diet can affect acne. Even dermatologists used to tell their patients that diet didn't matter.
Studies suggest, however, that eating less sugar and dairy products and consuming more vegetables and fruit can help you achieve clearer skin (Cutis, July 2022). You can learn more about diet and home remedies as well as over the counter and prescription drugs in our online resource, the eGuide to Acne Solutions.
Is It True That Sugar and Milk Can Trigger Acne?
Q. I have acne and it seems that every time I eat anything with sugar I break out. It also seems that milk makes me break out. Is this all in my head or does diet make a difference for complexion?
A. It is not in your head. Dermatologists used to assure their acne patients that diet didn't matter, but sophisticated research now establishes that foods like sugar and refined starches (carbohydrates) that raise blood glucose and insulin promote acne (Dermato-Endocrinology, Jan/Feb/March, 2012).
This is supported by epidemiological research showing that adolescent acne is rare in places like Mali where the diet is not highly processed and doesn't contain much sugar (Evolution, Medicine, and Public Health, Oct. 2, 2016). Presumably, sugar stimulates the production of insulin-like growth factor (IGF-1) (Experimental Dermatology, Sep. 2020). This, in turn, encourages skin cells to boost their production of skin oils (sebum) and natural inflammatory chemicals (Annals of Dermatology, Feb. 2017).
The Effect of Milk on Acne:
The amino acid leucine, abundant in milk, also contributes to the biochemical processes that underlie acne. Low-fat and skim milk appear especially likely to trigger acne (Nutrients, Aug. 9, 2018).
What Can Be Done for Acne?
The current recommendation is to eat more vegetables and fruits, and avoid dairy products and highly refined foods. That may not clear up a breakout overnight, but with time that dietary pattern should help make acne easier to control. It is also better for heart and brain health.
Will Home Remedies Help?
There are also some topical remedies to try. For the most part, scientists have not studied home remedies, and they probably will not work in all cases. Many readers have found that Milk of Magnesia applied to the face overnight and removed with a gentle cleanser in the morning can be helpful for acne.
Here is one mother's testimonial:
"My daughter's skin cleared up after she started using MoM, and I was convinced that it worked when her only occasional breakouts were all along the edges of where she applied it – her hairline and around her lips. She ran out of MoM while I was out of town and now we have proof – her forehead completely broke out before we got to the store for more!

"Her skin with MoM is so smooth that her friends ask her what she uses. They have all tried expensive treatments like Proactive without the results she gets from MoM."
Other readers have reported that using Pepto-Bismol in a similar way may be helpful. Perhaps the salicylates in Pepto-Bismol have some activity.
Dermatologists have many possible treatments for acne. If you or someone you know is considering a prescription approach, you might want to check the effectiveness and possible adverse reactions as described by dermatologists for other doctors (Zaenglein et al, Journal of the American Academy of Dermatology, May 2016).