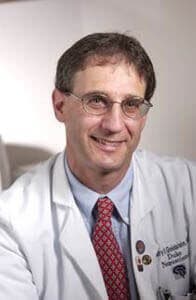 Taking medications that affect brain chemicals can alter our risk of developing dementia. Find out which prescription and over-the-counter drugs are associated with a greater risk of an Alzheimer's disease diagnosis. There is a list of common anticholinergic drugs here.
Stroke Treatment
A Dutch study last month showed that using a special device to reach into an artery in the brain and pull out a clot causing a stroke could significantly improve recovery of function. Neurologist Larry Goldstein, MD, puts the research into perspective.
Pros & Cons
How can patients weigh the risks and the benefits of common treatments, from flu shots to cholesterol-lowering dugs? What has your experience been?
We also discuss the cost and effectiveness of some highly-promoted prescription nail fungus medicines and compare them to home remedies.
Call in your questions and comments at 888-472-3366 or email radio@peoplespharmacy.com between 7 and 8 am EDT.
The Week's Guests:
Larry Goldstein, MD, FAAN, FANA, FAHA, is Professor of Neurology and Chief of the Division of Stroke and Vascular Neurology in the Department of Neurology at Duke University Medical Center. He is also Director of the Duke Stroke Center and Vice-Chair for Quality and Credentials. The photo is of Dr. Goldstein.
Shelly Gray, PharmD, MS, is Professor and Vice Chair of the Department of Pharmacy in the School of Pharmacy at the University of Washington. She is also director of the Geriatric Pharmacy Program. Her article on anticholinergic drugs and dementia was published in JAMA Internal Medicine.
Listen to the Podcast
The podcast of this program will be available the Monday after the broadcast date. The show can be streamed online from this site and podcasts can be downloaded for free.