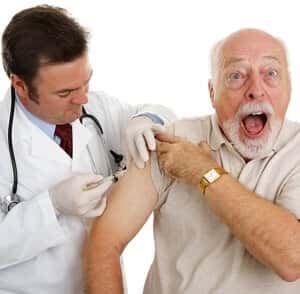 The signs are up at pharmacies that you should get your flu shot ASAP! Public health authorities are already sounding warnings about the coming flu season. It won't be long before television news anchors are reminding you that it's time to get your flu shot. What almost no news organization ever reports is how effective the flu shot was last year. The CDC usually announces last season's vaccine statistics in the summer when most people could care less about influenza. We'll tell you about the vaccine's disappointing track record during the 2018-2019 flu season and what might be in store for you this winter.
CDC's Update on Last Year's Flu:
The FDA was optimistic about the influenza vaccine at the beginning of the 2018-2019 flu season. The scientists believed that they had predicted the strains that would be prevalent and had come up with a close match for the flu shots.
At first, that seemed to be true. Early reports were that nearly half of the people who got their shots were protected. That's better than usual. By February, 2019, the optimism was fading. An emerging strain of H3N2 mutated just enough to overcome the vaccine. It was at best 9% effective. In other words, 9 out of 10 people who had gotten a flu shot were not protected during the virulent late winter/spring epidemic. The overall flu shot effectiveness for the 2018-2019 season was 29%, substantially lower than the more typical 41% of a typical year.
History of Flu Vaccine Effectiveness
Vaccine Effectiveness in Past Years:
2004-2005: Vaccine Effectiveness was: 10%
2005-2006: Vaccine Effectiveness was: 21%
2006-2007: Vaccine Effectiveness was: 52%
2007-2008: Vaccine Effectiveness was: 37%
2008-2009: Vaccine Effectiveness was: 41%
2009-2010: Vaccine Effectiveness was: 56%
2010-2011: Vaccine Effectiveness was:  60%
2011-2012: Vaccine Effectiveness was:  47%
2012-2013: Vaccine Effectiveness was: 49%
2013-2014: Vaccine Effectiveness was: 52%
2014-2015: Vaccine Effectiveness was: 19%
2015-2016: Vaccine Effectiveness was: 47%
2016-2017: Vaccine Effectiveness was: 42%
2017-2018: Vaccine Effectiveness was: 40%
Overall Effectiveness:             41%
Many people see these statistics (41%)  as good news. Messages to "get your flu shot" are welcomed. Other people see 41% as unimpressive. And when they read that last year the vaccine was only 29% effective, they are less enthusiastic about the "get your flu shot" message. Older people, who are especially vulnerable to influenza, fared even worse last year. Only 13% were protected by the flu shot.
Influenza Is Serious:
We would be very sympathetic with the public health message to "get your flu shot," especially if the vaccine worked better. Every year, people suffering influenza and similar viral illness miss a lot of work and school. In addition, the flu can lead to serious complications that require hospitalization.
Pregnant women, older people, very young children and those with chronic diseases affecting the lungs or the heart are more vulnerable to such problems or even death.
The Australian Experience:
No one knows how severe the coming influenza season will be or whether this year's vaccine will be effective. We can look to Australia, however, where flu season is just wrapping up. The southern hemisphere is always six months ahead.
It wasn't particularly severe and lasted not quite as long as usual. Their 2019 flu outbreak had a preponderance of influenza A H3N2. The vaccine did not match as well as authorities had hoped. It's unclear if American authorities are using the same vaccine as the Australian public health officials employed in 2019.
We won't know how well the American flu shots will match circulating viruses until we are well into the season. Last year, the Australian vaccine was not very effective against H3N2. Fingers are crossed that it will hold up in the U.S.
Antiviral Drugs?
What about oral antiviral drugs like Tamiflu or Xofluza? Although the CDC does recommend antiviral medications, many health professionals are skeptical. They see the results of clinical trials that are modest at best. You can learn more about these medications at this link:
What Should You Know About Xofluza Side Effects?
Overdosing on Xofluza for Flu Led to Devastating Diarrhea
Should you get your flu shot now? That is a question that each person will have to answer on her own. Older people who are especially vulnerable probably should get vaccinated, even though based on last year's data they may be less well protected.
Please share your own experience with flu shots in the comment section below.