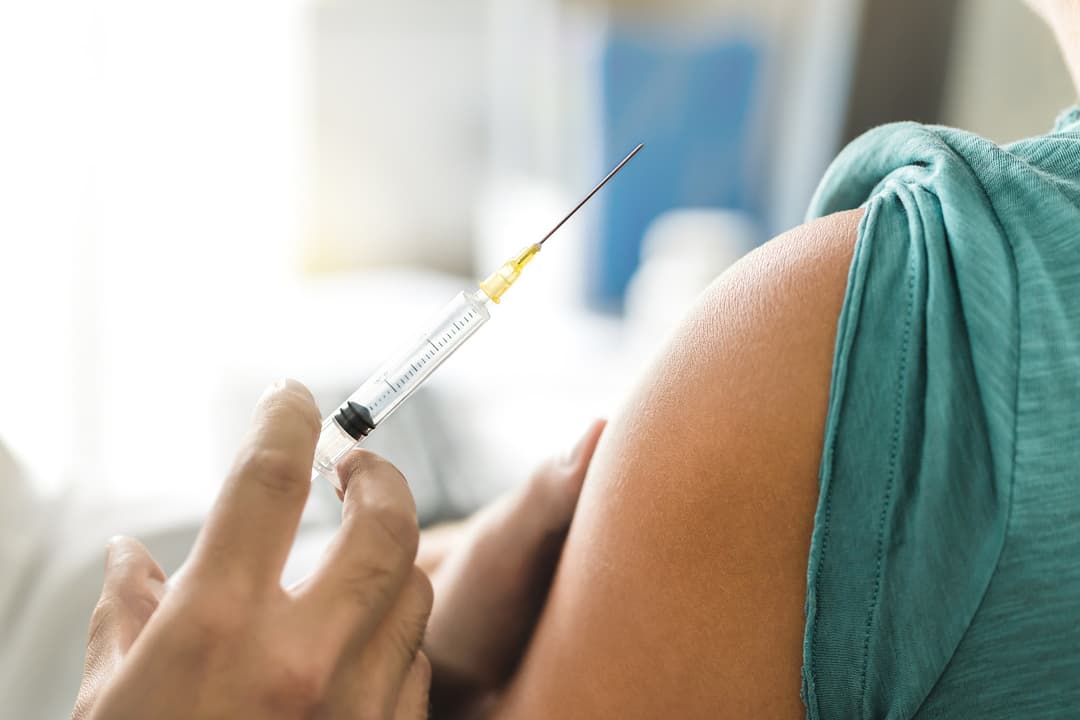 No one likes a know-it-all. When such a person utters the deadly phrase "I told you so," it sets everyones' teeth on edge. It is, therefore, with complete awareness that I am going to annoy you, dear reader, that I state unequivocally that I told you so last October. That's when I wrote that this year's influenza season was going to hit early and hard and that an early flu vaccination made sense. Sorry about that.
It did not take a crystal ball to anticipate this train wreck. I just paid close attention to the influenza outbreak in Australia last summer. That's winter in the southern hemisphere and is often a good predictor of what will occur in north America come December.
Why Did I Recommend Flu Vaccination This Year?
Confession time. I do not usually get an influenza shot. That's largely because a flu vaccination does not work very well. I have been tracking influenza vaccine effectiveness since 2004 (see the data below).
Some years the vaccine is only 10% to 20% effective. At best, a flu shot is barely 60% helpful in preventing influenza. The overall effectiveness is right around 40% and that is not terribly reassuring. But this year I got my influenza vaccine early because I suspected this could be a particularly bad year for the flu.
Influenza Started Spreading Earlier Than Usual:
An analysis of the Australian flu season in the BMJ (Dec. 14, 2022) tells the story. In a typical Aussie winter, flu peaks in mid-August. This year, though, cases started climbing in April. By the end of May, influenza was hitting hard. The H3N2 type-A strain of influenza peaked in mid-June, two months early.
The researchers explain this early flu season:
"Australia's unusually early flu season may be related to its international border reopening fully in February 2022, a reduced immunity to flu in the population because of the absence of community transmission in 2020 and 2021, immune dysregulation due to covid-19 infection, or the lifting of mask mandates and other covid-19 mitigation measures."
The US Follows the Aussie Model:
Americans and Australians are surprisingly similar. After two extremely light flu seasons during which we were careful about masking and social separation, we threw away our masks. Americans started socializing and shopping. We stopped worrying about the transmission of viral diseases like COVID or influenza.
Now, influenza is spreading like wildfire across the United States. The CDC reports rapid increases in cases of Type A H3N2 and H1N1 flu in all states. And yes, COVID-19 is also taking off again and hundreds of people are dying daily.
"CDC estimates that, so far this season, there have been at least 13 million illnesses, 120,000 hospitalizations, and 7,300 deaths from flu."
We suspect that is an undercount. The CDC is always a few weeks behind what is happening on the ground.
We anticipate new data today and we will update this information as it becomes available. According to the CDC's website:
"Why is there a week-long lag between when influenza surveillance data is collected and when it's reported?"
"Influenza surveillance data collection is based on a reporting week that starts on Sunday and ends on the following Saturday of each week. Each surveillance participant is requested to summarize the weekly data and submit it to CDC by the following Tuesday afternoon. The data are then downloaded, compiled, and analyzed at CDC. The data are used to update FluView and FluView Interactive on the following Friday."
By the time the data makes it to the CDC's website, it is already out of date. The CDC does not have a flu monitoring system the way it had a COVID surveillance program. The COVID case reports have been updated daily. For example, you can go to this website and discover that there were 154,709 new cases of COVID-19 on Dec.14, 2022.
How Good Is This Year's Flu Vaccination?
We won't know how effective this year's flu vaccination is until spring, when the flu season is finished. But a preliminary report from the CDC suggests that flu vaccination seems to be "a very good match" to the circulating strains.
That said, Americans seem fed up with vaccines. I don't know if that is because of the anti-vax sentiment that has become so political or because people are fed up with shots. Whatever the reason, flu shots are down across the country.
The flu is widespread across the country, with hospitalizations four times higher than they would normally be at this time of the year. As a result, many hospitals are overwhelmed.
This year's flu season is especially worrisome because we are running out of oseltamivir, also called Tamiflu. This antiviral medication is effective for shortening the duration and intensity of illness. But there is not enough of this prescription medication to treat the people who need it.
Kids At Risk:
Pediatricians are feeling the pinch most acutely. Not only is pediatric Tamiflu hard to find, so are some other medicines used to treat youngsters with respiratory infections. Children's Tylenol for lowering fever is hard to find in some places, although pediatric acetaminophen, the generic alternative, may be available.
Kids with asthma may need albuterol to open their airways, but it too is in short supply. So is amoxicillin, which is useless against viral diseases but can be critical if a child develops a secondary bacterial infection. All these shortages point up serious shortcomings in the American drug supply chain.
Sentinel Sites vs. Total Influenza Case Counts:
The CDC relies upon sentinel sites for its influenza case counts. As far as we can tell, there is no actual country-wide daily flu case count posted anywhere. Why not?
And while we are griping about flu data, why can't consumers purchase fast flu tests for home use from a pharmacy the way they can buy COVID tests? You can get a fast flu test at your doctor's office. It may not be super accurate, but at least you will can get a quick and dirty report from your doctor.
The trouble is, if you have the flu, the last thing you want to do is truck your sick self to the doctor's office. And that's assuming you could even get an appointment.
Some Good News About Diagnosing Influenza:
The FDA announced on May 16, 2022 that it authorized the:
"First COVID-19 Test Available Without a Prescription That Also Detects Flu and RSV"
The agency goes on to state:
"This product is the first direct-to-consumer (non-prescription) multi-analyte COVID-19 test authorized by FDA and allows an individual to self-collect a nasal swab sample at home and then send that sample to Labcorp for testing. The test can identify and differentiate multiple respiratory viruses at the same time, detecting influenza A and B, commonly known as the flu, respiratory syncytial virus, commonly known as RSV, along with SARS-CoV-2, the virus that causes COVID-19. Results are delivered through an online portal, with follow-up from a health care provider for positive or invalid test results."
This sounds good, but it gets complicated quite quickly. Here is a link to the Labcorp OnDemand website.
You will see that there are two options.  One is $0 Upfront Cost with Insurance. Labcorp:
"can bill your insurance if you choose to take the survey and you meet clinical guidelines."
If you like to fill out online surveys you may find this worthwhile.
Or
"You can choose to skip the survey and pay with a credit card if you are uninsured or do not meet clinical guidelines."
Here is a link to the COVID-19, Flu, and RSV Test Kit Survey 
The cost is $169.00
The Other Downside to the Home Test Kit:
We think that is a lot of money for one test kit. You will not get instant results like you would for a home COVID test kit that you can buy online or at a pharmacy.
Instead, Labcorp OnDemand will send you a home collection kit:
"It's easy. We'll send you an at-home collection kit to collect your nasal swab sample. Use the prepaid shipping label to send your kit back to our lab for testing. The average time to deliver results is currently 1-2 days from when your sample is received at the lab. Our labs process samples seven days a week. Check with your local FedEx for pick up and drop off locations."
So, you have to wait for the test kit to arrive and then you have to send it back and wait for the results. By the time they arrive, several days may have passed. If you want your doctor to prescribe an anti-viral flu medicine, the short deadline for effectiveness could well have passed!
So…Should You Get a Flu Vaccination or Not?
We cannot answer that question. It is an individual choice. It takes about 10 days to two weeks for antibodies to build up after a flu shot. Christmas parties and family gatherings are right around the corner.
Dr. William Schaffner is an authority on influenza. Weeks ago he warned that the flu was starting early and could be bad this year. That kind of early warning encouraged me to get my flu vaccination. It might not convince you, however.
For the past few years, influenza has not spread as much as expected, probably due in part to COVID-19 precautions such as masking and staying out of crowds. Now that those restrictions are gone, infectious disease experts anticipate quite a bit of flu.
They are urging people to get their flu vaccination and are hoping to avoid a "twindemic" of COVID and influenza. Pediatricians are concerned that children under three will be especially susceptible, since they have had little or no previous exposure to build up immunity.
Did the Flu Vaccination Work in Oz?
Most of the flu cases that have been tested are H3N2. That may be a bright spot, as the vaccine this year includes antibodies against that strain.
We have been searching for Australian data of flu vaccination effectiveness down under. That's because they get to test the vaccines before we do. Here is what I have been able to find from the Australian Influenza Surveillance Reports for 2022:
"Vaccine match and effectiveness
• "Of the 2,570 samples referred to the WHOCC (WHO Collaborating Centres) to date, 92.4% of influenza A(H1N1), 94.5% of influenza A(H3N2), and the six influenza B/Victoria samples, were characterised as antigenically similar to the corresponding vaccine components.

• "Vaccine effectiveness is a measure of the protective effect of influenza vaccines against influenza and its complications and is typically around 40–60%. Based on preliminary estimates from sentinel hospitals (FluCAN), vaccine effectiveness appears at the lower end of the moderate range in 2022."
More Good News:
The Aussies report that
• "Influenza-like-illness (ILI) activity in the community is low after activity peaked in June 2022.

"Nationally, notifications of laboratory-confirmed influenza have continued to decrease in the past fortnight and remain lower than average for this time of year compared to previous years."
We interpret that to mean that although the flu hit early, it peaked and then declined.
What About Severity?
• "Clinical severity for the season to date, as measured through the proportion of patients admitted directly to ICU, and deaths attributed to influenza, is low."
Final Words on Flu Vaccination:
After reviewing the 2022 Australian influenza data, it looks to me as if there was an early spike starting in April and lasting until August. If, and that is a very big IF, the North American data follow suit, we should see a very rapid increase in influenza cases here through December. By January, cases may start declining, if we are lucky.
That is why I got my flu vaccination early. I would like to avoid influenza during December and January. Will the jab work? I won't know for several more weeks. If the effectiveness is between 40% and 60%, that would be better than usual. Here is a list of past influenza vaccine effectiveness scores:
Vaccine Effectiveness in Past Years:
2004-2005: Vaccine Effectiveness was: 10%
2005-2006: Vaccine Effectiveness was: 21%
2006-2007: Vaccine Effectiveness was: 52%
2007-2008: Vaccine Effectiveness was: 37%
2008-2009: Vaccine Effectiveness was: 41%
2009-2010: Vaccine Effectiveness was: 56%
2010-2011: Vaccine Effectiveness was:  60%
2011-2012: Vaccine Effectiveness was:  47%
2012-2013: Vaccine Effectiveness was: 49%
2013-2014: Vaccine Effectiveness was: 52%
2014-2015: Vaccine Effectiveness was: 19%
2015-2016: Vaccine Effectiveness was: 47%
2016-2017: Vaccine Effectiveness was: 42%
2017-2018: Vaccine Effectiveness was: 38%
2018-2019: Vaccine Effectiveness was: 29%
2019-2020: Vaccine Effectiveness was: 39%
2020-2021: Vaccine Effectiveness was not calculated in part because there was so little influenza.
2021-2022: Vaccine Effectiveness was: 16%
Overall Effectiveness (not including 2021-2022):             40%
What Do You Think?
Will you get a flu vaccination this year? Have you had flu shots in past years? How well did they work? What else do you do to avoid influenza? Please share your thoughts in the comment section below. And please do us a big favor. If you think there is useful information in this post, please send it on to friends and family. While you are at it, consider encouraging them to sign up for our free newsletter. It is the way we keep this website and our radio show moving forward. Here is a link. And thank you!