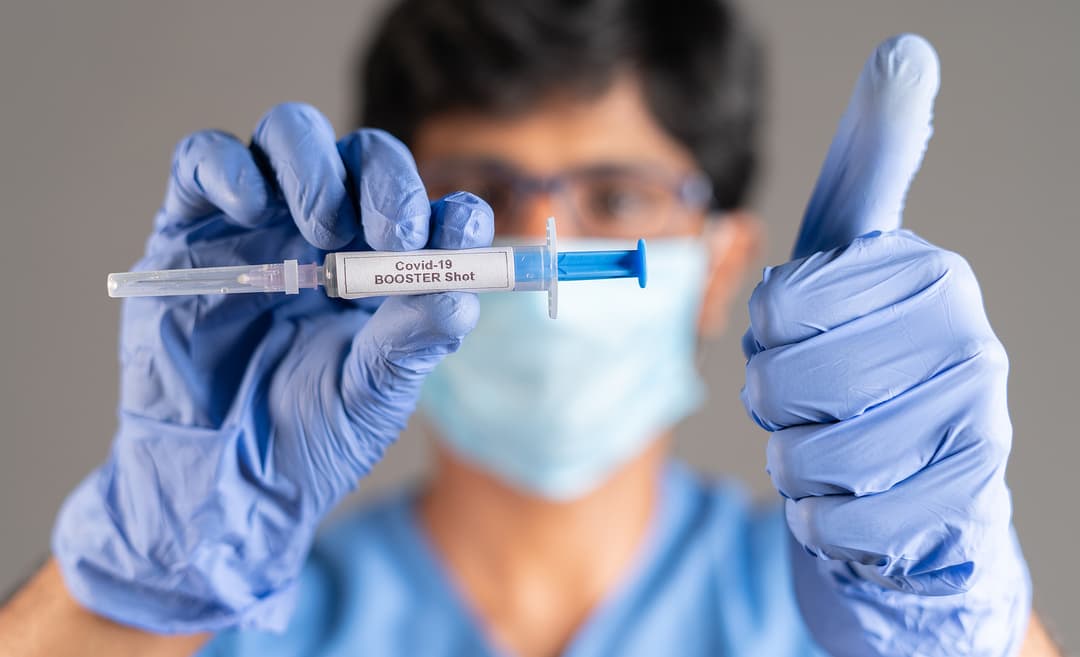 Public health officials have been debating whether to recommend a second booster (a 4th COVID shot) for those who are already fully vaxxed. The Omicron variant is able to infect people who have received both shots plus a booster. But they are much less likely to become severely ill or die.
This week the FDA issued emergency use authorization for a second booster against COVID. Both Pfizer and Moderna will be offering an additional mRNA immunization for people over 50 or those who are immunocompromised. This decision is still somewhat controversial.
How Much Protection Would It Provide?
New studies suggest that a 4th COVID shot won't add very much protection. That's because people who have had three of the mRNA vaccines already produce a range of antibodies that help protect them from life-threatening complications (BioRxiv, Feb. 15, 2022).
According to a study from Rockefeller University, people who have gotten three doses of mRNA vaccine produce lots of memory B cells that respond to the virus (Nature, Jan. 31, 2022). These memory B cells react to the Omicron variant of SARS-CoV-2 even though the vaccine was not specifically designed for that particular strain of the virus.
In addition, another study showed that T cells, another form of immune system cells, also respond strongly to Omicron (Cell, Jan. 24, 2022). These T cells have a very long memory for the SARS-CoV-2 virus. They are more difficult to study but no less important in protecting us from overwhelming illness.
Should You Get Your 4th COVID Shot?
Many people wonder whether they should get a fourth shot. Others have not yet received an initial booster. Vaccine effectiveness tends to wane after about four months. That suggests that people who received a second or third shot last fall may have declining immunity.
On the other hand, there's limited data to support boosting the booster. Israeli data suggests that people over 60 do get added protection from dying of COVID. But vaccine expert Dr. Paul Offit points out that the study of vaccinated senior was flawed. After all, the participants who volunteered for the injection are likely to be more health-conscious overall. And younger people got only modest benefit. At this time, scientists don't agree about the best timing for a second booster.
Earlier Considerations of a Second Booster:
Last month I told you about my friend "Barry." He is super smart and is a number cruncher. Within a few weeks of learning that there was a respiratory virus on the loose in China, Barry was plotting coronavirus curves. Early in 2020, he alerted me to the likelihood that COVID-19 would turn into a pandemic based on his early calculations. Barry got his 4th COVID shot because he has observed rapid declines in vaccine immunity. Now, he was way ahead of American public health authorities. However, Israeli scientists administered a fourth shot to health workers, senior citizens and patients who are immunocompromised.
Israel and a 4th COVID Shot:
While public health officials are still trying to encourage Americans to get an initial COVID booster, Israel is starting to roll out its fourth shot. That's a second booster. People getting it in Israel had their third Pfizer/BioNTech dose at least four months before.
The Israeli government is reporting preliminary results of a small study it started about a week ago with health professionals as guinea pigs. That seems fitting, since doctors are at the front lines of the Omicron surge.
The hope is that this fourth shot will prevent the 5th COVID wave from getting out of control. Early results are encouraging. Antibodies are five times higher and the fourth shot appears safe.
Testing the 4th COVID Shot on Themselves:
The decision to move forward with a fourth dose for people with a weakened immune system was challenging. That's because there is virtually no data to demonstrate how effective a 4th COVID shot will be, or if there will be complications.
Nevertheless, Israel has been at the forefront of vaccinating against the pandemic. It was the first country to roll out boosters for vaccinated individuals. While this helped dampen the fourth wave, the country is now experiencing a fifth wave.
Public health authorities are hopeful that a fourth shot will help get Omicron under control. That's because hospitals there are under siege. Influenza is rampant and Omicron is spreading.
Doctors As Guinea Pigs:
To determine if a 4th COVID shot will be helpful, researchers started a study on December 27th that involves 150 health workers. After all, doctors, nurses, respiratory therapists and first responders are on the front lines in this battle against the latest variant. Many may be susceptible to Omicron even after two Pfizer shots plus a booster.
The Israeli Prime Minister reported that:
"A week into the fourth dose, we know to a higher degree of certainty that the fourth dose is safe,"
Raising antibody levels five fold seems promising. The prime minister added this:
"This most likely means a significant increase against infection and … hospitalisation and (severe) symptoms."
We will continue to track the Israeli research carefully. The research on senior citizens receiving a 4th COVID shot in Israel has been posted as a pre-print. It shows significantly lower mortality for those who got a second booster.
We will also be tracking the effectiveness of Pfizer's Paxlovid. Israel has already received its first shipment of this oral antiviral medicine.
Some readers are also interested in a 4th COVID shot. Here is one person's question.
How to Get a 4th COVID Shot?
Q. My husband had the Pfizer booster three months ago. He now wants to get the Moderna booster.
Is it safe to get another booster shot after only three months? If not, how long should he wait to get another booster? He has coronary artery disease and heart failure but no problems with weight or diabetes.
When would it be safe for him to get a fourth shot? We really do not want him to get COVID-19 or any of the variants.
A. As we described above, Israel has been at the forefront of COVID vaccinations. Health experts there are debating the pros and cons of a 4th COVID shot. Although the 4th COVID shot increases antibodies, it doesn't prevent infection with the Omicron variant (JAMA, Feb. 8, 2022).
An expert panel there recommended that people over 60, immunocompromised patients and health care workers get another booster at least four months after their third Pfizer shot. Before rolling out this program countrywide, Israeli researchers are testing the additional booster on 150 health care workers.
Public health authorities in the US are not yet recommending a fourth shot. The CDC did state, however, that people who received the Pfizer-BioNTech shots initially could get a Moderna booster as the third shot. We don't know if that will help your husband in his quest, or if that Moderna booster following a Pfizer-BioNTech booster would make a big difference.