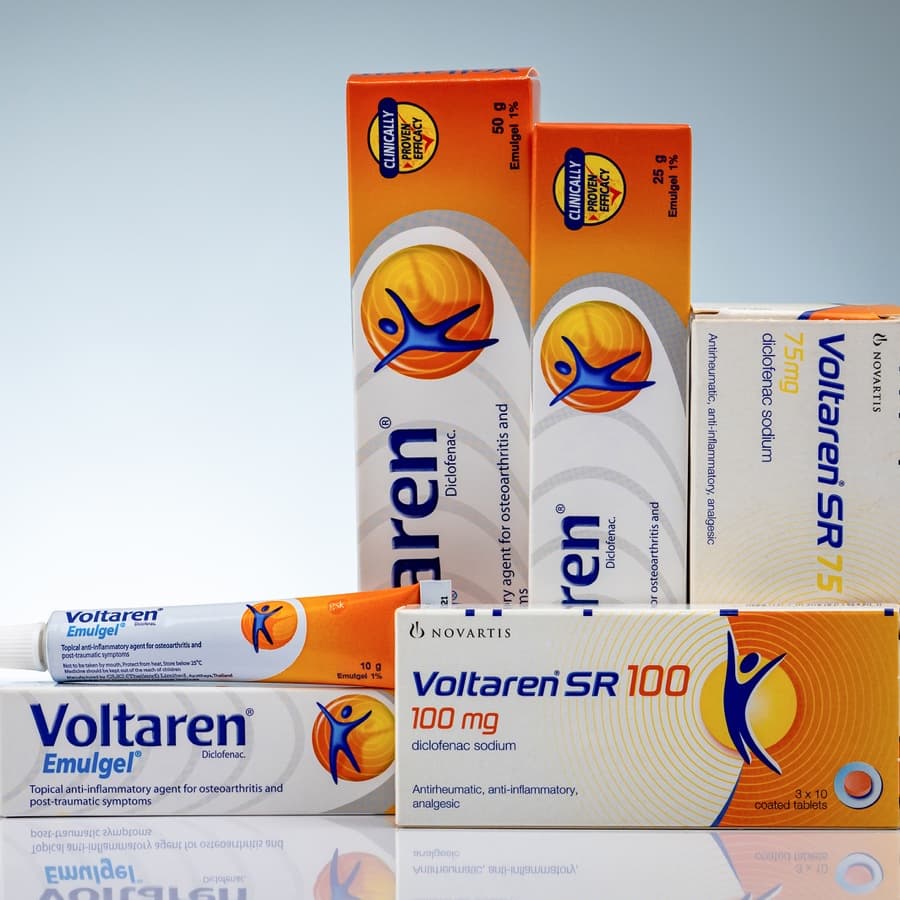 Many people, including some health professionals, believe that the skin is a great barrier to topical drugs. They assume that only a little bit of the medicine gets into the blood stream. We have learned, however, that the skin is not such a great blocker of medicines. FDA-sponsored research has demonstrated that sunscreen ingredients get into the body in surprisingly high concentrations. This reader experienced the side effects of Voltaren Gel.
The Side Effects of Voltaren Gel Can be Dangerous:
Q. Six years ago, my doctor prescribed Voltaren Gel for arthritis in my knee. She assured me that the warnings only applied to the oral form of the drug. I got excellent relief.

After three weeks, however, I suddenly developed swelling in that leg. My blood pressure went up to 220/110 and I ended up in the ER. They monitored me for 6 or 7 hours until my blood pressure returned to normal. Voltaren, even topical, can cause some serious side effects.
Others have also complained about blood pressure elevations after taking Voltaren Gel. For some reason doctors have a hard time believing this:
Q. My orthopedist recommended Voltaren Gel for sore joints. I've tried that before, so I told him it raises my blood pressure.

He was skeptical that the gel made my blood pressure rise. He was sure it must have been something else.

As soon as I stopped using the gel, my blood pressure went right back down again. That convinced me. I don't think this doctor's up on the latest. Do you have a suggestion for easing joint pain that won't raise blood pressure?
A. Voltaren Arthritis Pain gel is now available without a prescription. The FDA has warned that both oral and topical NSAIDs like diclofenac (Voltaren Gel) can lead to edema and hypertension. Here is the wording in the official prescribing information:
"NSAIDs, including Voltaren Gel, can lead to the onset of new hypertension or worsening of preexisting hypertension, either of which may contribute to the increased incidence of cardiovascular events…Blood pressure should be monitored closely during the initiation of therapy with Voltaren Gel and throughout the course of therapy."
Topical Voltaren Arthritis Pain gel provides diclofenac to the area of inflammation. We have heard from many people who really value this topical NSAID. They do not experience the side effects of an oral NSAID like ibuprofen (Advil, Motrin IB) or naproxen (Aleve).
Others, however are super sensitive to NSAIDs. Even a topical gel appears to trigger serious adverse reactions. Here are some other reports about the systemic side effects of Voltaren Gel.
Readers Share the Serious Side Effects of Voltaren Gel:
Brenn had side effects from Voltaren Gel just like she experienced with oral NSAIDs:
"I tried the Voltaren gel because NSAIDs cause extreme stomach distress, acid reflux, and most frightening, atrial fibrillation. My cardiologist said it was an inflammation in the lining of my heart. However, using the gel caused the same problems in both me and my neighbor. If I only use a small amount, occasionally, the symptoms are mild, but it really doesn't do much for relief."
Carol reports a different kind of reaction:
"I used oral NSAIDs for several years before giving in to arthritic pain and having hip replacements. This was after 40 years of running. The oral NSAIDs took quite a toll on my digestive system so when my knee began to trouble me, I opted for Voltaren Gel which I applied on a few occasions in a three-week period.

"It didn't really relieve the knee pain and I stopped using it. However, during that time frame, the notable result was acid indigestion so severe with intense chest pain that I never recognized it as indigestion but rather thought it was a cardiac event. A cardiac CT scan found no evidence of heart issues. I never used Voltaren Gel again and had no further chest pain."
Rosanna also experiences gastrointestinal side effects from Voltaren Gel:
"My orthopedic doctor prescribed generic Voltaren Gel for my knee pain because I cannot take oral NSAIDs. I have applied it only three times to my knees, and I am now suffering from acid reflux and a burning sensation in my digestive tract. I was told it was safe. I now know it is not safe for me and will discontinue using it immediately. I am upset that my doctor thought this medication would be safe for me."
Eric shares a similar reaction:
"I was prescribed Voltaren Gel for treatment of persistent groin pain related to a running injury. While it did offer some relief, it was no better than taking aspirin. However, I had serious gastrointestinal discomfort: gas, heartburn, painful swallowing. These side effects would clear up within a day or two after discontinuing use of the product."
The Bottom Line on Topical NSAIDs:
For every message about the side effects of Voltaren Gel we probably have 10 that sing the drug's praises. It appears to us that topical NSAIDs are not absorbed into the blood stream to the same extent as oral formulations. That said, some people are just very sensitive to NSAIDs in general.
People who cannot tolerate NSAIDs like diclofenac, ibuprofen or naproxen may benefit from non-drug approaches to manage joint pain. In our eGuide to Alternatives for Arthritis, you will find more information about Voltaren Gel and non-drug alternatives, including herbs such as ashwagandha, Boswellia, ginger, stinging nettle and turmeric. This online resource is available in the Health eGuides section of this website. You will also find home remedies and foods that have anti-inflammatory activity.
Share your own experience with topical NSAIDs like Voltaren Gel in the comment section below.