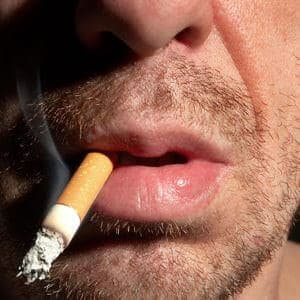 Q. My husband and I decided to take Chantix to help us stop smoking. Initially, we had side effects: daily headaches at the base of the skull, very vivid dreams, talking in our sleep, severe exhaustion right after taking the pill, sleeping for a few hours and then waking up at 3 or 4 in the morning wide awake. I had severe abdominal pain and vomiting when I took the pill with just a little food.
After the first month, we both decided to go off of the medication. At that point I had only been taking one pill in the evening, as I was too tired during the day if I took it in the morning.
The past six weeks have been awful. I no longer have side effects, but my husband is all over the place. He gets very angry, out of nowhere, and if he has consumed alcohol, look out. He had what I believe to be a psychotic episode.
Each time we would have drinks, he would flip his lid over very small things, in fact nothing at all. I was ready for legal separation after this last episode. I can only hope that with time these reactions will disappear. Happy hour is gone, as alcohol intensifies the side effects.
We are now at 60 days without smoking. That is terrific, but the strain and anxiety have been difficult. I want my husband back and I do not want him to feel this way. All I can say is these things did not happen before Chantix.
A. We have heard from over 300 people who have posted comments about Chantix on our Web site (www.peoplespharmacy.com). Although some are very pleased that they were able to stop smoking, many have complained of unpleasant side effects like yours. Others have noted rage or violent behavior associated with drinking alcohol while taking Chantix. Most of these reactions occur while taking the drug, but the FDA has noted that some people experience symptoms after stopping Chantix.