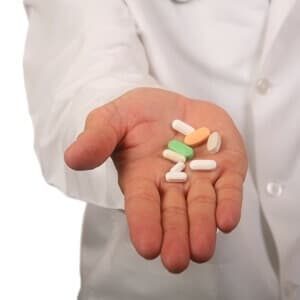 People have become suspicious of the quality of generic drugs. Is there a way to benefit from the lower cost of these copycat medicines without sacrificing effectiveness?
What are Authorized Generic Drugs?
Authorized generics may be a solution to the dilemma of mistrust. Many physicians and patients are unaware that this option exists. The brand name manufacturer makes a deal with a specific generic company to supply its drug directly or provides the generic maker with exact instructions on how to duplicate the brand name product.
Although the FDA says that all generic drugs are identical to the brand name, that is not accurate if by identical they mean exactly the same. Generic drug companies can use different excipients (the compounds that give the pill color, strength and texture). The generic manufacturer may also have to come up with a completely different drug delivery system.
No one else has access to the precise process of manufacture or the origins of both the active and so-called inactive ingredients. The delivery system (the way the brand name drug releases its active ingredients) may remain under patent by the originator company. An authorized generic is theoretically made on the same production line with the same release technology or in a facility that is allowed to use the process exactly as it was developed by the brand name company.
The Celebrex (Celecoxib) Example:
We recently heard from a reader about one particular authorized generic drug:
"You wrote about someone whose insurance refused to pay for Celebrex and was switched to the generic celecoxib. The person had begun to experience swollen joints and the other symptoms Celebrex treats.

"I had the same reaction when I got switched but had read in your column about others with the same problem. I talked to my pharmacist, who said it was the most common complaint he heard but that there was a solution.

"He said to ask specifically for celecoxib made by Greenstone. It is identical to Celebrex and is manufactured by the same company. Because it is a generic, insurance will pay for it and most pharmacies will order it for you every month. (Allow a couple of extra days to get it filled.)

"Within a week I was able to use my hands again. They had gotten so bad I could not even grip my steering wheel. Now I call in my script a few days early so they can order the Greenstone celecoxib and I'm back to doing the things I enjoy. I hope this information helps other readers as much as your column has helped me."
The generic manufacturer Greenstone is a subsidiary of the drug giant Pfizer. It is hardly any wonder that Pfizer, maker of Celebrex, would provide its own company the right to market an authorized generic.
The FDA's Confusing Position on Authorized Generic Drugs:
The FDA may have mixed feelings about authorized generics. That is because the agency asserts that all FDA-approved generic drugs are identical to their brand name counterparts. And yet the FDA has a web page devoted to authorized generic drugs. Sadly, it does not tell you the  company that is actually making the specific authorized generic drug.
Despite FDA reassurances, the American public has reason to be concerned. According to Reuters, the FDA has barred 44 Indian pharmaceutical manufacturing facilities from exporting medications to the U.S. since 2011. Most of these products were generic drugs.
These companies are responsible for a significant proportion of the generic drugs taken by Americans. Companies such as Aurobindo, Dr. Reddy's Laboratories, Polydrug, Ranbaxy, Sun Pharmaceutical and Wockhardt have all received FDA warnings about quality control.
We have received thousands of complaints about generic drugs over the last decade. Readers of this column have reported troubles with anti-seizure drugs, antidepressants such as bupropion, heart medicines like metoprolol and medications for attention deficit disorder.
Anyone with a complaint about a generic drug should report the problem directly to the FDA with the name of the manufacturer. The FDA website is: www.FDA.gov/MedWatch. We have updated our article about how to Report A Generic Drug Problem which you may find helpful. The FDA does NOT make it easy even though it keeps telling us that it wants consumer complaints. Review this article to learn how to overcome the roadblocks to reporting generic drug problems.
How To Access Authorized Generic Drugs
Until the FDA solves its generic drug monitoring problem, patients may wish to ask their pharmacist for an authorized generic. Do not assume your pharmacist will even know what an authorized generic drug actually is. You may need to print this article and take it with you to the pharmacy. When such an alternative exists, it may be worth paying a bit more for the extra reassurance such a designation provides.
We are in the process of compiling a list of authorized generic drugs. Prasco sells a number of authorized generic drugs for brands such as:
Bactroban Cream (mupirocin Calcium Cream, 2%)
Dovonex Ointment (calcipotriene 0.005%)
Evista (Raloxifene)
Lotrisone Cream (clotrimazole and betamethasone dipropionate)
Lovaza (omega-3-acid ethyl esters)
MetroGel (metronidazole topical gel)
Plaquenil (hydroxychloroquine sulfate)
Remeron (mirtazapine)
Singulair (montelukast Sodium)
Vancocin (vancomycin)
Greenstone also sells a number of authorized generics. As already mentioned, Greenstone's celecoxib should be identical to Celebrex. Other companies that sell some authorized generic drugs include Par Pharmaceuticals and Patriot Pharmaceuticals. If you have concerns about the quality of your generic drug, ask your pharmacist to obtain an authorized generic if one is available.