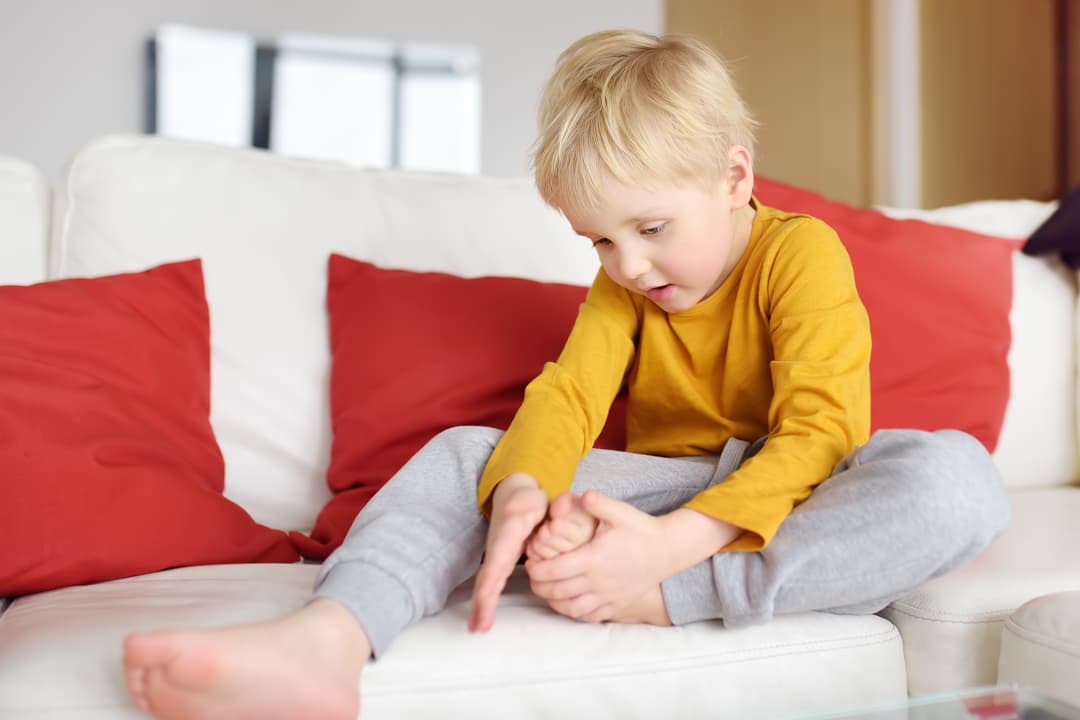 Do you have a favorite trick for removing a splinter? Many families have a "traditional" approach to this common medical problem that may have been handed down for at least a generation or two. Two of the most repeated strategies include white glue (Elmer's) that is allowed to dry and duct tape. We'll bet you have never heard of ichthammol ointment. It goes back a long way. There isn't always agreement on the details of how to use these various approaches.
How Do You Sterilize a Needle When Removing a Splinter?
Q. What's the best way to sterilize a needle? Every time our five-year-old daughter gets a splinter there is a family argument. My husband insists on waving a lit match under the needle for about 5 seconds. In my family we always dipped the needle in alcohol.

Our daughter gets upset when we disagree over this and sometimes refuses to let us remove the splinter at all.
A. We're not sure either technique will sterilize a needle. A few seconds under a match may not be adequate and a quick dip in alcohol is unlikely to kill all germs either. Soaking the needle for 10 minutes would be a safer approach but most people don't have the patience when there is a painful splinter. Instead, you might want to try one of the following remedies.
Hydrogen Peroxide for Removing a Splinter:
Q. I had a splinter in my finger under the surface of the skin where I couldn't get at it. After I saw a suggestion to pour hydrogen peroxide on it, I put my finger over the sink and poured on a generous amount. I was amazed to see the splinter emerge so that I could easily grab it with tweezers!
A. This remedy is new for us. Hydrogen peroxide has been used as an antiseptic and wound cleaning agent for more than 100 years. The foaming action of hydrogen peroxide may clear out debris after a wound, and perhaps that is how it worked on your splinter. However, physicians now consider this approach outdated. That's because they fear that hydrogen peroxide could damage delicate tissue and impair healing.
Other approaches for splinter removal include applying a salicylic acid wart plaster to the area. The dermatologist who published this remedy left the small disk on the skin for 12 hours (Journal of the American Academy of Dermatology, April, 1989).
White Glue:
Some readers report that applying white glue to the area over the splinter for a few hours allows for easy removal. Pull the glue off after it has dried–but in the opposite direction to the path the splinter took going in. This way the glue has a chance to pull the splinter out the way it went in.
Here is how Arnold describes the technique:
"White glue or carpenter's glue… any hypoallergenic glue used to adhere wood or paper will work especially on those splinters that are too small to be seen but you sure can feel them. This is because these glues adhere especially well to cellulose, the main substance in wood or wood products. Splinters are made of the same stuff. Apply the glue liberally to the area and let it cure fully, at least a half hour or so. Then peel off and voilà! No more splinter."
Duct Tape:
Martha offers this anecdote:
"I managed to get a piece of dry deck material lodged in a big toe that not one – but two nurses failed to find, never mind pull out. A nurse friend of mine suggested wrapping the toe with duct tape and leaving it on overnight.

"Imagine my surprise when the next morning removing the duct tape also pulled out a large chunk of wood that was clearly deck wood. Duct tape – good for just about everything!"
How to Remove Splinters More Easily:
Q. Is there an ointment that can speed up the process of a splinter coming out?
A. We recently heard from an old timer about ichthammol ointment:
"Ichthammol ointment is great for splinters. It beats using a sterile needle to get the splinter out."
Your comment inspired us to look up ichthammol ointment, which has been used to treat skin problems since the 19th century (International Journal of Dermatology, June 21, 2010). This black goo is derived from oil shale rich in sulfur. The ointment also contains emollients such as lanolin and petroleum jelly.
Icthammol is often called a "drawing" salve which may explain why it is helpful for removing splinters.
Although it may sometimes be referred to as black ointment, it should not be confused with black salve. The FDA warns that black salves may contain dangerously corrosive ingredients.
Wart Plaster for Removing a Splinter:
Another suggestion was published in the Journal of the American Academy of Dermatology (April 1989). The author, Dr. Russell Copelan, recommended a salicylic acid plaster sold for wart removal. Some come with adhesive built in, but others need to be held in place with a bandage. Put the plaster over the area the splinter entered and leave it on for 12 hours. Upon removing it, you should also be able to get the splinter out easily and with very little discomfort.
Can a Raisin Help with Removing a Splinter?
Q. A few years ago, I was unable to remove a splinter from my hand. Ultimately, it calloused over but was still bothersome. In desperation, I searched the Internet to find out how to remove it and viewed a video that told how to use a raisin to get it to surface.

The result wasn't immediate, but I was persistent. After about a week of taping a fresh raisin over the spot daily, the splinter emerged.

More recently, a rose thorn went through my garden glove and embedded itself in my hand. I could not grab it with tweezers nor pry it out using a needle, so I covered it with a raisin and bandage. The next morning the thorn had emerged enough that I could grab it and pull the quarter-inch thorn out. Can you please explain the magical properties in raisins?
A. We wish we could! When we retraced your Internet search, we found a similar video demonstrating this remedy.
We have written for years about using a wart plaster with salicylic acid over a stubborn splinter. This was written up long ago in the medical literature. Raisins are high in salicylates, so perhaps that helps explain this unusual effect. Some people advocate cutting the raisin in half and applying the cut surface to the skin for a day to encourage the splinter to work itself out.
Of course any splinter that is deeply buried or looks infected should be seen by a medical professional!
What's Your Approach?
If you have a favorite technique for removing a splinter, tell us about it in the comment section below.