Prune Juice, Bran, and Apple Sauce for Constipation
Prune Juice, Bran, and Apple Sauce for Constipation
Recipe 1 cup applesauce 1 cup coarse, unprocessed bran 3/4 cup prune juice Mix all the ingredients together. They will turn into a pasty, stiff glop about the consistency of peanut butter. After mixing, it should be kept refrigerated. Take one or two tablespoons daily and wash it down with a full eight ounces of water.
Get the latest health news right in your inbox
Join our daily email newsletter with breaking health news, prescription drug information, home remedies AND you'll get a copy of our brand new full-length health guide — for FREE!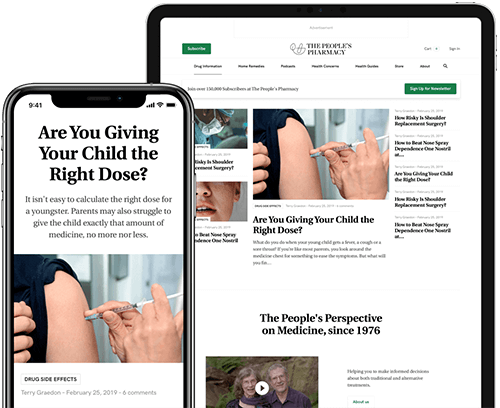 Join over 150,000 Subscribers at The People's Pharmacy
We're empowering you to make wise decisions about your own health, by providing you with essential health information about both medical and alternative treatment options.