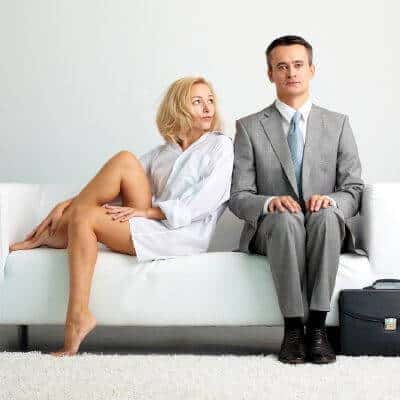 People don't always ask about potential side effects when they accept a prescription from the physician. They should! That is especially true when it comes to your sex life. I know this is a sensitive topic for men and women. And doctors would prefer not to talk about it either.
Most men would probably want to know if the medicine they take for their enlarged prostate would interfere with their sex life. Finding out that the side effect could last a long time after stopping the pill might make some guys think twice about starting it.
That is all we recommend: that people be aware of the risks as well as the benefits of any drugs they take. That way they can decide if the medication is worthwhile for them.
Finasteride Had Damaging Effect on Sex Life:
Q. I was prescribed finasteride because I had to get up many times each night to urinate.

Finasteride was effective for the nocturia caused by my enlarged prostate gland.

Unfortunately, I had side effects that diminished my sex life. Hoping to recover my sex drive and erectile function, I started cutting the tablets in half. I took that half dose for about six months with no abatement of the side effects.

I've now been off finasteride for three months but I still have sexual problems. At this point, I would trade a little nocturia for a better sexual experience.
Problems with Sex Life May Be Long-Lasting:
A. Research published in the journal PeerJ (March 9, 2017) reports that sexual side effects are a risk with drugs like dutasteride (Avodart) and finasteride (Proscar). The longer men take such drugs, the greater the chance of persistent erectile dysfunction.
Even after discontinuing these prostate medications, some men continue to have difficulty with libido and erections.  A few report that sex is no longer pleasurable.
The FDA issued a warning about persistent sexual difficulties in 2012.  Doctors should be sure to let men know about this potential problem when they write the prescription.
Another Reader Reports Problems with his Sex Life:
Q. I just read one of your articles on prescription drugs that can cause sexual dysfunction, specifically finasteride. I've been taking both finasteride and tamsulosin for over two years and I have experienced all of the problems you describe in the article.

I do not have any major prostate problems. My PSA is steady at 1.0 though my prostate may be slightly enlarged.

In the past, my urologist just suggested I try Viagra to overcome the erection difficulties. I don't want another drug if the problem can be solved some other way. Can I simply stop taking finasteride?
A. Finasteride is approved to treat male pattern baldness or urinary symptoms due to an enlarged prostate. The official prescribing information lists erectile dysfunction and decreased libido as relatively common side effects of finasteride.
For many men, these sexual difficulties may disappear once the drug is discontinued. In some cases, however, the problems persist after stopping the drug and may include decreased arousal, reduced sensation and trouble achieving orgasm (International Journal of Risk & Safety in Medicine, Feb. 22, 2022).
We would encourage you to talk with your urologist before stopping either drug. You might experience some increased problems with urination after discontinuing finasteride.
Tom in Palm Bay, FL, offered this comment:
"I started taking Avodart at age 53, continuing until age 58 when I was switched to finasteride. I took that for about 8 years, and am now on Flomax. There is No Sex Life after any of the above."
Doctors Need to Discuss Sexual Side Effects:
We know it is not easy to talk about sex. As we have written in this article, doctors often deny drug side effects. That is a violation of medical ethics. If you suspect that your medicine is having a negative impact on your sex life, please make an appointment with your physician so you can have a frank discussion about this topic. If you have experienced sexual side effects, please share your story (anonymously) in the comment section below.