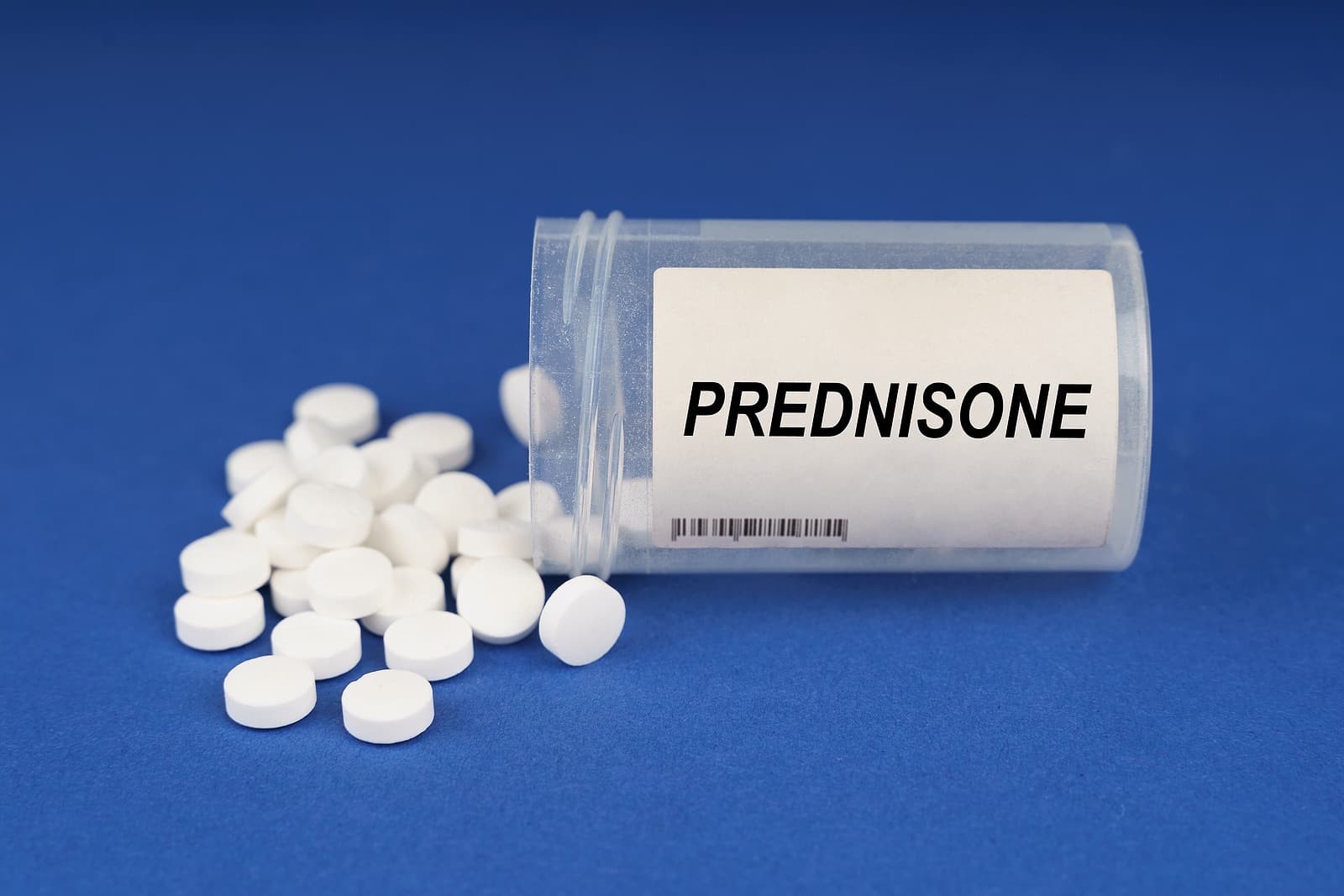 Corticosteroids are both a blessing and a curse. They can calm a serious allergic reaction and reduce inflammation. People with asthma may profit from a drug like prednisone during a flareup. Patients with autoimmune disease such as lupus, polymyalgia rheumatica or inflammatory bowel disease can also benefit at times from cortisone-type drugs. But prednisone can cause anxiety, depression and other psychiatric side effects. Some patients are not warned what can happen.
Prednisone and Standard Side Effects:
Common Corticosteroids:
• Cortisone
• Dexamethasone
• Hydrocortisone
• Methylprednisolone
• Prednisolone
• Prednisone
Most health professionals warn patients that corticosteroids have the potential to cause a range of adverse reactions. This is especially true after prolonged exposure.
Long-Term Dependence Upon Steroids:
Chronic use of corticosteroids can take a toll on the body. These drugs can lead to fluid retention, osteoporosis, high blood pressure, muscle weakness, glaucoma, cataracts, ulcers and muscle weakness. Other complications may include a loss of potassium (hypokalemia), diabetes, headache, hair growth in unwanted places, susceptibility to infection, tendon rupture and deep vein thrombosis (DVT) or blood clots.
Corticosteroids and Psychiatric Side Effects:
Prednisone Can Cause Anxiety, Depression and Insomnia
Many people are unaware of the psychological side effects associated with high doses of prednisone and similar drugs. When doctors prescribe such drugs for a short period of time they may not mention these adverse reactions. That does no one any favors:
Anxiety and Irritability:
Nancy reports being jittery after prednisone:
"I was prescribed prednisone for a sinus infection, short term. I developed severe anxiety to the point of not being able to concentrate. I felt extremely jittery. Also my right breast became inflamed and swollen. It took several weeks to return to normal after I stopped taking the medication."
Lydia says prednisone can cause anxiety, depression and suicidal thoughts:
"I had steroid shots over the course of several years for sore knees and shoulders. The shots never really seemed to help and my symptoms got worse. The swelling in my joints was to the point I had to use crutches to walk.

"They then put me on prednisone. My anxiety (which I don't typically have) was so severe that I contemplated suicide. I wanted to ram my car into a tree on numerous occasions. I began to feel like I was on fire from the inside.

"I went back to the doctor and said 'get me off this stuff or I'm going to do something bad!' My sugar was elevated to extreme heights, I had systemic yeast throughout my body and my joints were swollen even more. I am now a type 2 diabetic from too many steroid shots causing blood sugar spikes. They said usually your sugar will level off; mine did not."
Sara experienced severe anxiety…and depression!
"I was prescribed 50 mg of prednisone for 10 days. There was no taper…just 50 mg every day. By day 3 I fell into a deep depression; I couldn't eat, I couldn't sleep and my body was in pain. I had no motivation to move. I laid on my bathroom floor crying. I wanted to end my life.

"I had a feeling of no escape. I had no idea what was happening to me until I searched side effects of prednisone and realized what it was. After I stopped taking prednisone it took me about 3 weeks to finally return to myself. I still have bouts of anxiety 5 months later after what I had gone through on that medication. Never again!"
Prednisone can cause anxiety, depression and other side effects that may last:
One reader shared this experience:
"In 2009 (at age 55), I had unexplained hearing loss in my left ear. My doctor prescribed 90 mg of prednisone for two weeks, and then I had to taper off the drug.

"While I was taking the prednisone, I became very anxious, started crying for unknown reasons, had severe panic attacks and couldn't sleep. My husband (a neonatologist) called the ENT doctor to see what should be done. The ENT was very callous and said, 'If she doesn't want her hearing back, she can stop taking the prednisone.'

"My internal medicine doctor prescribed clonazepam, which calmed the symptoms throughout the remaining time on prednisone. Though I did regain my hearing, the anxiety and depression remained.

"Months afterward, I confided in a friend that something was very wrong. I had been an outgoing, gregarious person. I have two wonderful grown children and I am in a loving marriage. Yet I had become very depressed. I was ashamed and embarrassed to be so depressed when I was blessed with so much.

"To make a long story shorter, I tried therapy and saw several psychiatrists. They prescribed treatments with different medications, electroconvulsive therapy, transcranial magnetic stimulation, ketamine and dialectical behavior therapy. None of these prevented a suicide attempt. (Ketamine was a miracle drug for me for a few years and then it stopped working.)

"No one believed me that this condition started because of high-dose steroids until I found my fourth psychiatrist. He has had experience with patients like me.

"I have learned that scientists at UT Southwestern and UCSF are doing research studies that show menopausal women taking high-dose steroids are at risk for developing severe depression. At UT Southwestern, a man set up a foundation because his wife committed suicide after a course of high-dose steroids.

"Of course, not every menopausal woman who takes high dose steroids will be stricken with treatment-resistant major depressive disorder like I was. Had I known, I would have declined to take the steroids.

"I have been seen at a facility renowned for its excellence in diagnosis and treatment for mental illnesses. Unfortunately, I continue to struggle with this debilitating disease, which turned my once happy life upside-down. Please warn your female readers to give thoughtful consideration before accepting a treatment course of high-dose steroids."
Science and Steroid-Induced Psychiatric Side Effects:
Thank you for sharing this powerful story. An article in the journal Cureus (April 14, 2023) notes that:
"Corticosteroids are used to treat a range of common ailments. As a result, all physicians are concerned about the psychological adverse effects of these drugs. The statistics on incidence and prevalence are limited, and few controlled studies evaluating treatment for steroid-induced psychiatric issues have been conducted. The available data, however, indicate that psychiatric symptoms during corticosteroid therapy are dosage dependent, frequently arise early in treatment, and include mania, depression, lability, and psychosis."
Prednisone and Insomnia:
Laurie shares this story about insomnia and prednisone:
"In case you want to know about insomnia and prednisone, my son was given the drug for an ordinary sinus infection. He received 60 mg at a walk-in clinic. After only one dose of 60 mg he had a horrible reaction: racing heartbeat, anxiety, and sleeplessness.

"After an entire week he still struggles to get even 4 hours of sleep. Thankfully, the other symptoms are dissipating but the insomnia is still a problem. All this after a single dose of 60 mg. The worst part is that the doctor didn't bother to fill him in on the side effects so he wasn't able to consider not risking them. So much for trusting a doctor."
Sarah experienced really serious psychiatric side effects:
"I suffered steroid-induced psychosis from 10 mg a day of prednisone. I started feeling quite mentally strange on around the 4th day of use, and by the 9th day was totally delusional, paranoid, etc. I also suffered physical side effects, such as severe bruising, sweating and total insomnia.

"I was given prednisone to help treat Inflammatory Bowel Disease. On the 10th day my family rushed me to the ER where, from there I was sent to psychiatric care. I was diagnosed with steroid psychosis and treated accordingly. I now wear a medical alert bracelet, and all of my medical charts state that I can never have any kind of steroid again. This experience has been horrible for both me and my family."
Final Words:
I have personal experience with prednisone. Like some of the people who have visited this website, I experienced sudden and almost complete hearing loss. This condition, sensorineural deafness, can come on suddenly for no apparent reason.
Co-hosting a nationally syndicated call-in public radio show is hard, if not impossible, when you cannot hear. My ear, nose and throat doctor prescribed high doses of a corticosteroid. It helped bring back my hearing and I am forever grateful.
I experienced many of the side effects our readers have described above. I became irritable, anxious and "wired." I could not sleep. My excellent otolaryngologist did not warn me about any of the psychological side effects I experienced.
Some people have to take corticosteroids for long periods of time because of a serious health condition–Addison's disease, cancer and autoimmune diseases such as Crohn's disease, lupus or polymyalgia rheumatica. They need careful monitoring. Potassium levels must be tested routinely.
People on this type of medication should be told that prednisone can cause anxiety, depression and insomnia along with other psychiatric side effects. They should also be checked for glaucoma, osteoporosis, cataracts, diabetes and hypertension.
If the corticosteroid has to be discontinued, it should be phased out very gradually under medical supervision. I believe that physicians should warn patients about the risks as well as the benefits of corticosteroids.
If you would like to read more reader comments about how prednisone can cause anxiety, depression and insomnia along with other psychologic side effects, here is a link. Over 1,000 people have shared their stories. You can share your story in the comment section below.