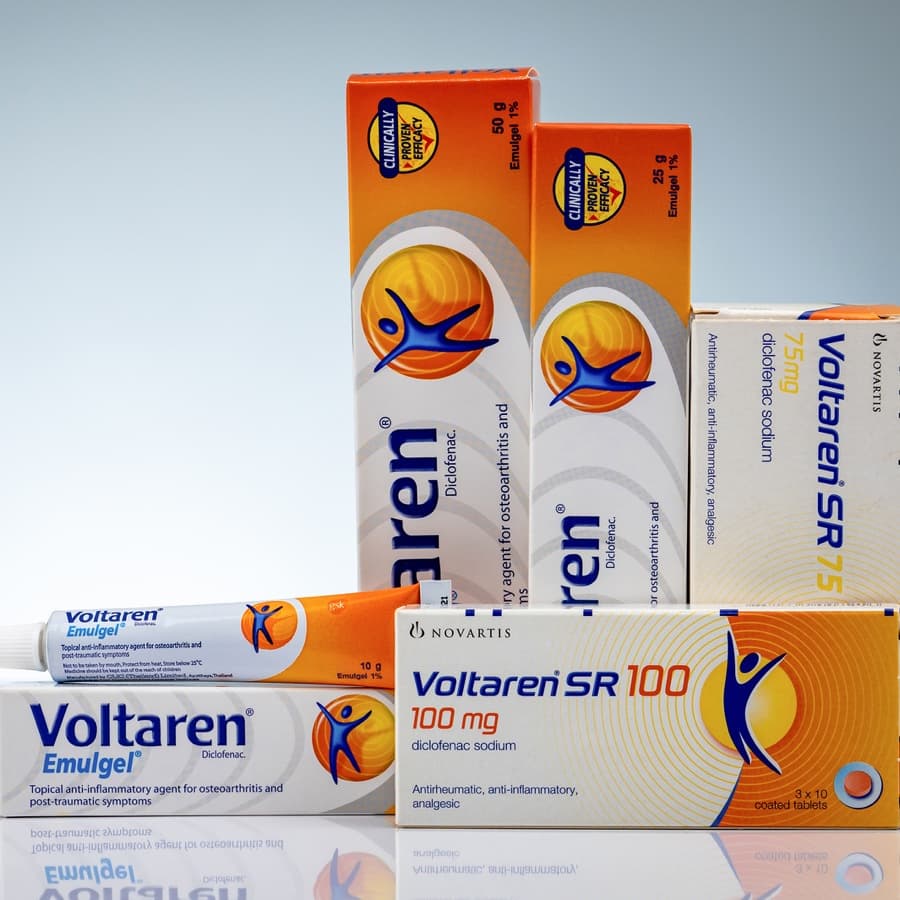 For years we have wondered why people in Australia, New Zealand, Canada, Italy, the UK and many other countries could buy OTC Voltaren Gel (diclofenac) but Americans could not. People in the U.S. can buy oral NSAIDs (nonsteroidal anti-inflammatory drugs) in any pharmacy, supermarket or convenience store. Ibuprofen (Advil, Motrin IB) and naproxen (Aleve) are big best sellers. But topical NSAIDs have been unavailable without a prescription until now. Now, though, people can buy Voltaren Arthritis Pain Gel over the counter and online. It's way less expensive than prescription Voltaren Gel. 
OTC Voltaren Gel Gets FDA Approval:
Q. My primary care doctor prescribed Voltaren Gel last year when he diagnosed me with arthritis in my thumb. I was having trouble sleeping at night because it was throbbing so badly.

I can't take oral NSAIDS, but I'm super pleased with how this gel works! Within a few minutes of application, my thumb is pain free. The relief lasts for hours. I usually apply it only at night.

In my opinion, this should be taken off the prescription list here in America. It should be more readily available, as the only downside is the expense.
A. Good news! The active ingredient diclofenac is now available without a prescription as Voltaren Arthritis Pain Gel.
The prescription that your doctor wrote was likely for a 100-gram (3.5 oz) tube of 1 percent diclofenac. It costs around $70. The OTC product costs about $10 for a tube half that size. That means the nonprescription gel costs less than a third as much as the prescription product.
There are a surprising number of other options. Some big-box pharmacies and online sellers are offering OTC Voltaren Gel in these forms: 
3-pack Voltaren Arthritis Pain Topical Gel 1.76 oz for $40
2-pack Voltaren Arthritis Pain Topical Gel 3.5 oz for $30
2-pack Voltaren Arthritis Pain Topical Gel 5.29 oz for $41
1-pack GoodSense Arthritis Diclofenac Gel 3.53 oz for $16
We will let you do the math to decide what is the best deal for the dollar. 
Another reader shares this story about OTC Voltaren Gel from Canada:
Q. I was prescribed Voltaren Gel for arthritis in my feet. Although I didn't expect much, I got pain relief within minutes.

Unfortunately, my co-pay was too high. I found out that Voltaren Gel was available over the counter in Canada, so I had a friend get me several tubes. Why isn't it available OTC in the US?
A. Voltaren Gel (1% diclofenac) was first approved as a topical prescription anti-inflammatory agent in 2007. On Valentines Day, 2020, the FDA finally approved OTC Voltaren Gel Arthritis Pain. 
OTC Voltaren Gel and Side Effects:
There are some caveats, however. We generally believe that topical NSAIDs should be safer than oral formulations. But there are some people who are so sensitive to digestive irritation from diclofenac and other NSAIDs that they complain of severe abdominal pain even when they use the gel. Here are some examples:
Eric got some pain relief but serious GI discomfort from prescription Voltaren Gel:
"I was prescribed Voltaren Gel for treatment of persistent groin pain related to a running injury. It did offer some relief, but I had serious gastrointestinal discomfort: gas, heartburn and painful swallowing. These side effects would clear up within a day or two after discontinuing use of the product."
Errol's kidney disease got worse after taking Voltaren Gel:
"I quit oral NSAIDs several years ago as my doctor advised because of early stage kidney disease. After a bad knee injury, a specialist put me on Voltaren Gel for 9 months. Now I am in stage 4 kidney disease. I had been stable for several years before the daily use of Voltarin Gel."
Marilyn developed a skin rash:
"My doctor prescribed Voltaren Gel since pain meds upset my stomach. It didn't upset my stomach, but on the fourth day of applying it, I broke out in a rash all over my arms and legs. I had to stop using it. I had three tubes of it, so I took the two full ones to the doctor, so he could use them for samples."
OTC Voltaren Gel and Other Options:
You can learn much more about the pros and cons of topical NSAIDs plus nondrug approaches in our eGuide to Alternatives for Arthritis. This is an electronic guide for those who like reading on a screen.
If you prefer to hold a book in your hands you can order our 104-page booklet: Graedons' Guide to Alternatives for Arthritis at this link. You can save money on postage by sending $12.95 plus $4 shipping and handling in check or money order to:
Graedons' People's Pharmacy, No. AA
P. O. Box 52027
Durham, NC 27717-2027
If you have used OTC or prescription Voltaren Gel, please share your experience in the comment section below. We'd like to know how it worked for you and whether you experienced any side effects. 
If you found this article of interest and think it might be helpful to notify friends or family members that they can now buy OTC Voltaren Gel, please share this post by clicking on one of the icons at the top of this page (email, Facebook or Twitter). Thank you for supporting our work in this manner.