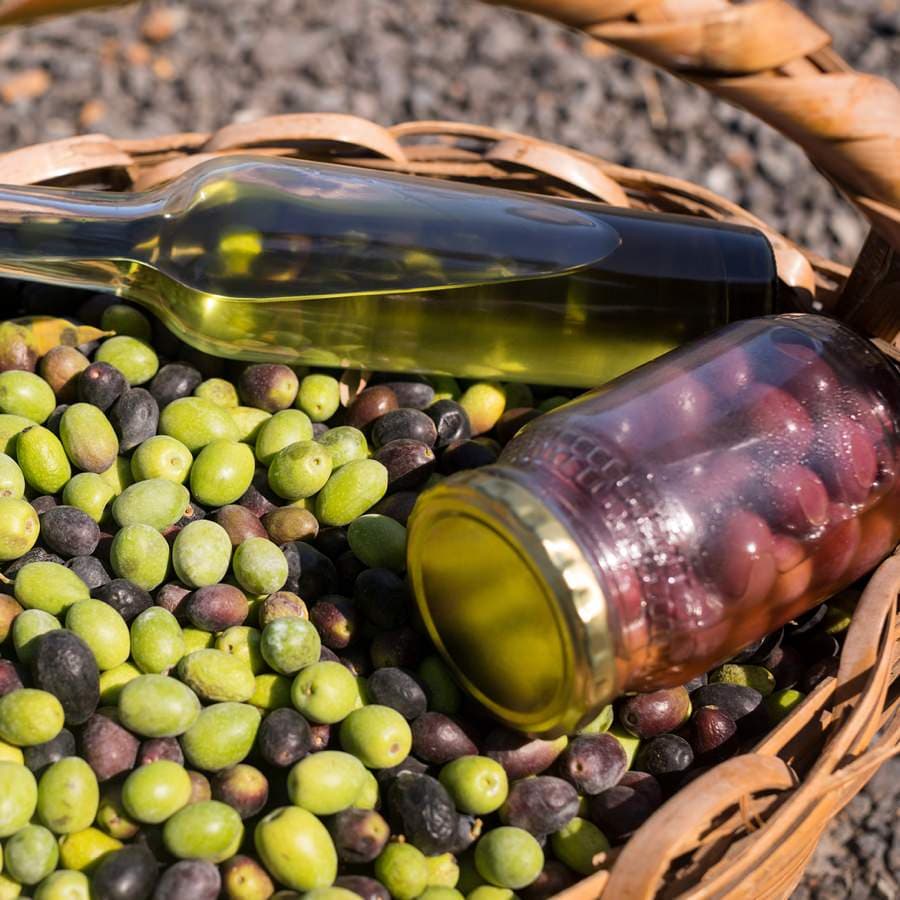 We have written extensively about muscle cramps over the years. Physicians have no FDA-approved drugs for this problem. As a result, people have searched high and low for home remedies. They have ranged from pickle juice and yellow mustard to V8 Juice and magnesium. We even think we know how all these different remedies work. Here is just the latest suggestion from a visitor to this website. We've never heard of this before, but we think it makes sense.
Olive Juice Cures Muscle Cramps:
Q. I read in your column that pickle juice can ease muscle cramps. I tried olive juice and found it much more consistently effective. The result is almost immediate.
A. Many olives are sold in a brine solution of salt and vinegar. We suspect that these are the common ingredients in both pickle and olive juice.
How Does Olive Juice Work Against Cramps?
The mechanism for stopping muscle cramps quickly could be stimulation of TRP (transient receptor potential) channels in the mouth, throat and stomach. When these sensory nerves are activated, they send a signal to the spinal cord and overwhelm the hyperactive motor neurons responsible for the cramp (Craighead et al, Muscle & Nerve, Sept. 2017).
TRP Channels:
Quite a range of compounds can trigger TRP channels. As we mentioned, vinegar may be the common thread in pickle and olive juice. Other substances, such as capsaicin, cinnamaldehyde from cinnamon and allyl isothiocyanate from mustard, radish and horseradish also activate certain TRP channels (Levine & Alessandri-Haber, Biochimica et Biophysica Acta, Aug. 2007).
The TRP channels are designed to detect heat and pressure as well as noxious chemicals. They may play a role in the development of neuropathic pain (Basso & Altier, Current Opinion in Pharmacology, Feb. 2017).
We first heard about the role of TRP channels in muscle cramps from neuroscientist Bruce Bean, PhD. His story is fascinating; you can listen to him explain in Show 1054.
Stories from Readers:
Anecdotes are not science, but we have so many that we think there is something going on.
Pat shares her mustard tale:
"As a person who frequently gets cramps during the night, I welcomed the chance to try something natural…and, it has worked. But, to go even further, the other night I woke not with cramps but barely able to move with sciatic nerve pain. I also realized my knees were really aching…HARD!

"It was late to be taking pain meds so I got up and tried a tablespoon of mustard. By the time I got back into bed I had no more pain, of any kind. Before reaching for any kind of medications for any kind of pain, I will first try my mustard. For me it has really worked wonders."
Frost in Massachusetts says mustard packets are portable!
"I often carry small packets of mustard that I pick up at cafeterias or fast food restaurants. When I get cramps out hiking, or driving home afterwards, I open one up and swallow it down. The mustard keeps the cramps at bay.

"Carrying a jar of pickle juice is not practical, but a few mustard packets fit just about everywhere."
Another Massachusetts woman (Andrea) says pickle juice works:
"Pickle juice works for me! Since my sister told me about it I was skeptical. Then, I read about it here. I use dill pickle juice and drink about 1/4 cup after the first cramp or when I first feel the tightening in my legs."
Most people find that a couple of sips are all they need.
If you would like to listen to a fascinating story about how we think all this is working, here is a link to our interview with a world class neurobiologist. His research got us fired up about TRP channels. We think once you start listening you will be as intrigued as we were. The streaming audio and the mp3 file are free!