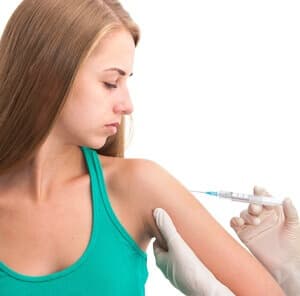 Q. I am a nurse practitioner and had to get a flu shot this year as a condition for working in my hospital.
I hadn't been sick in three years but I ended up with the flu, even after the shot. Now two months later I still have substantial arm pain and muscle weakness. I am a very active person and this is quite annoying and is interfering with my workout routine.
A. Others have also reported persistent arm pain after getting a flu shot. We do not know how widespread this reaction has been, but it appears to be different from the short-term discomfort (two or three days) many people experience.
Here is what other visitors to our website have reported regarding arm pain:
Just in from Jayme in Friendswood, TX:
"I had my flu shot Oct 1, 2014 (at Walgreens) and STILL can barely use my arm because the pain is so bad. In addition, I have tingling down into my hand.

"I have already had one steroid injection to try and relieve the pain (about 50% successful), but the doctors says I probably have some nerve damage from it also. The flu lasts 2 weeks and this has gone on for 4 months! I will never have another flu shot!"
This comes from Margaret:
"It is over 3 months and I am still having soreness at injection site of a flu vaccine. I am also experiencing pain when moving the arm and pain in my index finger on that same arm.  My finger moves on its own when I open and close my hand. It jumps without any control by me."
Cindy wrote on January 28th:
"I had a flu shot in October and here it is almost February and my arm is still sore."
Julie in Salina, KS reported:
"I got the quad flu shot this year also. My grandmother died of pneumonia from flu complications in the 60's when there was a deadly strain going around, so I want to do everything I can to lessen, if not prevent flu as I get older!

It also left me with a painful arm for about 3 1/2 weeks. At 62 years old, I have had many vaccinations in my life, but the pain was usually over in 2-3 days. This pain reminded me of the smallpox vaccination of years ago. But it did go away. However, I admit it does give cause for caution on future vaccinations."
Tina wrote on January 27th:
"Wow, I can't believe what I'm reading. I got my annual flu shot last November right before my husband and I went on vacation for 2 weeks and my arm became so sore that it was even painful when I walked and my arm would swing slightly.

"I thought I had done something to injure my arm. Now it's almost February and my arm still bothers me. It seems to come in waves, with some days better than others. I kept wondering what in the world I had done to myself to cause such pain – I'm only 51 and have been very healthy, with no injuries ever and never any broken bones, surgeries, etc. so I was caught totally off guard by this whole experience.

"Now after seeing this story on TPP [The People's Pharmacy], I believe it was the flu shot I received at my local CVS pharmacy."
Karl in Taylorsville, NC added:
"I got my shot at CVS.  After 2 months I still have pain in my arm and limited motion.

"Above all this I have a burning anger inside me when I got the Medicare statement and noticed that CVS charged $30.00 for the flu shot and a $30.00 administration fee."
To be balanced, we must point out that some people reported no problems with the shot.
Ernie in Florida noted:
"I've had the flu shot every year for many years, including the quadrivalent shot this year and have had only minor soreness for a few hours after receiving the shot."
The Bottom Line
We fear that there is no way to determine how common this prolonged sore-arm reaction really is. As far as we can tell, no one is actively tracking adverse flu reactions. This might be a really rare side effect or it might be widespread. Unless the CDC is better able to track adverse reactions to influenza vaccines we will likely never know.
Do you find this comment heretical? Here is what Peter Doshi, PhD, wrote in JAMA Internal Medicine (June 10, 2013):
"Cochrane reviews have noted serious deficiencies in safety outcome reporting in published influenza vaccine trials, suggesting a lack of understanding of the true safety profile of influenza vaccines that hampers an ability to weigh potential benefits against harms…

"At a societal level, successful public health campaigns are only possible (and ethical) with the cooperation and buy-in of the public they serve. But as current influenza vaccine campaigns are based on information asymmetries–in which the public's understanding of potential vaccine benefit and potential harms is incompatible with the evidence–the public trust is risked by a continuation of the status quo."
Please share your own experience below, positive or negative.
And please vote on this article by toggling the stars at the top of the post.