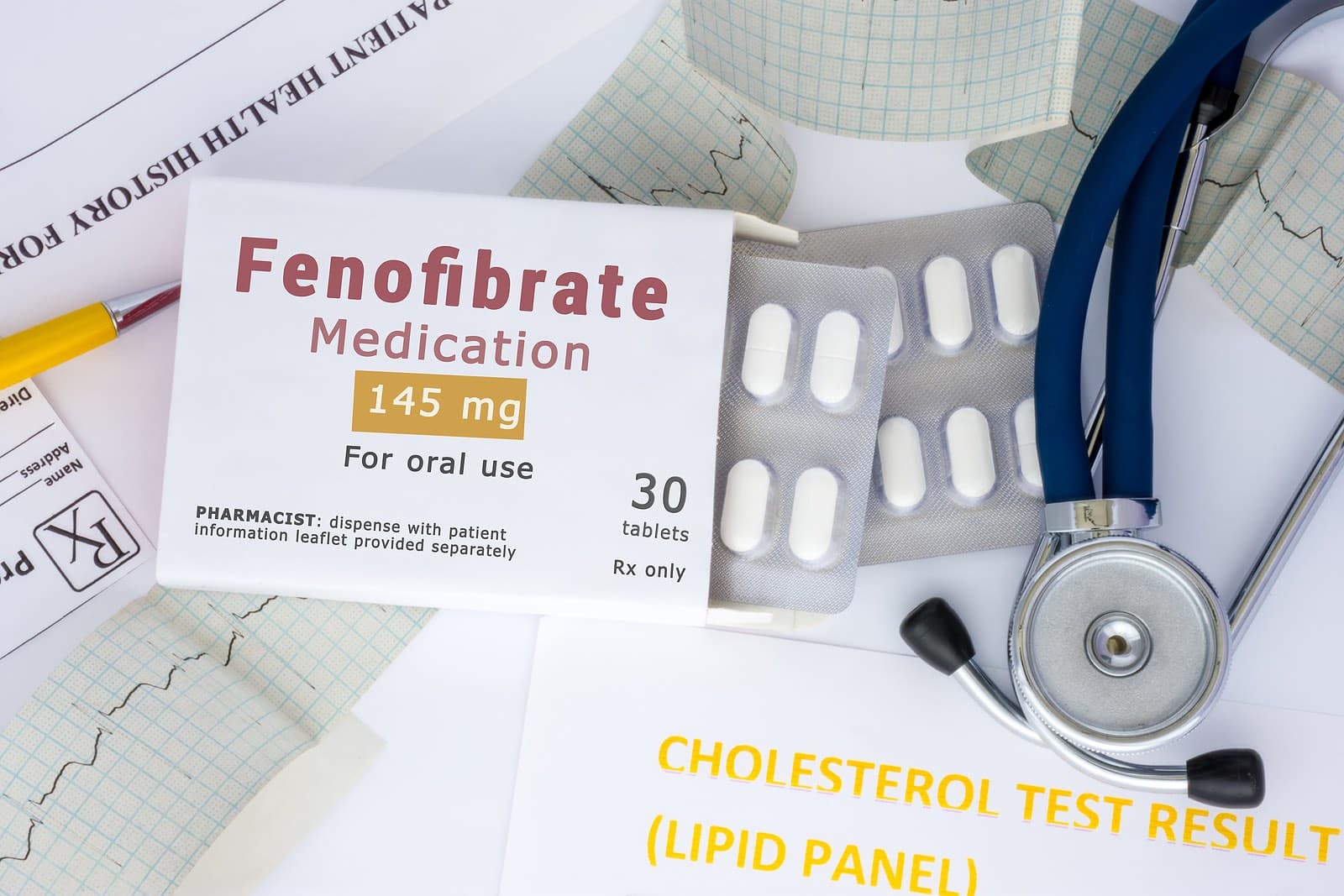 Fenofibrate is an old drug that is prescribed to lower triglycerides (TG). It also reduces so-called bad LDL cholesterol (LDL-C), total cholesterol (TC) and raises "good" HDL cholesterol. Bottom line: doctors think of fenofibrate as a medication to lower the risk of heart disease. But there is growing interest in the benefits of the drug for the brain. We recently learned about some new uses for fenofibrate that have our attention.
Fenofibrate to Lower Triglycerides:
Triglycerides are an important risk factor for heart disease, full stop! We know that health professionals often focus on LDL-C because statins are so effective at lowering this lipid fraction.
Triglycerides are a different kind of lipid. They store calories and are often associated with a nasty condition called metabolic syndrome. It is characterized by a big belly (abdominal obesity), high blood pressure, and elevated blood sugar levels. It is thought that elevated TG levels lead directly to atherosclerotic plaque in coronary arteries (Nature Reviews Cardiology, March 16, 2017).
Laboratories generally consider triglyceride levels below 150 as normal. TG levels of 150-199 mg/dL are classified as borderline high. According to the Mayo Clinic, when TGs reach 200 to 499 they are "high" and above 500 is very high.
Health care professionals we have consulted suggest that an optimal TG level would be under 100 mg/dL. A low-carbohydrate diet is one way to get triglycerides down (PLoS One, Jan. 14, 2020). Another way is with fenofibrate, as this reader reports.
New Uses for Fenofibrate Against Uncontrolled Diarrhea:
Q. The doctor added fenofibrate to my meds because I had high triglycerides (400 plus). Within six weeks, my triglycerides were down to 179.

As an extra benefit, the uncontrolled diarrhea I've been experiencing for almost two years has almost completely disappeared. The gastroenterologist I've seen says fenofibrate can bind with fats and lower triglycerides.

So far, it has been good for me. Is there anything else I should know about it?
A. Fenofibrate is an often-overlooked drug in the doctors' lipid-controlling toolbox. It was approved by the FDA in 1993 and first sold in the US under the brand name Tricor in 1998.
In addition to lowering triglycerides, it can also reduce total and LDL cholesterol and raise "good" HDL cholesterol. People with metabolic syndrome (high cholesterol, triglycerides, blood glucose and blood pressure along with a large waistline) are especially likely to benefit from fenofibrate. Side effects include liver enzyme elevations, digestive discomfort and headache.
We first heard about fenofibrate for chronic diarrhea several years ago. Here is a link to a similar story as yours.  This is not an "approved" use by the FDA, but some doctors are prescribing the drug off label.
A word of caution, though. Some people report diarrhea as a side effect of fenofibrate. (Others suffer constipation.) More worrisome are changes in liver and kidney function. Clearly, this drug is not for everyone.
More New Uses for Fenofibrate: The Brain
Fenofibrate may also have unexpected benefits for the brain. We first heard about new uses for fenofibrate against depression during an interview with a Harvard psychiatrist. You can listen to our interview (Show 1271: New Approaches to Managing Depression) at this link.
There is preliminary evidence of antidepressant and neuroprotective activity (Biomolecules, May 2022). Animal research suggests that fenofibrate might be beneficial against Parkinson's disease (Behavioral Brain Research, Nov. 2014).
You can learn much more about new uses for fenofibrate and other strategies for lipid management in our eGuide to Cholesterol Control and Heart Health. It also contains insights on the often-overlooked cardiac risk factor Lp(a). This online resource is available under the Health eGuides tab at this link.