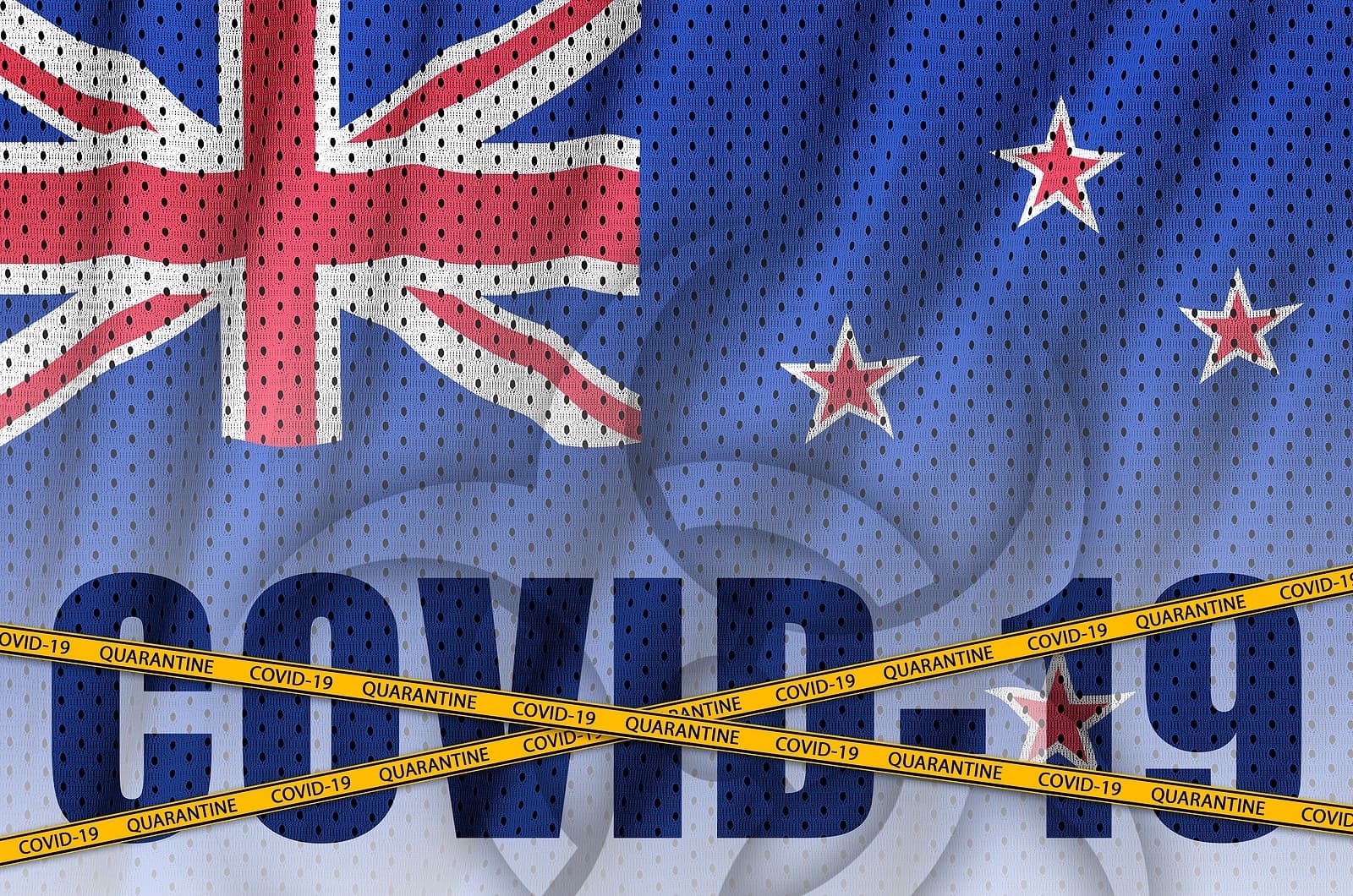 New Zealand flag and Covid-19 inscription with orange quarantine border tape. Coronavirus or 2019-nCov virus concept
New Zealand is serving as a role model for prompt public health action to stop the spread of the coronavirus. Early in the pandemic, this island nation prevented foreigners from entering the country. Any New Zealander returning home from abroad had to self-isolate for 14 days. Despite such measures, cases started showing up and the country went into total lockdown. Did the strategy work? You bet!
"Go Hard and Go Early"
Jacinda Ardern, New Zealand's Prime Minister, adopted a motto for the country: "go hard and go early." Instead of flattening the curve, the country aimed to crush it. After 103 days of total lockdown, New Zealand eliminated COVID-19. The zero COVID strategy worked! There were just 25 COVID deaths for a population of 5 million.
People went back to life as normal. They attended sporting events, music festivals, ate in restaurants, shopped and did not obsess about catching COVID-19. There were no masks and no worries.
The Delta Variant Sneaks Into New Zealand:
After more than 100 days without a single case of COVID, a person with the Delta variant arrived in Auckland in mid-August. Four hours after the case was reported on August 17, 2021, the Primer Minister announced that the country was going back into total lockdown.
Cases began to rise over the next several days. Public health authorities immediately began intense testing and contact tracing. Over 38,000 people who had come into contact with an infected person were identified, tested and isolated. By August 29, 2021, daily cases of COVID hit their peak of 85. Then the total lockdown began to have an impact.
Gradually, cases began to come down. At last count, 868 people had contracted COVID in about three weeks, but new cases have become manageable and the lockdown is now easing. On September 9, 2021, there were only 13 new cases of COVID in the country and all were in Auckland. 
For comparison, Louisiana has a comparable population to New Zealand. On September 8, 2021, the Department of Health for the state of Louisiana reported 3,066 new cases. 
Beyond Total Lockdown:
The Prime Minister reported that New Zealand was moving forward aggressively in its vaccination campaign. In a press conference on September 9, she noted that 89% of those 65+ had received at least one shot and 77% of those 44+ had one dose. And 64% of those 12+ have at least one dose.
Jacinda Ardern was asked "how many New Zealanders need to be vaccinated? What is the magic number?"
Her response:
"Everyone! In part because I hate the idea of even one preventable death and with the vaccine we know that the chances of someone's life being taken by COVID is dramatically reduced…Let's make sure we look out for one another."
What a Total Lockdown Has Done in New Zealand:
Everyone hates lockdowns. The Kiwis are no different from the people in other countries. Restricting movement and hunkering down sucks! But New Zealanders have implemented rapid public health measures that few other countries have been willing to adopt. And they appear to be willing to "look out for one another."
What are the results of the total lockdown? There are two metrics that matter. COVID cases and deaths. New Zealand has had a total of 3,848 COVID cases over the entire pandemic. There have been a total of 27 deaths in the country. That's right! In the entire country there have only been 27 deaths from the coronavirus. During that same time frame, there have been 40 million cases and over 650,000 deaths in the US.
OK! I hear you muttering that you cannot compare a country of 5 million people to a country like the US with more than 330 million people. You are, of course, absolutely correct! And you are probably saying that New Zealand is an island nation. That makes it easier to manage the pandemic. Again, quite right.
So, let's compare apples to apples, OK? Let's compare New Zealand to Ireland. They are both island nations. New Zealand's population is 4,822,233. Ireland has 4,937,786 citizens. That's close enough for our comparison. During the pandemic, Ireland has reported 360,957 confirmed cases of COVID. There have been 5,155 deaths there.
New Zealand has had 3,848 confirmed cases and 27 deaths. We are comparing apples to apples and the difference is nothing short of extraordinary.
Why Should we Care About New Zealand and its Total Lockdown?
Most other countries reject the zero COVID strategy. Places like Australia and Singapore are deciding that they will just learn to live with COVID.
There are millions of Americans who agree. Many have written to us to say that a total lockdown is impossible, unnecessary and a waste of time and money. The message: just get over it and learn to live with the virus and accept the deaths as inevitable.
We are not ready to throw in the towel on COVID. But that's not the real reason we think the New Zealand model is important. COVID is not a one-and-done kind of pandemic. It is a warning.
Preparing for the Next Pandemic?
Even though it took more than 100 years for this kind of pandemic to show up again after the 1918 flu, we do not think it will be another 100 years before a different virus comes along and starts spreading like wildfire.
We need to start planning now for the next pandemic. It could be even worse than COVID. Judging by how we have done with the coronavirus, we are not likely to fare a lot better the next time around. Who knows, we might not even be able to make a vaccine against the next pathogen that gets loose in the environment. It could be a fungus instead of a virus. 
We don't know whether New Zealand will completely eradicate COVID-19 this time around. In less than a month, though, the country has made extraordinary progress by adopting the motto "go hard and go early." If other countries follow the Kiwis' example, perhaps the next pathogen won't get a foothold and get out of hand.
You can read more about the New Zealand total lockdown strategy against COVID at this link. 
Pushing Back Against Public Health Measures:
Many readers disagree that public health measures might be a useful strategy against this or future pandemics. They 1) Oppose vaccinations of any kind…or at least of the COVID kind. 2) They are against testing, tracing and quarantines for infected individuals. 3) They are especially opposed to the concept of lockdowns…ever! The idea that in one month New Zealand could wrestle the coronavirus back into submission actually appears to annoy them.
The question we posed above is: how should we prepare for the next pandemic? The answer from a lot of people seems to be that we shouldn't. We're just supposed to learn to live with it when it arrives. If 650,000 people die, too bad. If a couple of million people die, that's the price of living in our modern world. 
It's far too late to institute public health measures to control COVID-19 in 99% of the world. The only way New Zealand managed it was to "go hard and go early." Once the horses are out of the barn, it is almost impossible to round them up again. 
So I ask again: how do we prepare for the next pandemic? What if there will be no effective vaccines and no effective drugs? If we don't go hard and go early, what's left? We welcome suggestions. 
Speaking of Drugs:
I know that many visitors to this website believe that either hydroxychloroquine or ivermectin or both are the answer to prevent or treat COVID. End of discussion!
Early in the pandemic, I too hoped that hydroxychloroquine would be the magic bullet. And I absolutely love ivermectin. Here is an article that explains why.
Are either of these drugs a slam dunk vs. COVID? Rather than cite lots of studies or express my opinion, here is an article by Derek Lowe that actually describes the science. Anyone who appreciates data will find it worth reading. 
My last words on the New Zealand "experiment" are these: if there is another pandemic, we need to be prepared! Actually, I would rephrase that to when there is another pandemic, we must be prepared! We cannot count on vaccines, drugs or magic bullets to get us out of a jam. We must have powerful international public health resources ready at a moment's notice to "go hard and go early." If we can isolate the pathogen and keep it from spreading, we may be able to prevent a repeat of the COVID-19 debacle. To do that, though, we will need the public health infrastructure and personnel ready to go into action at the first sign of trouble.