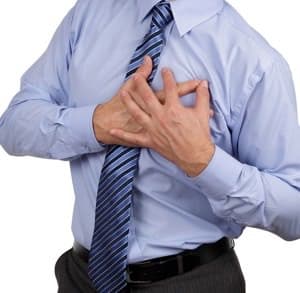 On July 9, 2015, the FDA issued another warning about non-aspirin NSAIDs (nonsteroidal anti-inflammatory drugs). We have been warning about cardiovascular complications for years and now the FDA is strengthening its safety announcement:
"Patients taking NSAIDs should seek medical attention immediately if they experience symptoms such as chest pain, shortness of breath or trouble breathing, weakness in one part or side of their body, or slurred speech."
NSAIDs and Heart Attacks
That's because non-aspirin NSAIDs increase the risk for heart attack and stroke, either of which can cause death. The FDA advises that these life-threatening events could occur "as early as the first weeks of using an NSAID. The risk may increase with longer use of the NSAID."
The FDA cannot tell if there are any differences in risks between drugs such as celecoxib, diclofenac, ibuprofen, meloxicam or naproxen. Notice, that aspirin, although an NSAID, does NOT increase the risk for heart attacks or strokes caused by blood clots.
Don't Take OTC NSAIDs for Granted!
Millions of people take over-the-counter pain relievers without thinking twice. They certainly never connect NSAIDs and heart attacks. The very idea that such drugs could cause deadly heart attacks or strokes comes as a shock to most people. After all, the FDA says that nonprescription drugs are both safe and effective. We find it hard to understand how drugs that kill people regularly could be considered safe.
Another Deadly NSAID Hazard
The new warning about heart attacks and strokes deals with blood clots in arteries that feed the heart and the brain. It doesn't address the issue of blood clots that lodge in the veins. These are called deep vein thromboses (DVTs) and they can also become lethal. When a blood clot breaks loose and gets stuck in the lungs it is called a pulmonary embolism (PE).
We warned about this scary complication here.
For reasons that are mysterious to us the FDA has not yet seen fit to warn people about these deadly hazards. One reader discovered this problem by first hand experience.
"Naproxen almost killed me. After three doctor visits and two ER visits for shortness of breath and leg pain, I was finally diagnosed with severe anemia from internal bleeding, DVT [deep vein thrombosis] and PE [pulmonary embolism] in both lungs. This all occurred within the last four months, with the life threatening PE 6-1/2 weeks ago.

"The ER doc who saved my life immediately took me off the naproxen which I'd been taking twice a day for the past three years to treat osteoarthritis and degenerative disc disease in my back. I loved that med for easing the pain and was unaware of any side effects.

"I had no stomach discomfort and no idea I had an ulcer. My doctors never told me that I should only take it a short time, although I had other risk factors and possible drug interactions. Actually, had they, I would have resisted because it works.

"The three doctors who missed this were treating me for worsening asthma and prescribing stronger asthma meds. (My heart was tested and is fine.) The leg pain and the fact that the affected leg was swelling more than the other were discounted and ignored. I am grateful to have lived to make it to the ER and through the crisis.

"I am slowly getting stronger, but I'm only able to work a couple of hours three days a week. Even that exhausts me. For several weeks I couldn't work at all, so that's a big improvement.

"I'm now on a blood thinner, iron and B-12 shots. My leg still hurts sometimes. My doctor says the valves in my leg are damaged and not pumping the blood back up very well.

"I'm hoping that improves and I have no lasting effects from this. My breathing is so much better, but only time will tell if I have permanent lung damage. My pain level is actually pretty good without pain meds, but I'm not moving my joints or back yet as much as I normally would. So time will tell on that one too. (It is an ironic thought in other research that the meds we take for pain might actually be causing more pain.)

"I am so glad to have lived through it and be recuperating well. But this damage due to the drug was a life changer at least for several months. I am left with big medical bills in spite of insurance and vastly reduced income with which to pay them. Due to lack of early symptoms I can understand it all being missed and ignored, but I sure do wish someone had caught it before it got so serious. Please all of you taking NSAIDS, take these risks seriously."
Take Home Message About NSAIDs and Heart Attacks
The FDA has no idea how many people have been harmed by NSAIDs over the last few decades. We suspect that hundreds of thousands of heart attacks, strokes and DVTs have been triggered by these pain relievers and tens of  thousands of people have died.
When an older person has a heart attack or a stroke it is often blamed on their age or the state of their arteries. The medicine they were taking for arthritis, a bad back or a headache is overlooked. Perhaps this new warning will wake some people up to the dangers of non-aspirin NSAIDs.
But what should people do for their aching joints or head pain? We offer a great many non-drug options in our book The People's Pharmacy Quick & Handy Home Remedies. They have  the benefit of not costing much and not causing heart attacks, strokes, DVTs or bleeding ulcers.