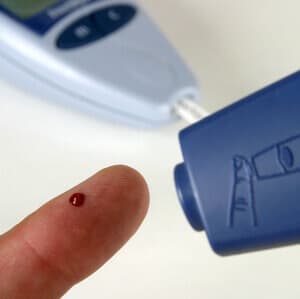 On August 28, 2015, the FDA issued the following caution:
"The U.S. Food and Drug Administration (FDA) is warning that the type 2 diabetes medicines sitagliptin, saxagliptin, linagliptin, and alogliptin may cause joint pain that can be severe and disabling. We have added a new Warning and Precaution about this risk to the labels of all medicines in this drug class, called dipeptidyl peptidase-4 (DPP-4) inhibitors."
The agency specifies that patients should not stop their medication but should contact the prescriber immediately if "they experience severe and persistent joint pain." The FDA wants health care professionals to understand that drugs in this class can cause serious joint pain and if that occurs they should recognize that it is not necessarily because a patient is "getting older" or developing sudden arthritis. The alert points out that symptoms can start within a day of beginning one of these drugs or come on gradually, after years of use without symptoms. The FDA states:
"After the patients discontinued the DPP-4 inhibitor medicine, their symptoms were relieved, usually in less than a month. Some patients developed severe joint pain again when they restarted the same medicine or another DPP-4 inhibitor."
Januvia Joint Pain Side Effect:
Over the last several years the FDA has approved a number of new medications to treat type 2 diabetes. They include Januvia (sitagliptin) and Janumet (sitagliptin + metformin), Nesina (alogliptin), Onglyza (saxagliptin), and Tradjenta (linagliptin). Januvia has been widely advertised and is one of the best-selling diabetes drugs, earning billions annually for its manufacturer.
Januvia Television Commercials:
Perhaps you have seen the Januvia TV commercials and didn't even realize it. They promote the idea that the medication "is not likely to cause weight gain," making it seem like an ideal diabetes drug.
In one such commercial, a man and a woman are going up and down on a seesaw in an idyllic outdoor environment. Another couple is strolling along the beach with the ubiquitous beautiful dog. As they happily play with a Frisbee the announcer mentions that: "Serious side effects can happen, including pancreatitis which may be severe and lead to death." But they don't mention the Januvia joint pain side effect.
Next we see two guys having fun at the barbecue grill. The female announcer adds:
"Tell your doctor right away and stop taking Januvia if you have an allergic reaction that causes swelling of the face, lips, tongue or throat or affects your breathing or causes rash or hives. Kidney problems sometimes requiring dialysis have been reported."
Other side effects are mentioned, but nowhere in this commercial is there a reference to the newly uncovered Januvia joint pain side effect. Presumably that will now change given the current FDA alert.
Other Drugs That Will Have a Joint Pain Warning:
It is not just Januvia, Janumet, Nesina, Onglyza, and Tradjenta that will have to carry cautions on the label about severe or disabling joint pain. The FDA will also require Glyxambi (linagliptin + empagliflozin), Jentadueto (linagliptin + metformin), Kombiglyze XR (saxagliptin + metformin) and Oseni (alogliptin + pioglitazone) to alert prescribers and patients to this complication.
What About the Problems with the Pancreas?
Perhaps you noticed the reference to pancreatitis and death mentioned in the TV commercial. These drugs work by stimulating the pancreas to make more insulin. A study published in the journal JAMA Internal Medicine (April 8, 2013) reported that Januvia and another new diabetes drug, Byetta, were "associated with increased odds of hospitalization for acute pancreatitis." That means inflammation of the pancreas, a painful and potentially life-threatening condition. There have even been concerns raised about pancreatic cancer.
The FDA has backpedaled a bit on these problems, but another organization, the Institute for Safe Medication Practices (ISMP) has voiced concern in its publication, Quarter Watch, which monitors reports of adverse reactions submitted to the FDA. A publication issued in April, 2013, notes that the FDA has learned of over 800 cases of pancreatitis and more than 100 cases of pancreatic cancer.
Readers' Stories:
Rich shared this story on our website:
"I was prescribed Januvia in March of 2015. Earlier in the year I had a kidney stone removed and neither a CT, MRI or blood tests showed anything abnormal with my pancreas or pancreatic enzymes. I started experiencing left side abdominal pain in just a few weeks and subsequent tests and a biopsy this month (August 2015) confirmed the presence of a malignant tumor in my pancreas."
JL reported the following:
"Yes, yes, my husband got pancreatitis while taking Januvia and spent a week in the hospital. Doctors said there was no connection but we have since read many corresponding articles. He no longer takes Januvia."
SC reported less serious but nevertheless annoying complications:
"I took Januvia for about a year after it was introduced. I had been recently diagnosed with Type 2 diabetes. I had a constantly stuffy, runny nose.

"After my Medicare insurer wanted me to try a cheaper medication–metformin–I decided the side effects of Januvia were too annoying and no long term studies had been done so I switched to metformin. It is a safer drug and with a low carb diet, has helped me maintain decent blood sugars."
Januvia (sitagliptin) Side Effects:
Upper respiratory tract infections, nasal congestion, runny nose
Headache
Digestive distress, stomach pain, diarrhea
Joint pain, arthritis
Serious skin reactions (require immediate medical attention)
Pancreatitis
Liver enzyme elevations
Kidney damage
We welcome reports from visitors to this website below in the comment section so we can share case reports with the FDA and ISMP. Have you experienced Januvia side effects or has this drug been really good at controlling your blood sugar without adverse reactions? What about other new diabetes drugs?
Please share your story and please vote on this article at the top of this page.