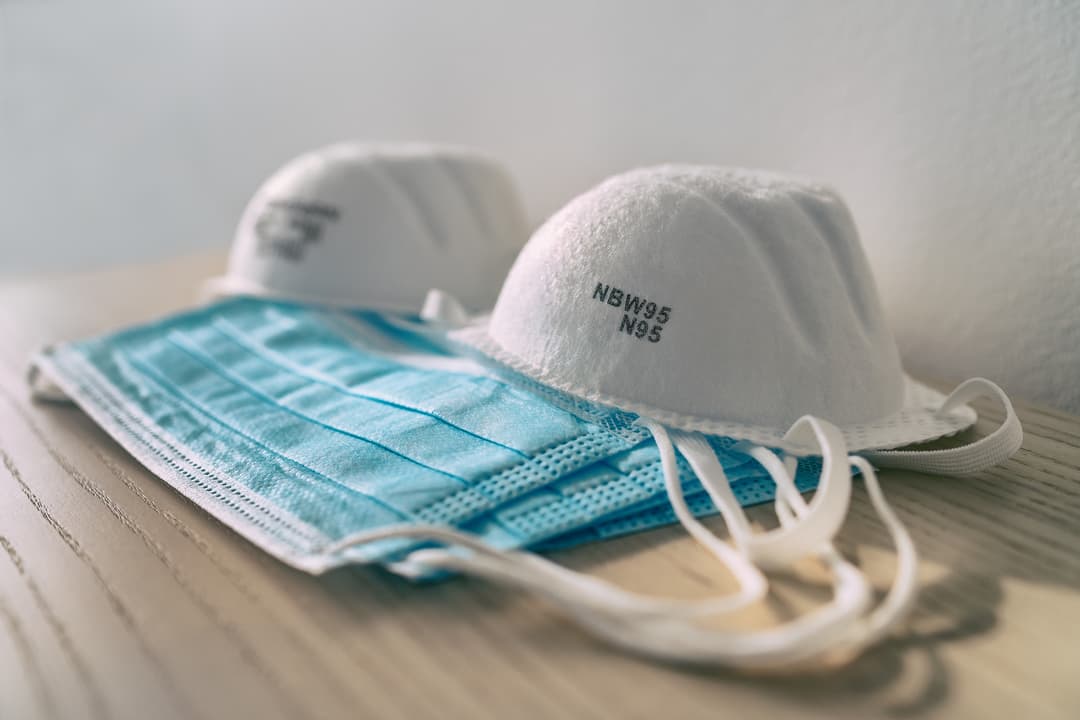 One of the first tools people used to try to cut the transmission of COVID-19 was the very old practice of covering the nose and mouth with a mask. During the 1918 influenza pandemic, public health officials used masks to slow the spread of the disease. Unfortunately, face masks became highly politicized in the fight against COVID-19. That's too bad because studies support the value of face masks. When everyone wears face masks indoors, they are fairly effective in reducing transmission of the coronavirus.
New Studies Evaluate the Value of Face Masks:
This week, two new studies have been published evaluating the effectiveness of this practice. Such assessments are difficult, because there are many different kinds of masks. Some may be more effective than others in protecting against an airborne virus. In addition, people vary greatly in how they wear masks.
One study examined SARS-CoV-2 in classroom air in two high schools in Switzerland (PLOS Medicine, May 18, 2023). The study took place between January and March 2022, when Omicron dominated. There was virus present in the air all through the study time frame. In the school that mandated mask wearing, however, the scientists detected 70% fewer viral particles. Air cleaners also lowered the amount of virus in the air by 40%. The researchers concluded that mask mandates reduced viral transmission in classrooms.
Another study analyzed three randomized clinical trials and 21 observational studies of masks (Annals of Internal Medicine, May 16, 2023). It was difficult to evaluate how the differences between cloth masks or N95 masks may have affected the outcome. However, the investigators determined that wearing masks leads to a modest reduction in COVID transmission in community settings.
An accompanying editorial in the Annals of Internal Medicine concludes,
"To get to the truth about masking, the authors say it is imperative to design studies that fill information gaps, interpret the evidence accurately, and are honest about what we do and do not know."
Could the Value of Face Masks Lie in Stronger Immunity?
Now, researchers from McMaster University in Hamilton, Ontario, report another potential benefit of masking (Journal of The Royal Society Interface, May 4, 2022). Even if masks do not completely block viral transmission of SARS-CoV-2, they reduce the amount of virus a person inhales. As a result, people are less likely to become severely ill and require hospitalization. When the viral load is low, the immune system can respond more effectively and create antibodies that are capable of defeating the infection before it causes severe damage.
The scientists term this "variolation," comparing it to the early methods of preventing smallpox before vaccines were invented. This research on revvin g up immunity with low-level exposure has important implications for future COVID variants as well as other respiratory infections.
Previous Views on the Value of Face Masks:
Throughout much of the pandemic, public health officials urged us all to use face masks, physical distancing and hand washing indoors to reduce the spread of COVID-19. However, although cases are rising in quite a few parts of the country, many individuals remain unconvinced of the value of face masks. They keep insisting that there is no scientific evidence for the value of face masks. Studies contradict that assertion with substantial evidence.
But not all masks are created equal. Many of the masks we see people wearing are almost useless. And when people wear them below their nose, it's a joke.
People Who Wear High-Quality Face Masks Are Less Likely to Catch COVID-19:
Many people have complained about having to wear masks in public. However, the evidence is increasing that they make a difference. What do we know about the value of face masks?
Health care workers are especially vulnerable to COVID-19 if they haven't been vaccinated. A new study shows that the quality of the masks they wear makes a huge difference in their risk of catching COVID.
British researchers gathered information most of last year with regular COVID testing. During that time national guidance was for healthcare workers to wear surgical masks. Such face coverings don't fit tightly and are not designed to block aerosolized virus particles.
Staff caring for patients infected with the coronavirus were 47 times more likely to contract the infection than those on non-COVID wards. However, after they switched to high-quality FFP3 respirators, the rate of infections dropped dramatically. These special respirators fit tightly and filter out aerosol particles. The investigators conclude that surgical masks are not adequate to protect against an aerosolized virus such as SARS-CoV-2 (Authorea preprint, June 24, 2021).
The Axios/Ipsos Poll:
An Axios/Ipsos Coronavirus Index poll starting in March of 2020 showed that only 11% of those who reported always wearing masks whenever they left home tested positive for COVID-19. On the other hand, 23% of those who rarely or never wore masks tested positive. The poll showed 12% of those who maintained at least a six-foot distance from others tested positive for COVID. In comparison, 20% of people who were less careful about social distancing.
Although masks and social distancing are far from foolproof, they do appear to offer some protection against the transmission of SARS-CoV-2. The variant from India, B.1.617.2, also known as Delta, is spreading rapidly in Britain. This variant has also been identified in 20% of COVID cases in the US and will no doubt increase in coming weeks. For those who are not vaccinated, this highly transmissible variant poses a significant risk. Unvaccinated individuals who are not wearing face masks currently may want to reconsider, since the value of face masks is becoming increasingly clear.
Global Research on the Value of Face Masks:
A study published in BMJ Global Health (May 28, 2020) suggests that measures such as washing hands, maintaining distance and wearing face masks do indeed reduce the risk of spreading or catching the coronavirus.  Researchers tracked 335 people in 124 families in which one person tested positive for SARS-CoV-2. The goal of the study was to determine how many people in the families caught the virus. Scientists also wondered if there were any strategies that worked to prevent secondary infection within two weeks of contact.
Almost one fourth of the other family members became infected after contact with one ill member. The risk of transmitting the infection was highest before symptoms developed or early in the disease. This makes isolation or distance much more difficult to use effectively. However, when people in the family wore face masks, practiced hygiene and used good ventilation, they reduced viral transmission. When people were wearing face masks in the home as a preventive measure before the first family member got ill, other family members were 79 percent less likely to catch the virus. This certainly highlights the value of face masks.
If the initial patient had diarrhea, family members were four times more likely to get sick as well. However, disinfecting the bathroom and closing the toilet lid before flushing were helpful. These could be helpful tactics even after the pandemic has finished.
Another Study on Covering the Face:
A second study confirms the value of face masks. This meta-analysis of 172 studies found that wearing face masks and using eye protection can reduce the risk of contracting COVID-19 (The Lancet, June 1, 2020). Maintaining physical distance between infected and uninfected people was also critical.
Canadian investigators reviewed data collected from more than 25,000 volunteers in 16 countries. The researchers analyzed infection rates of coronaviruses including SARS, MERS and SARS-CoV-2. They found that maintaining at least three feet of distance was better than close contact. The farther away people were from each other, the lower the risk of viral transmission.
In addition, people who used face masks conscientiously were less likely to transmit the infection.
The investigators state that
"Face mask use could result in a large reduction in risk of infection, with stronger associations with N95 or similar respirators compared with disposable surgical masks or similar [reusable 12-16-layer cotton masks]. Eye protection also was associated with less infection."
Because N95 respirators provide much stronger protection, all health care workers should have access to such protective gear. So should anyone who is at high risk for catching SARS-CoV-2. We only wish high-quality face masks were readily available for free or very low cost. If the future variants result in a resurgence of COVID cases, people will once again need to be careful when they are indoors.