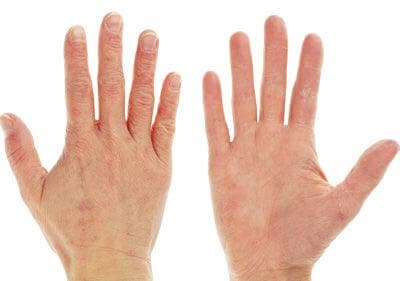 This is a bad time of year for people with eczema, also known as atopic dermatitis. That's because the red, itchy rash is aggravated by indoor heating and low humidity. Frequent hand washing can also irritate already sensitive skin.
Although eczema affects people of any age, children seem to be especially vulnerable. They have a hard time refraining from scratching the itch, and that makes the condition worse.
Doctors prescribe heavy-duty medications for kids with atopic dermatitis. Topical corticosteroid creams are a mainstay, but when they are inadequate, oral cortisone-type drugs may also be prescribed. Such drugs have serious side effects if taken for more than a short time.
When corticosteroids don't adequately control eczema, dermatologists may prescribe strong immune-suppressing creams or ointments. Pimecrolimus (Elidel) or tacrolimus (Protopic) can be effective but parents may cringe at the black box warning that says:
"Although a causal relationship has not been established, rare cases of malignancy (e.g., skin and lymphoma) have been reported in patients treated with topical calcineurin inhibitors, including PROTOPIC ointment/ELIDEL cream."
With such a scary warning, it is little wonder that people are anxious to find alternative treatments that work for eczema without raising the specter of cancer. Effective moisturizing can be extremely helpful, and readers have their favorites. One woman wrote:
"Coconut oil applied topically is fantastic for eczema. It soaks in really well."
Another reader reported:
"Nothing works better for me than shea butter on my skin. It is not perfect, but it offers relief and I function much better. I also take fish oil in large doses, which helps with inflammation. Different things work for different people and shea butter has proved to be the most consistent topical treatment for me."
Some eczema sufferers find Noxzema cream alleviates the itch. A simple moisturizer from the drugstore can also be helpful, as this reader notes:
"I have had eczema for two years and suffered with it badly. I now have it about 95 percent under control by drinking two cups of Chinese oolong tea per day and using over-the-counter CeraVe cream several times a day. When I stop either, the eczema returns. This regimen works better for me than steroid creams."
Oolong tea was identified as beneficial in a study from Japan more than a decade ago (Archives of Dermatology, Jan., 2001). One reader found it helped a lot:
"I suffered for years with a spot of eczema on my ankle about the size of a softball. I had tried every over-the-counter treatment with no luck and had completely given up hope that it would ever go away. I had no expectation that oolong tea would work, but I started drinking it a couple of times a day for about a month. The eczema disappeared and has not returned."
There is more information on battling eczema in our Guide to Skin Care & Treatment.