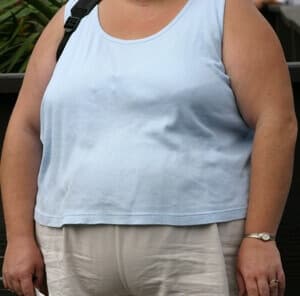 Pregabalin (Lyrica) has become a go-to drug for nerve pain (neuropathy). There aren't many medications in the doctor's tool kit for this kind of problem. A similar drug, gabapentin, has been approved for treating epilepsy and postherpetic neuralgia. This can be excruciating nerve pain that continues after a shingles attack. These "gabapentinoids" can cause a large number of side effects. Weight gain is surprisingly common among people taking Lyrica. Other common Lyrica side effects include fatigue, vertigo, brain fog, fluid retention, dry mouth, blurred vision, constipation, gas, depression, tremor and skin rash. One reader wants to know what to do about Lyrica and weight gain.
Lyrica and Weight Gain:
Q. I developed peripheral neuropathy two years ago. I suffered until a neurologist prescribed Lyrica twice a day. Although it has helped my symptoms, I have gained 25 pounds in the last six months. The increase in appetite is very difficult to control. I even wake up at night with hunger pains.

Is there anything to counteract this so I can lose the excess weight? Previously, I was in good health and walked briskly two miles daily. The neuropathy prevents that now.
Why Do People Gain Weight on Lyrica?
A. Increased appetite is a recognized adverse reaction to your medication. This may explain why there is a clear connection between Lyrica and weight gain for many people.
Other Factors Connecting Lyrica and Weight Gain:
Metabolism:
There may also be a metabolic component that is not well understood. In other words, the drug may affect hormones like leptin and ghrelin, which impact weight.
Somnolence:
Sleepiness and dizziness are common side effects of Lyrica. Some studies put the incidence of dizziness around 20 to 30 percent. Somnolence clocks in around 13 to 25 percent. When you feel tired and dizzy all the time, it is hard to move around let alone exercise. Lack of energy is another component to this triad.
Confusion:
There is also a brain fog component to the side effect profile of pregabalin. The official prescribing information describes this as confusion or abnormal thinking. This effect could lead to less motivation to exercise.
How Common is Weight Gain?
Some researchers have pointed out that weight gain is one of the most common side effects of Lyrica (Electrolyte & Blood Pressure, Dec. 2016).
The authors write that:
"It is thought that unexplained weight gain may be a sign of fluid retention, which may exacerbate congestive heart failure."
It is hard to estimate with precision how many people are susceptible to Lyrica and weight gain. A small Japanese study offered the following adverse reactions (Pain Research & Management, Nov-Dec, 2014):
Sleepiness 29.8%
Unsteadiness 23.6%
Weight Gain 5.3%
Edema 4.3%
Dizziness 3%
The official prescribing information presents data from a number of clinical trials. Lyrica and weight gain range from 4% to 16% depending upon the study.
What Does the FDA Database Report About Pregabalin and Weight Gain?
The Food and Drug Administration has a voluntary reporting system for collecting adverse drug reactions. It is called FAERS (FDA Adverse Event Reporting System). It depends upon patients and health care professionals submitting reports on side effects. Here is a link to the Form FDA 3500 for Health Professionals and FDA Form 3500B for Consumers/Patients.
The international Journal Die Pharmazie published an article on Oct. 1, 2022 about "Drug-induced weight gain in the last 10 years." It reported a 3.86% weight gain with pregabalin. The conclusion:
"In conclusion, the present study showed that drug-induced weight gain is a common side effect of several medications frequently used to treat chronic diseases. Healthcare providers should educate their patients about the medicines that may cause weight gain."
Veterans and Weight Gain with Pregabalin and Duloxetine:
A study published in the journal Federal Practitioner (May, 2021) followed veterans for 12 to 18 months after they were treated for neuropathy. Those on pregabalin alone gained 2.9 pounds. Those who received both pregabalin and duloxetine (Cymbalta) gained 5.5 pounds. The conclusion:
"The combination therapy of pregabalin and duloxetine was associated with the most amount of weight gain, followed by pregabalin alone."
More Reports from Readers Re: Lyrica and Weight Gain:
Steph in Florida reports:
"I've been on Lyrica for six years now for my fibromyalgia. I've been taking 600 mg a day for the last two years. I have gained so much weight just in my stomach only. I'm always bloated on top of that. As the day goes on my stomach gets worse and more bloated. I hate to leave my house because people are always coming up to me asking me how far along I am. That is just what any girl wants to hear, right?

"At first, I didn't think that it was the Lyrica. I thought that I was just 36 and my body was changing. I've had four kids. I'm no longer that skinny girl I've always been my whole life. I started working out and making sure I eat healthy food. I wouldn't lose a pound. I've worked out so hard and so much that I literally have hurt the inside of my ankle bone"
Inci in Australia adds:
"Four years ago my GP put me on Lyrica because the nerve pain in my feet was keeping me awake at night. For a few months it seemed to be working. However, the nerve pain came back and the GP increased the dose.

"This should have been a red flag. I was never told about the side effects of the drug. I was experiencing weight gain for no reason, dizziness and loss of balance, itches all over my body and incontinence day or night."
What To Do About Lyrica and Weight Gain?
As far as we know there are no antidotes to the weight problem. Some experts recommend a healthy diet and exercise. That's always good advice, but it may not help many people if they have a voracious appetite from the drug and are dizzy and exhausted most of the day.
No one should ever stop Lyrica suddenly! The withdrawal symptoms can be daunting. Here is a link that describes this problem.
People who gain weight on Lyrica should discuss the problem with the prescriber. Always ask your doctor if there are other options for your nerve pain. Benfotiamine (a B vitamin derivative) might offer a different approach to treating neuropathy (PLOS One, Feb. 19, 2015).
We also heard from Susan in Fort Mill, SC:
"I read the letter from the person with peripheral neuropathy and wanted to let you know what works for me. About six years ago the peripheral neuropathy in my left heel was not allowing me to sleep. I checked for a natural remedy. I found a recommendation for a daily dose of a combination of 600 mg of Alpha Lipoic Acid and 100 mg of B-1. Within a few weeks the symptoms were gone. Occasionally I have a very mild reoccurrence, but thankfully I have no need for 'real' medicine."
Before embarking on a dietary supplement regimen, however, please discuss such options with a physician.
Share your own experience with Lyrica and weight gain in the comment section below. If you have found a successful strategy for treating neuropathy, please share that too. Have you been able to lose the weight you gained? If so, what strategies worked best?