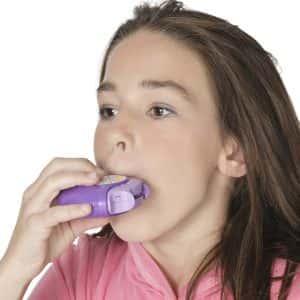 Our readers often make us aware of medication problems we could never discover on our own. Such is the case with lactose in ADVAIR DISKUS for asthma or COPD (chronic obstructive pulmonary disease). This inhaler uses a dry powder. The two active ingredients are fluticasone, a powerful corticosteroid and salmeterol, a long-acting beta-agonist (LABA) that acts as a bronchodilator. There is another "inactive" ingredient: lactose or milk sugar. This reader alerted us to this ingredient.
An Unwanted Ingredient: Lactose in ADVAIR:
Q. I have COPD and used ADVAIR DISKUS for years, getting sicker and sicker. I finally took the matter into my own hands.

My online research uncovered the fact that ADVAIR DISKUS (and many other dry powder breathing meds) contain lactose. I am allergic to lactose! My doctor didn't know about this and was shocked.
A. People who are sensitive to milk protein or milk sugar (lactose) should be informed that dry-powder inhalers for chronic obstructive pulmonary disease (COPD) or asthma may contain lactose as a filler. The maker of ADVAIR DISKUS states that its formulation contains lactose "which contains milk proteins."
Thank you for alerting us to this potential problem. ADVAIR HFA does not contain lactose and might offer an alternative.
Lactose Intolerance vs. Milk Protein Allergy:
You have probably heard of lactose intolerance. People who suffer from this condition lack a crucial enzyme called lactase. That means they have a hard time digesting milk sugar. Learn more at this link.
Are Pills Containing Lactose Making You Fart?
Lactose that has not been broken down by lactase will move from the stomach to the small intestines and eventually to the colon. There it can cause gas, bloating and diarrhea.
It is estimated that anywhere between 12% to 30% of Americans have some degree of lactose intolerance. Native Americans, African Americans and people of East Asian heritage are especially vulnerable.
People who lack lactase can buy the enzyme in pill form (Lactaid or various generic products). It helps digest milk sugar, but some people can still experience GI symptoms if they are highly sensitive to lactose.
Milk Protein Allergy:
An allergy to milk proteins triggers somewhat different symptoms. That's because this is an immune reaction.
Symptoms may include hives, breathing difficulties, shortness of breath, digestive upset, skin rash, tightness in the throat, vomiting and difficulty swallowing.
Lactose in ADVAIR DISKUS:
The last thing a person with COPD or asthma needs is shortness of breath or breathing difficulties! Here is what an article in the Journal of Pediatric Pharmacology and Therapeutics (Jul-Sept, 2014) has to say about lactose in ADVAIR DISKUS:
"Milk protein allergy–induced reactions from lactose-containing dry powder inhalers (DPIs) have not been widely described in the literature. Lactose is a common inactive ingredient in many pharmaceutical products that is used to enhance the stability of active substances in medicinal products, including asthma medications. Contamination of lactose with milk proteins has been identified in reports of inhaled corticosteroid product lot testing. Serious respiratory sequelae may follow after the inhalation of a DPI corticosteroid in a patient with milk protein allergy because DPIs that contain lactose may be contaminated with milk proteins."
What to Do About Lactose in ADVAIR or Other Inhalers:
If you are using a dry powder inhaler there is a very good chance that it contains lactose as an "inactive" ingredient. How would you know for sure?
My best recommendation would be to go to DailyMed.  This website lists most of the prescribed drugs in the US. More to the point, it also contains the official prescribing information sanctioned by the FDA.
Put the name of your medicine in the prominent search box. Click on the link to your medicine. Then scan down for a header such as "Description," "Inactive Ingredients," or "Ingredients and Appearance."
If your breathing is not getting better with a dry powder inhaler or is getting worse, ask your doctor to test for milk protein allergy. This may require a referral to an allergist. If you are allergic to milk sugar, make sure your doctor does not prescribe a dry powder inhaler containing lactose.
Please share your own experience with either lactose intolerance or milk sugar allergy in the comment section below.