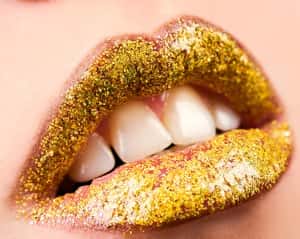 How good are you at following instructions? For example, DO NOT lick your lips! No matter how dry or chapped they may be, absolutely resist the temptation to lick. I myself have a hard time following my command in this situation because when stated so emphatically it is hard not to want to moisten the lips. But that is about the worst thing you can do for dry lips, as you will discover in a moment. 
Instead of a sight for sore eyes, we have a delicious solution for chapped lips. We are offering our People's Pharmacy Natural Pomegranate Lip Care 3-Pack at  30% off the regular price if purchased individually. The regular price is $3.49 per tube, but because it is still cold out there and lots of people are suffering, we wanted to offer you this special sale price. 
Do You Suffer from Chapped Lips?
Lips take a beating at this time of year. When the weather starts to turn cold and dry, lips chap and crack. Dermatologists call this condition cheilitis (aka "inflammation of the lips"). Readers sometimes refer to it as "clown mouth." Whatever the name, it is uncomfortable and unsightly.
One factor contributing to chapped lips is licking. Healthy lips normally have a thin layer of natural oil that helps keep them moisturized. Licking removes this and they dry out.
This can become a vicious cycle. The drier your lips, the more likely you are to try to relieve the discomfort by licking them, which only makes things worse. Of course it is much harder to stop licking dry, chapped lips than you might think.
Chicken S#@t for Dry Lips?
Decades ago we heard from a reader who offered an anecdote of dubious veracity:
"I was visiting my uncle's ranch one day when I saw a ranch hand squat down, drag his finger through fresh chicken manure, and smear it on his lips. I said, 'Unk, that's not good for chapped lips, is it?' 'In a way,' my uncle said. 'It'll keep you from licking 'em.'"
Healing Chapped Lips:
There are way better ways to heal chapped lips. Please, do not try "Unk's" remedy! Many people use lip balm to moisturize this delicate tissue. But choosing a product requires care.
Many lip balms contain sunscreen. While this can be helpful against excessive sun exposure, some ingredients actually trigger an allergic reaction in sensitive individuals. This can bring on cheilitis, which can set up a vicious cycle. The more irritated the lips, the more you use lip balm, which in turn can make lips more irritated. Other sensitizing compounds include lanolin, vitamin E or peppermint.
Our Pomegranate Natural Lip Care contains none of these ingredients. Try our 3-pack sampler and save 30% off the regular price.
Watch Out for Toothpaste:
People report that certain toothpastes make the problem worse. Sodium lauryl sulfate (SLS) has been identified as contributing to canker sores, also called aphthous ulcers (Deutsches Arzteblatt International, Oct. 3, 2014). SLS may also make chapped lips and angular cheilitis worse.
An article in the journal Acta Stomatologica Croatica (June, 2016) reported on a patient with a reaction to SLS. Check out the photo to better understand her problem with exfoliative cheilitis (EC):
"This paper reports on the results of a case study of a 19-year-old female who presented to the Oral Medicine clinic with a chief complaint of scaly and peeling lips. The lesions had persisted on her lips for more than 7 years and were refractory to previous treatment. Her physician's diagnosis was contact dermatitis. We diagnosed this patient as having exfoliative cheilitis (EC). A patch test using the toothpaste containing sodium lauryl sulfate (SLS) was positive and the patient discontinued using it. Instead, she started using a toothpaste not containing SLS."
This young woman gradually recovered. The author believed that "SLS may have been a precipitating factor in EC in this case."
Angular Cheilitis:
Angular cheilitis, sometimes referred to as perleche, is inflammation at the corners of the mouth.
One reader described her ordeal:
"I had angular cheilitis for more than a year and looked like a clown! I finally discovered it was caused by tartar control toothpaste with tetrasodium pyrophosphate. Avoiding it solved the problem."
Other readers have reported that angular cheilitis can sometimes be cleared up by anti-fungal preparations.
One person wrote:
"I had red wet cracks at the corners of my mouth. I began using Mentholatum on my lips every night, and that cleared it up."
Anti-Fungal Remedies:
Mentholatum, like Vicks VapoRub, contains the anti-fungal compounds camphor and menthol. These ingredients should not be swallowed, so they must be used with care and should be avoided by people who are going to lick their lips.
Another popular product that people use to treat perleche is Listerine, possibly because it too contains herbal oils with anti-fungal activity.
Here's one report:
"I suffer from occasional bouts of angular cheilitis. I find that applying Listerine to the sores helps eliminate the problem within a few days."
Angular cheilitis may also be a red flag for nutritional deficiency.
One reader shared this story:
"I suffered from chronic angular cheilitis for years. A nutritionist eventually identified the problem as B vitamin malabsorption. I started taking B vitamins sublingually (under the tongue), and I have not had any cheilitis for more than a year and a half."
John in St. Louis used a prescription cream:
"My dentist told me that this is a fungal infection. He gave me a prescription for a tube of cheap nystatin cream. Healed it up in just a few days."
People's Pharmacy Perspective:
Learning not to lick the lips is a crucial first step in keeping them healthy. Dealing with chapped lips and angular cheilitis may require further detective work to find and eliminate the underlying problem.
Natural Lip Balms:
Several years ago we consulted one of the country's leading natural product chemists. We specified that we wanted to develop an all natural lip balm without sunscreen or peppermint oil. He helped us develop a line of products that many people have found helpful.
Susan in North Carolina says, "Great Lip Balm"
"I am one of those people who has been addicted to lip balm for many, many years. About 5 years ago I developed allergic reactions to any lip balm, even the 'all natural' ones and I have tried many! I have been using the People's Pharmacy Pomegranate lip balm for at least 3 years now without any allergic reactions on my lips. It's been such a relief to have found a lip balm that I can safely use. Thank you!!!"
Sharon in Buffalo:
"Have tried many others…this one is so much better!..light, not waxy. The flavor is pleasant."
Anne in New York:
"Love that I do not have to keep reapplying. Have used ChapStick forever (I am 72) here and in England. Your lip balm is the best. Love the taste and have one in every pocket so I am never without. Would definitely recommend."
Our natural pomegranate flavor has no sun protection chemicals or peppermint oil. You may find that it relieves your discomfort without causing an allergic reaction. Here is a link to The People's Pharmacy Pomegranate Natural Lip Care. With Chuck's help we also created The People's Pharmacy BERRY Natural Lip Care. Don't forget to take advantage of our People's Pharmacy Natural Lip Care 3 Pack price.