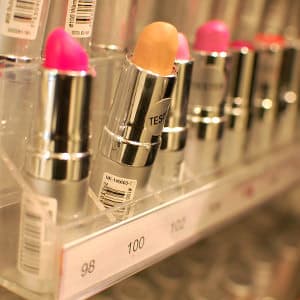 Ever wonder why your lipstick disappears and where it goes? Every time you lick your lips, sip a drink or eat something, you are likely swallowing a bit of lipstick. Are the ingredients in the lipstick that you are ingesting potentially hazardous to your health?
It comes as a huge shock to most people to learn that the Food and Drug Administration has very little authority over cosmetics. As a result, there are no guidelines, regulations or restrictions when it comes to the metal content of lipstick. By the way, that also holds true for other chemicals found in cosmetics such as phthalates or compounds like formaldehyde, toluene or xylene, none of which are good for humans.
A study just published online in Environmental Health Perspectives (May 2, 2013) assessed the metal content of 32 lip products [8 lipsticks and 24 lip glosses] sold in the United States. The research revealed that:
"Most of the tested lip products contained high concentrations of titanium and aluminum. All examined products had detectable manganese. Lead was detected in 24 products (75%) with an average concentration of 0.36 ppm [parts per million], including one sample with 1.32 ppm. When used at the estimated average daily rate, estimated intakes were >20% of ADIs [acceptable daily intakes] derived for aluminum, cadmium, chromium and manganese. In addition, average daily use of 10 products tested would result in chromium intake exceeding our estimated ADI for chromium. For high rates of product use (above the 95th percentile) the percentages of samples with estimated metal intakes exceeding ADIs were 3% for aluminum, 68% for chromium, and 22% for manganese…"
We do not think there is an "acceptable daily intake" of lead. It is just plain not good for you at any level. It is toxic to the heart, brain, bones, kidneys and digestive tract, just for starters. Even relatively low levels can be problematic over a long period of time. Someone who applies lipstick two or three times a day every day for decades is being exposed to metals that are not recommended.
We are also concerned about aluminum. It is a metal that that has been dubbed a neurotoxin. In other words, it is not good for the nervous system and particularly the brain. Here is a link to the question of aluminum and Alzheimer's disease. To learn more about the dangers of aluminum in cosmetics (and in particular in antiperspirants) check out this link and this link.
The investigators report that:
"This preliminary study of metal content in lip products suggests potential public health concerns. However, metals in cosmetic products are not currently regulated by the U.S. FDA…Cadmium and its compounds are known human carcinogens. Inhalation exposure of cadmium has been associated with lung cancer and respiratory system damage, and chronic oral exposure may lead to kidney and bone impairments…
"Chromium (VI) is a known human carcinogen; inhalation causes lung cancer and oral exposure through drinking water has been linked with increased stomach tumors. Our measurements did not distinguish hexavalent chromium from less toxic forms, and the percentage of hexavalent chromium in the lip products is therefore unknown. However, high total estimated intakes of chromium from use of several lip products and the potential for additional exposure from other sources suggests that chromium intake from lip products should be a priority for additional research…
"Inhalational exposure to high levels of manganese in occupational settings causes neurological effects in humans. Although the evidence is inconclusive, manganese in drinking water has been associated with neurological and neurobehavioral outcomes in children, which suggests that effects of oral exposure may be similar to effects associated with inhalational exposure. Estimated manganese intake assuming high use of lip products exceeded our ADI value based on inhalational exposure for 7 products (22% of tested products)."
The European Union does not permit cadmium, chromium or lead in any levels in cosmetics. Not surprisingly, though, the cosmetic industry discounts this study and maintains that there is nothing to worry about.
In our opinion, it is time for the FDA to be given the authority to regulate the metal content of cosmetics. If we regulate the amount of aluminum and lead permitted in water, why not in lipstick?
We welcome your thoughts below on this issue.