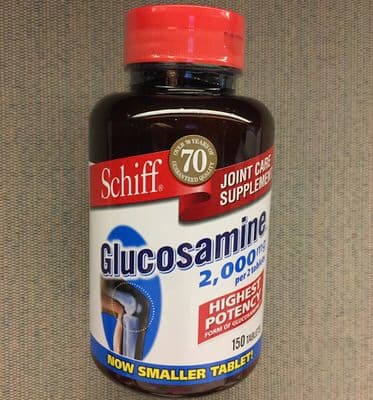 For decades, we have been agnostic about the use of glucosamine for arthritis. Some readers praised this dietary supplement while others denounced it. Studies have arrived at conflicting conclusions.
We remember when New York Times health columnist Jane Brody reported that glucosamine and chondroitin made a difference in her life:
"PERSONAL HEALTH: The Arthritis is at Bay, Thank You"
The New York Times, Jan. 13, 1998
by Jane E. Brody.
"THE two questions I was asked most often in 1997 were "Is that dietary supplement still helping your arthritic knees?" and "Are there results yet from the studies being done on this side of the Atlantic?"
"Fourteen months ago, following my arthritic spaniel's dramatic improvement upon taking a supplement containing two substances that play a role in the formation of cartilage, glucosamine and chondroitin sulfate, I decided to try the stuff myself. Two months later, ignoring bemused queries like "Are you barking yet?" I reported about a 30 percent improvement – not an absence of pain and stiffness, but less of them and little or no swelling after activities like tennis and ice skating that gave my knees a workout.
"Now a year later my dog and I are still taking the supplement, though at lower daily doses. My dog, who will be 13 in June, is free of pain and stiffness. He walks two hours a day, goes up and down stairs easily and regularly climbs a mountain road with me. I continue to play singles tennis two to four times a week and skate four or five times a week, and I have added a daily three-and-a-half-mile brisk walk to my activities."
We found Jane Brody's account compelling, even though it is not scientific. Over the years we have heard similar stories from our readers. Here are a few:
Glucosamine Sulfate for Knee Pain:
Q. About 15 years ago, I saw an orthopedic surgeon about pain in my left knee. He said the cartilage was worn and offered no solution except to avoid stairs and certain pieces of equipment at the gym.
About that time, I read in the People's Pharmacy about glucosamine sulfate and thought, "That can't hurt." I started taking 500 mg twice a day. Within two weeks, the pain was gone and has been gone ever since. I highly recommend at least trying it.
A. Thank you for your recommendation. Some scientific evidence now supports your experience. A review of 18 randomized controlled trials shows that glucosamine sulfate is better than placebo for alleviating knee pain due to osteoarthritis (Clinical Rheumatology, Sep. 2018). Many other readers agree that this approach can be helpful.
People who prefer nondrug options for treating their joint pain may be interested in our eGuide to Alternatives for Arthritis.
Glucosamine and Chondroitin Eased Thumb Pain:
Q. You recently had a letter from a woman whose doctor told her to use glucosamine and chondroitin for arthritis pain relief. I have an arthritic thumb, and nothing had helped. I'd tried tart cherries, CoQ10 and turmeric with black pepper.
After reading the column, I tried glucosamine and chondroitin. That provided much more relief from pain and more mobility in my thumb than anything else I had tried.
A. Several clinical trials have found the combination of glucosamine and chondroitin helpful in treating the pain of osteoarthritis (Computational and Mathematical Methods in Medicine, July 25, 2022; Archives of Orthopaedic and Trauma Medicine, Jan. 13, 2022).
Chondroitin and Glucosamine for Arthritis Also Protect Against Stroke:
An unexpected bonus of this regimen is that it reduces the risk of stroke. Spanish researchers analyzed a primary care database and found that patients prescribed this combination were less likely to develop clotting strokes (Therapeutic Advances in Musculoskeletal Disease, July 26, 2022). We have wondered whether the prescription status of glucosamine and chondroitin in Europe helps explain the more favorable results European investigators report.
Glucosamine for Arthritis:
Q. I read your column about someone with joint pain in his hips, knees, wrists and spine. I told a colleague I had similar pains. He said he had, too, and that he'd told his physician.
His doctor suggested an over-the-counter glucosamine tablet after each meal. My colleague got the desired relief when he did this.
I tried it too, and my pains have not returned. We recommend glucosamine to anyone who is not allergic to the pills.
A. Glucosamine has been a controversial dietary supplement for arthritis for decades. The Glucosamine/chondroitin Arthritis Intervention Trial (GAIT) concluded that:
"Glucosamine and chondroitin sulfate alone or in combination did not reduce pain effectively in the overall group of patients with osteoarthritis of the knee" (New England Journal of Medicine, Feb. 23, 2006).
What About Crystalline Glucosamine Sulfate?
More recent research has found that that a crystalline glucosamine sulfate formulation is equivalent to nonsteroidal anti-inflammatory drugs like ibuprofen and naproxen (Current Medical Research and Opinion, June, 2016). This crystalline form of glucosamine appears to work better than acetaminophen (International Journal of Rheumatic Diseases, online March 23, 2017). Moreover, in contrast to NSAIDs, glucosamine sulfate does not seem to increase the risk for heart attacks, and chondroitin seems quite protective (PLoS One, July 12, 2021).
Dogs and Glucosamine:
More Dog Stories:
Not everyone believes shaggy dog stories. We know that pet lovers may see what they want to see. That said, we do find these stories interesting:
L.M.C. in Missouri loves her dog:
"I have a Yorkie that has a birth defect. Her back legs are fused at the joints and they only bend in the hip area. I put her on people glucosamine and chondroitin. To be specific, I get Osteo Bi-Flex. I make a powder out of it (I just feel like this might get it all to absorb better).

"I have noticed that if I quit giving it to her she slows way down in the house. Outside she will just sit down and not walk a step. When she gets the glucosamine and chondroitin she runs all over the yard.

"I had taken her as a pup to a specialist and he suggested giving her what we take because we know it works. I didn't feel like he thought much of the doggy stuff. She is now 16 and I find it so amazing she can still walk at all. My husband and I thought from the time she was a pup that she would soon be in a wheelchair. I know that if not for giving her the osteoporosis Bi-Flex she would have been. This stuff is amazing!"
We would never suggest that a pet be given a drug designed for humans. But veterinarians can recommend formulas that might be appropriate for dogs.
S.J.S. also tried natural supplements for her dog:
"We had a shepherd/retriever mix who was diagnosed with hip dysplasia (only 25% of ball in socket) at 7 years of age. Rimadyl was suggested but I wanted to try natural supplements first.

"I used a glucosamine hydrochloride supplement, alfalfa (natural diuretic for water on joints), and an Omega 3 complex. She lived until 15.

"On another note, she was diagnosed with liver disease at 11 years and we were told she would only live maybe another 6 months. I started her on a milk thistle supplement and she lived for four more years and her liver tests improved every one of those years."
Kath in Australia has this story to share:
"My 10 year old Rottie (close to 60 Kg) has been on Glucosamine for about 8 years. He has the 'normal' human capsules without Chondroitin. That's because our vet 8 years ago suggested plain Glucosamine was better than the combination.

"He started on Glucosamine, after needing bilateral anterior cruciate ligament repairs (one on each knee) after falling into a trench a lazy builder left in our yard. He was on daily anti-inflammatory meds before but after about a month on Glucosamine, he was a new dog. Only occasionally did he need meloxicam (Metacam in Australia).

"Despite recent research, I have no doubt that Glucosamine made a huge difference to my boy, significantly improving his quality of life and the need for medication was substantially reduced."
Again, we encourage people with pets to always consult a veterinarian before trying such tactics. Some people have reported allergic reactions and other health problems after trying glucosamine.
Learn More:
You can learn more about glucosamine for arthritis and other non-drug approaches to managing inflammation and pain in our online Guide to Alternatives for Arthritis. It is a 50+ page online resource. Here is a link to our library of guides.