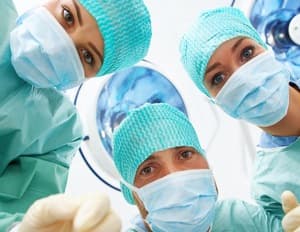 Semaglutide is one of the hottest drugs in the pharmacy. You may recognize the brand names Ozempic for diabetes and Wegovy for weight loss. Anesthesiologists in Canada and the US are raising the alarm if patients need surgery while on Ozempic or Wegovy. Other drugs in this category include liraglutide (Victoza for diabetes and Saxenda to lose weight) or tirzepatide (Mounjaro) for diabetes. Such drugs may slow stomach emptying and lead to aspiration during sedation. That is extremely dangerous!
Why Do You Need an Empty Stomach Prior to Surgery?
If you have ever had to undergo surgery, you know that the instructions are to stop eating and drinking prior to the operation. Here is how the NHS (National Health Service) in the UK describes this process:
"Eating and drinking before a general anaesthetic"
"Usually, before having a general anaesthetic, you will not be allowed anything to eat or drink. This is because when the anaesthetic is used, your body's reflexes are temporarily stopped.

"If your stomach has food and drink in it, there's a risk of vomiting or bringing up food into your throat. If this happens, the food could get into your lungs and affect your breathing, as well as causing damage to your lungs.

"The amount of time you have to go without food or drink (fast) before you have your operation will depend on the type of operation you're having. However, it is usually at least 6 hours for food, and 2 hours for fluids. You'll be told how long you must not eat or drink for before your operation."
Why Is Aspiration So Dangerous?
"…aspiration is a potentially fatal complication with significant associated morbidity ["a disease state or symptom"].

"While anesthesia is generally safe, respiratory complications such as anesthesia-related aspiration can be fatal. Occurring as often as 1 in every 2–3,000 operations requiring anesthesia, almost half of all patients who aspirate during surgery develop a related lung-injury, such as pneumonitis or aspiration pneumonia."
Another article published in JAMA (June 15, 1964) describes the situation this way:
"Aspiration of gastric contents during general anesthesia is often fatal but is preventable. Obstetrical patients and patients requiring emergency surgery most often have a 'full stomach.' Prevention of aspiration in such patients can be approached positively, by inserting an endotracheal tube before induction of general anesthesia, or negatively, avoiding general anethesia and substituting 'conduction' anesthesia. Examination of possible approaches to the 'full stomach' leads to a conclusion that risks associated with some anesthetic techniques are unwarranted except in rare instances."
The bottom line is that surgeons and anesthesiologists do not want patients to have food or fluid in their stomachs prior to surgery!
Avoiding Surgery While on Ozempic or Wegovy:
So many people are now taking GLP-1 agonists to control blood sugar or lose weight, it is not surprising that surgeons are facing this aspiration problem. Anyone who might need surgery while on Ozempic or Wegovy must take very special precautions.
Semaglutide can slow stomach emptying. Doctors call this gastroparesis. Another way of thinking about it is stomach paralysis.
Normally, the stomach should empty within 2 to 4 hours of a meal. With semaglutide on board, however, some people still have solid food in their stomachs 10 to 18 hours later.
The Canadian anesthesiologists are recommending that people undergoing elective surgery stop Ozempic or Wegovy injections at least 3 to 4 weeks before the procedure (Canadian Journal of Anesthesis, August, 2023).  That may work for people taking such drugs for weight loss. Those with diabetes need alternative ways to control their blood sugar during that time.
Emergency Surgery While on Ozempic or Wegovy:
If someone requires emergency surgery while taking liraglutide, semaglutide or tirzepatide, all bets are off. The JAMA article mentioned above recognizes that during such situations the anesthesiologist and surgeon must take special precautions to avoid aspiration.
That is why if you or anyone you know must undergo emergency surgery while on Ozempic or Wegovy, all health care personnel must be informed about the possibility of stomach paralysis. There will likely be food in the digestive tract and that will require heroic efforts to avoid a life-threatening aspiration risk.
You can read more about this worrisome situation at this link.