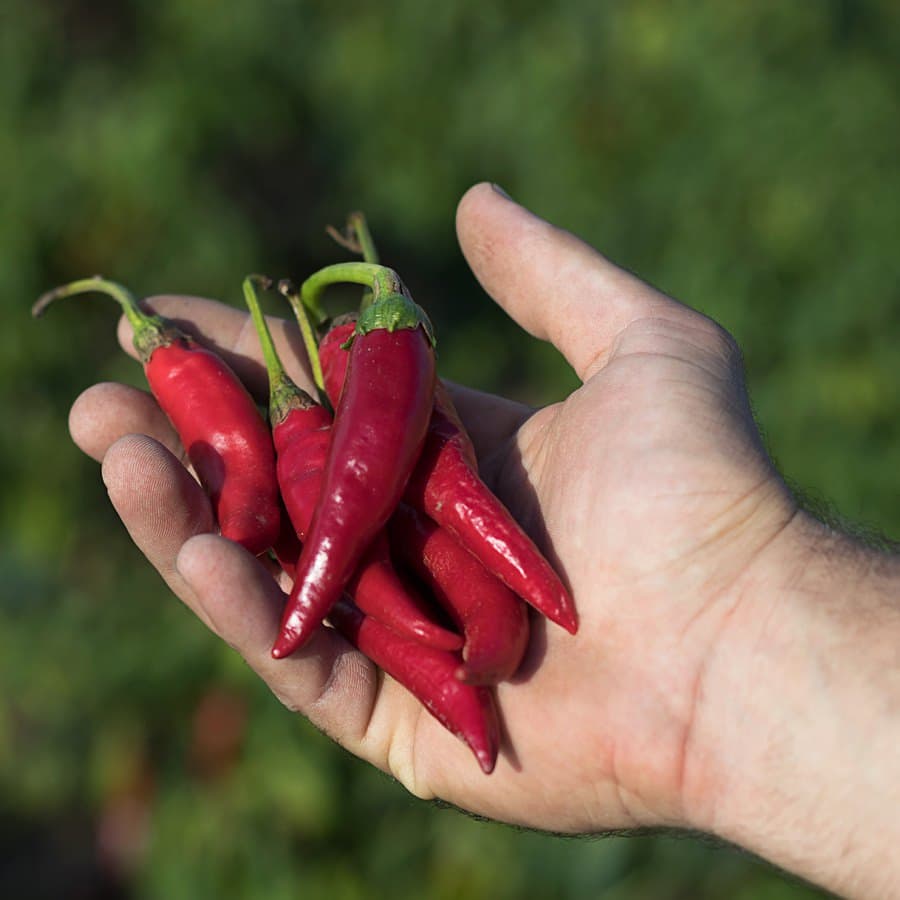 Hand holding some red chili peppers in a vegetable garden.
Chronic pain has a devastating impact on your quality of life. Often, though, the medicines you would take to relieve pain can trigger dangerous side effects over the long term. Several readers report that capsaicin ointment can help relieve several sorts of pain, if you use it properly.
Using Capsaicin Ointment Carefully:
Q. For several decades or more, I have found capsaicin ointment to be very effective when other remedies for pain are inadequate. It eliminated the discomfort I experienced after vein removal from my calf. It gives long lasting relief from peripheral neuropathy in my feet and the unbearable itch my wife got months after a severe case of shingles.
We do have to be careful not to get the ointment in the eyes or on other sensitive areas. Also, we don't expose treated areas to sun exposure because it produces an intense burning sensation. I apply the ointment with a foam brush or rubber gloves to keep it where it belongs.
A. You are smart to use a brush or gloves to apply this ointment. That reduces the chance you will get some in your eyes, nose, mouth or another sensitive spot.
What Is Capsaicin?
Capsaicin is the compound that makes chili peppers hot. Repeated application to the skin depletes substance P from the sensory nerves, allowing temporary relief from pain. This is apparently because capsaicin activates the transient receptor potential channel vanilloid 1 (TRPV1) (Pharmacology & Therapeutics, April 2021).
Because of this action, scientists have been trying to find a way to improve absorption through the skin for treating diabetic neuropathy (Advanced Pharmaceutical Bulletin, Aug. 2022). As you have noted, though, available capsaicin ointments can help ease pain.
The main side effect is the burning sensation when it is first applied. This fades with repeated applications.
Hot Pepper Rub for Arthritis:
Q. I have arthritis in several joints, especially my wrists and fingers. A number of years ago, I began applying a rub that contains capsaicin, the heat from hot peppers. I find it very effective if used daily. I have also added turmeric to my regimen. That offers additional pain relief.
A. Capsaicin, the compound that gives hot peppers their zip, has long been used in arthritis liniments such as BenGay, Heet or Sloan's liniment. It is also available in gel or cream form. You may have seen Capzasin or Zostrix-HP.
Capsaicin Ointment Against Nerve Pain:
Zostrix was developed to treat the nerve pain that may linger after a shingles rash clears. If you apply a capsaicin product every day or several times daily, it can help ease arthritis pain (Progress in Drug Research, 2014). The idea is that it depletes substance P, which is essential for the sensation of pain.
You might want to use disposable gloves to apply your rub. Getting even a tiny amount in your eyes, nose or other delicate tissues could be extremely uncomfortable.
Turmeric to Fight Inflammation:
Turmeric, the yellow spice in curry, has anti-inflammatory activity. You can learn more about it in our Guide to Alternatives for Arthritis. This online resource covers a number of foods, medications and supplements that can help ease arthritis pain in hands and other joints.
Many years ago, we heard from this reader, whose doctor recommended capsaicin ointment.
VA Doctor Recommended Capsicum:
Q. My primary care doctor prescribed Cymbalta for neuropathy, a very painful burning sensation in three of my toes. It seemed to work, but it is expensive.
The doctor I saw at the VA recommended capsicum since Cymbalta is not on their list.
The capsicum really works. In fact, I can go as long as two months between a dosing series. One toe is completely healed, and the others are much better.
A. Capsicum is the technical name for peppers, including bell peppers as well as hot peppers. Capsaicin, the spicy essence of chili peppers, has been used to treat peripheral neuropathy, including the nerve pain that may linger after an outbreak of shingles.
Capsaicin ointment or cream must be applied repeatedly to deplete the nerve endings of something called substance P. At that point, they are less able to transmit pain sensations.
Be careful not to get the cream in your eyes or nose, as that can be extremely painful. Some people may develop an allergic reaction to capsaicin.
What About Prescription-Strength Capsaicin?
Q. You wrote about high-dose topical capsaicin (8%) for diabetic neuropathy. Maybe you are unaware of this, but no drugstore I have found carries capsaicin at any dose higher than 1%. I don't know where you found this high-dose 8% stuff. Maybe it does not even exist.
A. Capsaicin is the hot essence of chili peppers. You are absolutely correct that over-the-counter capsaicin ointments and creams are usually less than 1% concentration. They are available as rubs for treating arthritis, muscle, joint or back pain.
The FDA has approved Qutenza (8% capsaicin) as an in-office prescription treatment for diabetic nerve pain of the feet and post-shingles nerve pain. It can only be applied by a healthcare professional in a well-ventilated area. This is definitely NOT a do-it-yourself approach.
Because this high-potency topical system can be quite painful, doctors often use a local anesthetic on the skin before applying it. The Qutenza system is extremely expensive, but we assure you that it does exist.