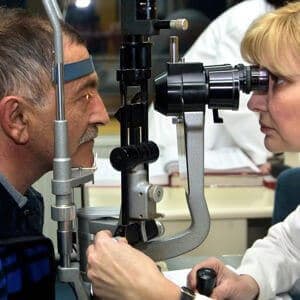 Age-related macular degeneration (AMD) is an important cause of vision loss among older people. Researchers discovered almost twenty years ago that people with moderate AMD could slow the progression of their macular degeneration by taking a specific nutritional supplement (Archives of Ophthalmology, Oct., 2001). That trial (AREDS) was updated a few years ago, with the finding that lutein and zeaxanthin could be substituted for beta-carotene and get equally beneficial results. Adding fish oil to the supplement did not help, however. (JAMA, May 15, 2013). You can read more about that study here.
Drugs That Treat Macular Degeneration:
Although AMD can cause blindness, a long-term study shows that treatment with medications that prevent blood vessel proliferation can help preserve vision for years. The drugs bevacizumab (Avastin) and ranibizumab (Lucentis) are both used for treating "wet" macular degeneration. Lucentis was designed specifically for this purpose, while Avastin is also used to treat cancer. Bevacizumab is substantially less expensive than Lucentis, however.
Both Drugs Help Preserve Vision:
A large clinical trial compared the two and found that they are equally effective. Five years of follow-up found that half the patients treated had 20/40 vision. That is far from perfect, but it is good enough to drive or read. In comparison, fewer than 10 percent of untreated patients with macular degeneration are able to maintain 20/40 vision.
Presented at the 2016 annual meeting of the Association for Research in Vision and Ophthalmology, May 2, 2016, Seattle, WA