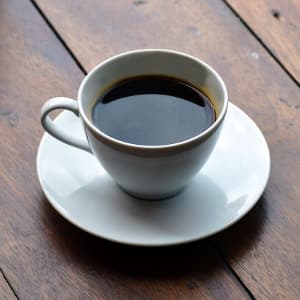 CC0 from https://pixabay.com/en/coffee-cafe-coffee-shop-americano-843278/
Americans like their morning coffee. In some cities it seems as if there is a coffee shop on every corner. And yet our coffee consumption is paltry compared to many other countries. Not surprisingly, Scandinavia far outpaces the U.S. in per capita coffee drinking. The people of Finland, Norway, Denmark and Sweden drink two to three times as much coffee as citizens of the U.S. We rank 25th after Lebanon, Estonia, Spain and Portugal. New research suggests that coffee drinkers live longer than abstainers. That is the conclusion from a large study of half a million people in the UK Biobank. Now the scientists analyzing these data answer the question: How much coffee should you drink for longer life?
The UK Biobank Data:
British researchers have been collecting data from 9.2 million people between 2006 and 2016. In a study published in JAMA Internal Medicine (July 2, 2018),  the investigators reported on nearly 500,000 participants. These people answered detailed questionnaires about diet, including coffee consumption, provided samples and had physical examinations. About 110,000 of these individuals did not drink coffee, while about 200,000 usually drank instant and 74,000 generally drank decaf.
How Much Coffee Should You Drink?
During 10 years of follow-up, just over 14,000 of the participants died. Those who usually consumed at least 2 cups of coffee daily were about 12 percent less likely to die from cancer or cardiovascular disease during that time. The association was strongest for coffee made using grounds rather than instant and for regular coffee rather than decaf. Nonetheless, even decaf coffee drinkers were less likely than non-coffee drinkers to die during the follow-up period.
In their own words, the researchers reported:
"In this large study of nearly 500000 people in the United Kingdom, coffee drinking was inversely associated with all-cause mortality, with statistically significant inverse associations observed in participants drinking 1 to 8 or more cups per day."
Interestingly, there was hardly any difference in mortality stats between casual coffee drinkers (one cup a day) and heavy coffee drinkers (eight or more cups daily). So the answer to the question: how much coffee should you drink? might be whatever amount feels right for you.
The researchers checked to see if there were any differences in protection based on people's genetically determined ability to metabolize caffeine. They found none: fast and slow caffeine metabolizers appeared to get the same benefits from drinking coffee. The bottom line appears to be that drinking coffee has unexpected health benefits.
How Much Coffee Should You Drink If You Add Sugar?
A more recent analysis published in the Annals of Internal Medicine brings this question up to date. Researchers analyzed data from more than 170,000 participants in the UK Biobank between 2009 and 2018. (We don't know how many of them were included in the analysis for the first study reported above.) People who drank any amount of coffee regularly, even those who added sugar, were 16 to 20 percent less likely to die during the study than those who didn't drink it (Annals of Internal Medicine, May 30, 2022). Researchers expected that adding sugar might counteract the benefits of drinking coffee, but they discovered it did not.
One Teaspoon per Cup, About Two Cups per Day:
Those who sweetened their coffee added about a teaspoon of sugar, on average. If they drank between 1.5 and 3.5 cups daily, as many did, they were about 30 percent less likely to die during the follow-up than those who avoided coffee. Not enough people used artificial sweetener to draw any firm conclusions about its health effects. Instant, ground and decaf coffee provided similar statistics.
This was an observational study, so it doesn't show cause and effect relationships. But the numbers are large enough to be compelling. The researchers are not encouraging people to start drinking coffee for health reasons.
Nonetheless, they conclude that
"Moderate consumption of unsweetened and sugar-sweetened coffee was associated with lower risk for death."
The Annals of Internal Medicine offers a simple summary of this study for patients. Here is the link.
Coffee Drinking and Longevity Is Not New News:
The British researchers who did the first analysis point out that:
"Our findings are consistent with prior, large, prospective investigations of coffee drinking and all-cause mortality conducted in the United States, Europe, and Asia, as well as the most recent meta-analyses and the 2015 US Dietary Guidelines Advisory Committee report, which concluded that moderate coffee consumption can be a part of a healthy diet."
The Naysayers Tell You to Quit Drinking Coffee:
No matter how many studies are published, there are experts who will insist that you should quit drinking coffee. For them, the answer to the question how much coffee should you drink is zero. They maintain that coffee raises your stress level, increases heart rate and blood pressure and raises lipids like triglycerides and cholesterol. They throw in complications like heartburn and GERD (gastroesophageal reflux disease) for good measure.
Oh, and let's not forget the addiction argument. Some of the cynics maintain that coffee drinkers are drug addicts who can't quit because of withdrawal symptoms such as headaches, fatigue and fuzzy brain.
People's Pharmacy Perspective:
We will not engage in a debate with the anti-coffee crusaders. And we would never encourage anyone who doesn't like coffee to start drinking it. Some people with heart problems may also need to avoid the jolt from java.
But for people who love their morning cup of coffee, we say hooray! There is now enough solid scientific evidence to suggest that coffee, even decaffeinated coffee, could prolong your life. And if you can handle several cups a day without developing heartburn or insomnia, good on you.
If you would like to read some other articles we have written about coffee, here are some links:
Comments welcome below. Are you a coffee person? What do you make of the latest research? Do you prefer tea? We would love to hear from you as well.